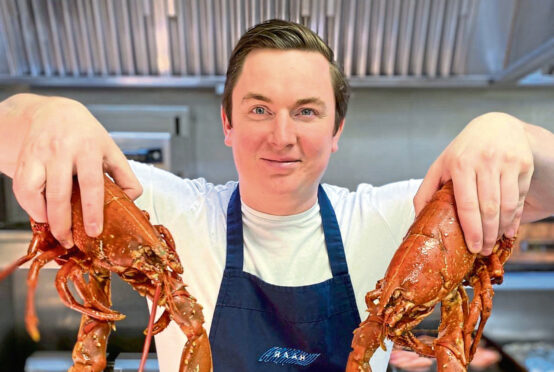 When the weather is warm and the sun splitting the sky, the first thing we all do is turn up the heat with a good, old-fashioned barbecue.
After all, whether hosted in our gardens or down at the local park, nothing says "summer" quite like the sight, sound and smell of meat and vegetables cooked over a flame until sizzling with charred flavour.
While our first reaction might be to fill our shopping trolleys with the ubiquitous burgers, sausages and chicken drumsticks, MasterChef finalist Dean Banks says al fresco cook-outs at his house are a far more luxurious affair – and even feature magnums of fizz, lobster claws and freshly shaken cocktails.
Basically, if you're lucky enough to be invited to Casa Banks, the 32-year-old certainly won't serve up warm beer and greasy burgers.
"I love a barbecue because of the smoky flavour the charcoal adds to meat and fish," explained Dean, who recently took over the kitchen at the Pompadour restaurant in the Waldorf Astoria Caledonian Hotel in Edinburgh.
"Growing up, we always had family barbecues, so getting everyone together has a bit of nostalgia for me, and now I see the gatherings as a bit of a treat. Hosting a barbecue is my excuse to go out and get really higher-end produce. The last time I had one, I served up T-bone steaks, and other times I've cooked scallops, salmon and lobster on the barbecue."
It pays to experiment
Although traditional meats, such as beef burgers, have their place on the grill, Dean says he also likes to experiment with different cuts.
He continued: "Don't get me wrong, I do love my sausages and burgers – but a barbecue provides the perfect opportunity to try something a little bit different. You can go for really premium products, but cheaper cuts of meat also work really well, too.
"For example, pork belly is fantastic. It's a cheap cut you can get from your local supermarket, and you just need to chuck it in the oven or a slow cooker for an hour and a half then finish it off on the barbecue with a glaze. Lather on a pre-made sauce, if that's what you have available, close the lid on the barbecue and just let all that smoky flavour get into the meat.
"Quite often, a delicious cut like that will actually be cheaper than a burger."
During lockdown, with his flagship restaurant, Haar in St Andrews, closed for service, Dean and his team began delivering cook-at-home kits to bring a little luxury into the diner's own kitchen. The Haar At Home boxes, still available now due to their popularity, feature the very best seafood and other delicacies, and Dean says the lobster boxes are perfect for garden parties and barbecues.
"I've put our lobster kit on the barbecue plenty of times when cooking for my family," he explained. "The dressed lobster comes ready to cook in a foil tray, so you could just put the tray straight on the barbecue, close the lid, and then pour over the melted butter sauce."
Although meat is often the main event at a barbecue, Dean's luxurious parties also feature fabulous sides, including his "must-have" potato salad and fresh veg.
He added: "For me, when they're in season, grilled asparagus is simply the best. It's the easiest thing to do – you just snap the bottom off, chuck it on the barbecue and then eat it – but it's bursting with flavour.
"For potato salad, it has to have lots of chopped coriander and spring onion, and a combination of crème fraiche with mayonnaise.
"The crème fraiche has a sourness which cuts through the heaviness of the mayo to make it a bit fresher. Then I always add lemon juice and zest at the end."
And what about something to wash down all this delicious food? There's no prizes for guessing Dean like to show a little flare behind the bar.
He said: "I work a lot, so when I do have the chance to have a day off, that's when I treat myself. I love Champagne, so I'll bring a magnum of Charles Heidsieck, and everyone loves a cocktail at a barbecue, too. I make a stock syrup – which is just sugar and water – and add that to gin or vodka with lime juice. It's delicious, especially in hot weather.
"We're not all going abroad on holiday this year, so if we can add a little luxury to our gardens, why not?"
The secret to nicely charred chicken
Dean said: "It's important to be careful when you're cooking on the barbecue, especially chicken. My tip is to cook seasoned chicken wings, legs or thighs in the oven for 40 minutes at 180C then put it on the barbecue at the end.
"That gives you the nice char on the skin, but you aren't relying on the coals to cook the meat – it's hard to control the temperature of a barbecue so that little safety trick will help ensure everything is thoroughly cooked."
---
Chimichurri recipe
Dean said: "This sauce has a South American, Spanish-style, which is absolutely stunning on the barbecue.
"I love to use it on steak, but it also works well on the side of beef, chicken and even fish."
You'll need
50g of coriander
50g of parsley
50g of fresh oregano
50g of chives
One bunch of spring onions
Four to six green chillies, depending on our heat tolerance
A teaspoon of toasted cumin seeds
100ml red wine vinegar
100ml olive oil
Salt to taste
Method
1. Roughly chop the coriander, parsley, oregano, chives, spring onions and chillies.
2. Place the chopped ingredients in a blender alongside the cumin seeds, red wine vinegar and olive oil. Blitz together until you have your desired consistency – slightly chunky or smooth and silky. If you don't have countertop blender, place all the ingredients in a bowl or jug and use a hand-held blender instead.
3. Taste and season as appropriate. Fancy a little more punch? Add a few cloves of garlic into the mix!
4. Store in the fridge until ready to serve, at which point you can add drizzle over steak, fish, chicken, or anything else that takes your fancy.
---
Visit haarathome.co.uk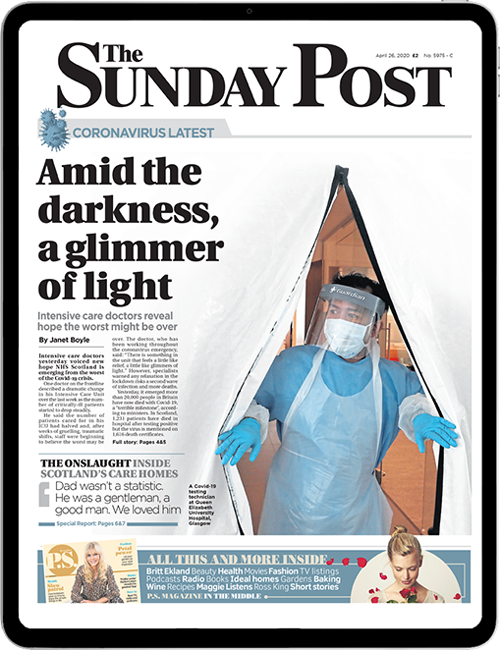 Enjoy the convenience of having The Sunday Post delivered as a digital ePaper straight to your smartphone, tablet or computer.
Subscribe for only £5.49 a month and enjoy all the benefits of the printed paper as a digital replica.
Subscribe