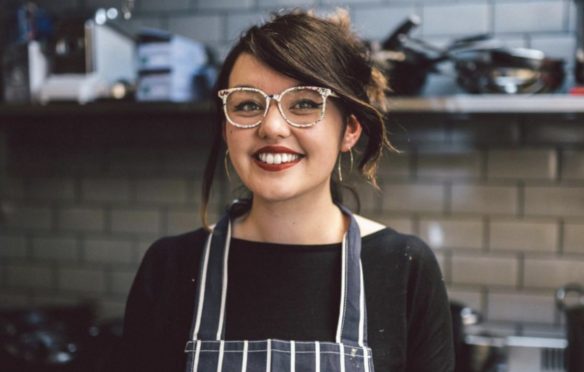 Julie Lin, of course, became a chef because she loves food. But when she's finally able to go out for dinner post-lockdown – not to mention reopen her own restaurant, Julie's Kopitiam, on the south side of Glasgow – you won't find her seated at one of the city's trendy eateries.
Instead, the former MasterChef contestant admits she'll be tucking into the kind of traditional fare you only find in tiny establishments frequented by locals, where generous portions are served with little fanfare but lots of flavour.
"The places I want to visit aren't entirely about the food – it's really the atmosphere, too, which is what I'm missing the most," explained Julie, who co-hosted the STV cooking series, Julie And Jimmy's Hot Woks, alongside Lychee Oriental head chef Jimmy Lee.
"Of course the fancy dinners are nice and trendy places are good but, actually, I really rely on old, traditional places – restaurants like University Café on Byres Road, where you can get a really good fry-up. Or Jaconelli's in Maryhill, a classic Glasgow café.
"So, the restaurants on my list really aren't going to be fancy. Just classic little places I'm used to visiting every day. I really can't wait."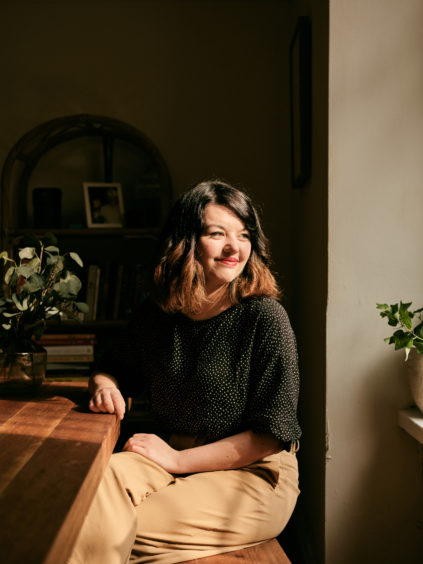 And, luckily, she doesn't have to wait much longer. With lockdown beginning to ease, and hospitality venues finally allowed to reopen from April 26, the coming months with be busy for Julie. As a restaurant owner, she admits lockdown has been a challenge.
She explained: "We've just had the best support from our customers, which has really helped us get through. Plus, we've been able to adapt to takeaways – if we were a slightly 'fancier' restaurant, that type of food doesn't travel very well, so they've probably had to do a much bigger overhaul than us. We've been quite lucky, really. I do like to see the small positives where I can."
And seeing the positives the 29-year-old certainly is – not least because she has been overjoyed to see so many people discover a love for cooking during lockdown.
"I really do think lockdown has made people a lot more excited about food – obviously because it's one of the few things we've still be able to enjoy," she added with a laugh.
"People have been cooking a lot more, and I've enjoyed seeing how creative businesses have been with things like cook-at-home kits, too. I think this time has helped people be a lot more confident in their cooking.
"Of course, everyone has been saying there will be an almost inevitable roaring '20s once this ends, but I honestly think lockdown will have a lasting effect on how people cook. We'll be back in the kitchen once the novelty wears off."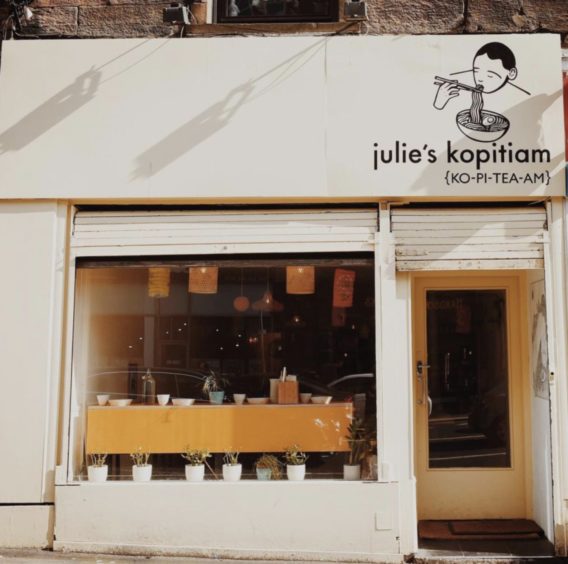 In between adapting her Malaysian and south-east Asian-inspired restaurant for takeaway, and testing out new recipes at home ("I've been creating dishes in my little banged-up 1950s kitchen – I've actually enjoyed the haphazardness of it all, cooking food that isn't formal or refined"), Julie also spent the past few months working on new projects.
One of her favourites involved creating "waste-saving recipes" for Glasgow Science Centre's Scraps campaign, which was launched last year to help home cooks limit how much food they throw away. In the three-part video series, available on YouTube, Julie and other top chefs explain how everything from vegetable peelings to stale bread can still make a delicious dish.
Julie said with a smile: "It's funny. When you write recipes for projects, you do wonder if anyone is going to even see them because everyone is always out and about and busy – but not during lockdown! With people cooking at home, we've all become a little more conscious of food waste, so the campaign was really relevant.
"It's all simple cooking techniques but it's just about having the confidence and bringing some joy into what you're eating".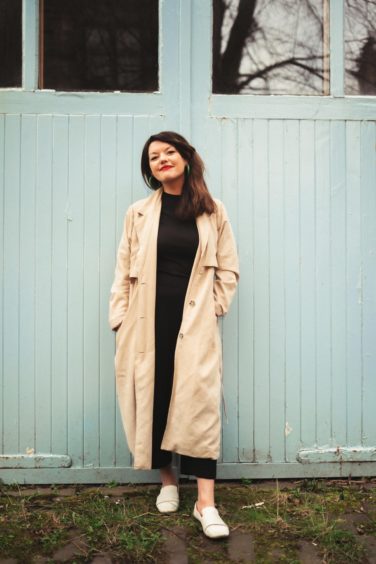 So, with Julie's Kopitiam able to reopen soon, once again serving up fragrant curries and delicate rice dishes to hungry customers, can we expect anything new from the award-winning chef in 2021?
"I'm actually looking at premises at the moment for a secondary site," explained Julie. "It's a project I'm working on with a few collaborators, and we plan to focus on what I call 'ugly food' – fried chicken, rice dishes, anything beige, the kind of delicious food we all love. Plus, good cocktails too."
We'll see you there.
---
Julie's Croissant bread and butter pudding with rum berry compote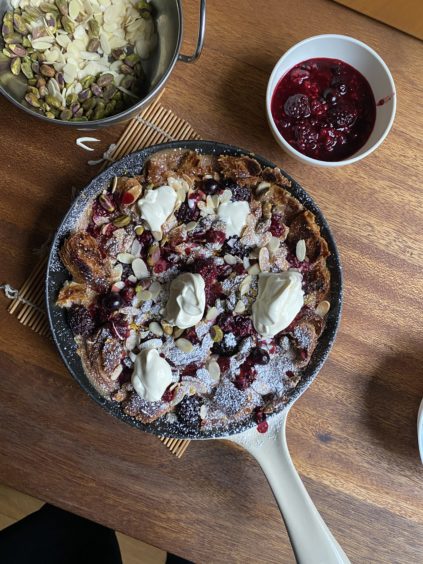 You'll need:
For the bread and butter pudding:
5 stale croissants
3 medium eggs
200ml cream
2 tsp cinnamon powder
70g sugar
Icing sugar for dusting
Leftover berries
For the rum berry compote:
300g leftover berries or any fruit you have
4 tbsp sugar (or more depending on what fruits you use, taste to test)
4 tbsp rum, sherry, brandy or whisky
Method:
Begin by tearing up the old croissants and place into a skillet with the odd extra berry placed amongst the bits if you have extra.
Mix the eggs, cream, cinnamon and sugar together till combined, don't over whisk.
Pour the mixture over the croissants.
Dust powdered sugar over the top and flake over any nuts at this point (I like to use pistachio and almonds) and pop into the oven.
Make the rum berry compote. Whisk together equal parts of sugar and your liquor of choice, put into a saucepan and allow for the alcohol to cook off a little.
Add berries and stew until it's soft but not a complete liquid. I prefer having a few fruits still whole.
Fetch the croissant butter pudding out of the oven and allow to cool down for 5 to 10 minutes. Sprinkle with a touch more icing sugar once ready to serve and eat with clotted cream.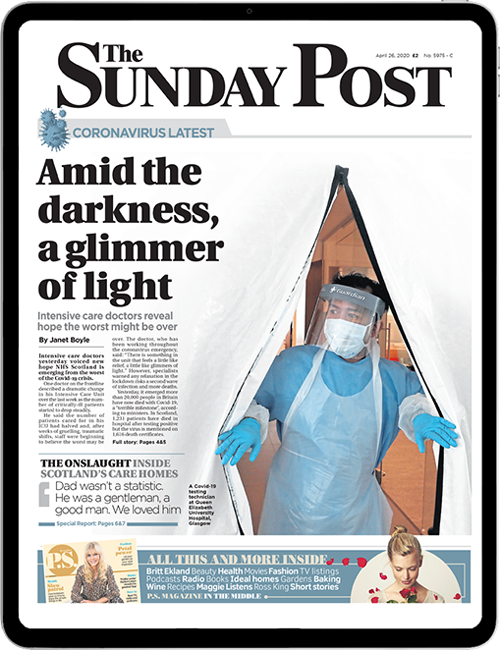 Enjoy the convenience of having The Sunday Post delivered as a digital ePaper straight to your smartphone, tablet or computer.
Subscribe for only £5.49 a month and enjoy all the benefits of the printed paper as a digital replica.
Subscribe