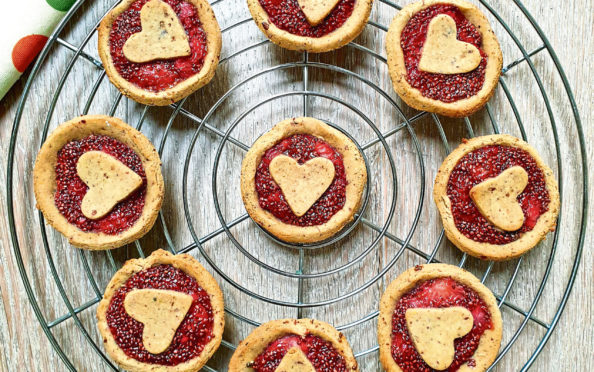 This delightful recipe is from Little Cooks Co.
You'll need
250g berries (strawbs, rasps or blackberries)
90ml water
25g honey
150g brown rice flour
700g ground almonds
70g dates
15g chia seeds
10g milled flax seeds
Method
Preheat oven to 170C, gas mark 3.
Soften the dates in 70ml of warm water. While the dates are softening, make a "flax-egg" by mixing the flax seeds with 20ml of water and leave to one side to set.
Gently heat and stir berries, chia seeds and honey in a saucepan over a low heat for five minutes until the berries have broken down. Use a potato masher if required.
Make your pastry by mixing the brown rice flour and ground almonds in large mixing bowl.
Whizz dates and water until smooth then use a spatula to scrape the mix into the flour, along with the flax egg.
Mix together then knead for a few minutes until dough like. Set aside a fifth of the pastry to make the heart tops, and roll the remainder out before cutting into rounds.
Place bases in a greased 12-hole cupcake tray, add heaped teaspoon of jam into each base. Roll out the remaining pastry and cut out heart tops for the top. Bake for 15-20 mins until golden.