'It's the moment we have all trained for, and dreaded': Intensive care doctor on treating first Covid-19 patient
As NHS Scotland prepares for the onslaught ahead, one doctor in one Scottish hospital's intensive care unit reports from the frontline:
And so it arrives, the moment we have been preparing for but dreaded.
Our first coronavirus patient has been admitted to my intensive care unit. He looks unbelievably well, talking and alert but with rapid breathing and there is clearly an anxiety too.
His oxygen levels are very low as we set up our equipment and make our final checks, before approaching him in our personal protection equipment (PPE).
As I stand over him, my breath loud and hot in my mask, misting the visor, his oxygen level drops to just 84%. His lungs are worsening.
Oddly, my mind flashes back to a childhood party game where you had to tackle a Mars Bar with a knife and fork while wearing oversized gloves.
Would this intubation – placing a ventilation tube down his windpipe – while wearing clumsy PPE, prove as difficult?
The training does not prepare you for this moment and, yes, while doing your best for the patient, you are also thinking about protecting yourself from the virus.
I start to inject an anaesthetic and the patient's eyes close but, despite all the intervention possible, he did not survive. He became another of Covid-19's victims, our unit's first but, sadly, not the last.
When my colleagues and I first read about the coronavirus outbreak in China, few of us seemed concerned. I was surprised as the worrying increased day by day, experienced professionals who had faced everything our work could throw at them suddenly seemed anxious.
And, when the data from China and Italy landed, it was clear they were right and I had been deluding myself. It was frightening – a death rate of up to 4%, Intensive Therapy Unit doctors dying and hospitals struggling to cope.
Many of us had thought it would be little worse than a normal flu but were clearly wrong. The enormity has emerged for us over the past three weeks and everyone is dealing with it in their own way through humour, anxiety or by keeping calm. And I am working harder than I can ever remember.
All intensive care units have been tasked with doubling capacity and on paper this seems easy. But it is heavily dependent on excellent nursing care, equipment, drugs and time. I can work every hour in the week but without these resources it would be futile.
Additional nurses, ventilators, drugs, infusion pumps and even beds – we have none and the virus is on our doorstep and about to fully cross the threshold. One silver lining is that the camaraderie of the past has returned to the unit.
The past three weeks have been incredible, gathering resources, delivering training and changing our work. We feel we are going to war but I am frightened for myself, my colleagues, my family and the public.
There's data suggesting the young and fit are unlikely to come to serious harm but there is also the coal-face facts that in Italy healthcare workers are 10% of positive tests and 24 doctors have died.
Our extra beds for coronavirus patients – our so-called surge capacity beds – are now finally ready, staffed by a mixture of trained intensive care unit nurses, and their colleagues from other wards. Equipment has been begged, borrowed and stolen but we have little or no PPE. We have barely enough for 24 hours if we were full.
We were told "there are no more of these masks". Can you imagine the panic? Everyone had been fit-tested for Covid-19 but the mask we've all been relying on is obsolete. We need to be fit-tested for another mask and everyone is already stressed and tired.
If ever there was a low point, it was then as we watched fearfully as London intensive care units became engulfed while knowing we will be next. On the evening of that first patient's death, we sit drinking ­coffee in a hurried break.
Before long, we know, more patients will arrive. As I write this, we now have several. I think about the patient's care and the way his condition worsened. I think about my family, my friends, and my colleagues who are putting their lives on the line.
And I think, perhaps most of all, of all the people still out and about, still leaving their homes for no good reason, all the incredibly ­irresponsible people still refusing to believe every single one of us has a duty to stop the spread, protect the NHS and save lives.
---
Coronavirus: LIVE updates from our reporters across the country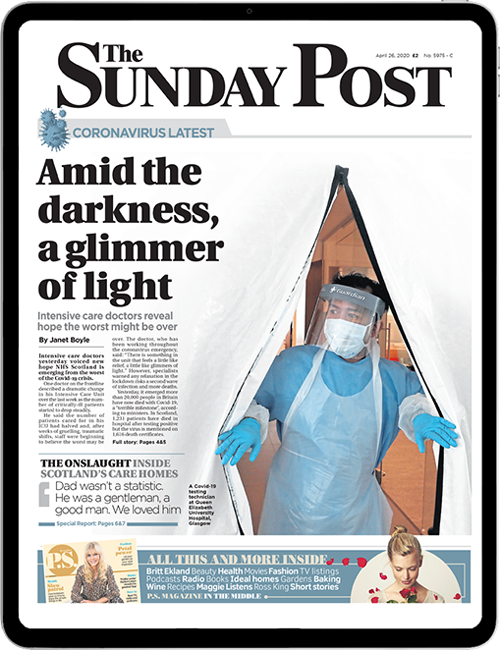 Enjoy the convenience of having The Sunday Post delivered as a digital ePaper straight to your smartphone, tablet or computer.
Subscribe for only £5.49 a month and enjoy all the benefits of the printed paper as a digital replica.
Subscribe