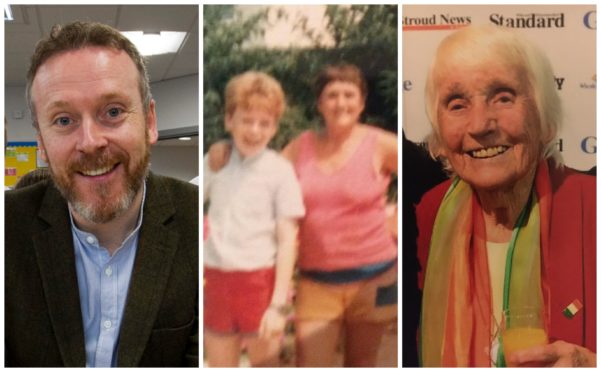 The handwriting was wobbly, but I knew it right away, almost 40 years after I first saw it.
"Dear Paul. I am going to try to write to you, but please excuse the writing. At 94, it's maybe not too bad."
I have been reading that handwriting since the early 1980s when, as a boy, I struck up what I couldn't then know would be a 40-year pen pal relationship.
One that I had no idea would take on such an unimaginable significance, and become such a resonant illustration of the social importance of letter writing, four decades later.
Patsy Spruyt was the joyously eccentric landlady of the house in Jersey my mum and dad rented for our summer holiday in 1984.
As a six-year-old who enjoyed reading and writing, I'd started penning simple letters to family and friends, a hobby which would soon grow into a regular exchange of inked thoughts on paper that I developed over the years with a small posse of pen pals, of all ages, near and far.
Some were in Port Glasgow, the friend in the next town who I'd been matched with by my sister and his, both at high school, in preparation for our intended meeting in the big school.
One was in Philadelphia, the pal of my father who'd emigrated to the USA. Others lived in Glasgow, Ireland, England.
As one summer holiday led to four in the Spruyt's Channel Island home in St Brelade, Jersey, Patsy and I struck up regular correspondence.
Letters continued as she and her husband moved to Australia and back, one of my regular group of writing friends, which slowly tapered off as email took over when I reached university and my life changed gear.
All those letters lay in a box in my parents' attic, forgotten for years until a chance discovery took me down a rabbit hole of nostalgia. Their resurfacing led to a Radio Scotland documentary, Lost Letters, in which I retraced those I could find in 2017.
To my amazement, Patsy, now the widow of a Church of England vicar, was alive and well and living in the south of England.
Thrillingly – 22 years since our last letter – she remembered me instantly when I tracked down her number and called.
The reunion led to what I thought might be one last letter exchange, as I sent newspaper coverage of the documentary.
But last month, in response to my Christmas card, I received the latest dispatch from 94-year-old Patsy, with updates on her charity work, her plans for her latest fundraising pilgrimages in Europe and Scandinavia, and local newspaper cuttings of her fundraising efforts and awards.
It was the fourth letter I had from her since reconnecting through my radio documentary, which led to countless listeners getting in touch on social media – or by letter – to tell me about their own enduring pen pal relationships.
And this week, exchanges such as ours fell into sharp focus. If the thrill of receiving a handwritten letter through the post brought happiness to a comparatively young, fit and socially engaged 40-something, then the value of that has become so much more significant to a woman in her 90s.
I asked my parents to dig out the old family photo albums, in a search for some photos of Patsy, her husband John and my family, all together, in Jersey, in more carefree times.
They found photographs of glorious days on sandy beaches in sunshine, of impromptu barbeques, the warmest of smiles, the sweetest of memories.
Each one provided a timely balm against the current climate of unprecedented social anxiety.
Looking through old photos proved to be life-affirming for my parents, themselves in their mid-70s, and reminded me that Patsy and her husband had, in their lifetimes, prevailed against some of the darkest times.
One of the most disheartening trends I've seen on social media in recent years is the rise of people dismissively posting about not sending Christmas cards, making a charitable donation instead.
To my mind, the arrival of a Christmas card represents perhaps the greatest gift we can offer – showing someone they're being thought of. I wonder if this Christmas might be different.
My recent letter from Patsy and the events of this last week have redoubled my determination about the value of keeping the ink flowing between old friends.
I'm not alone in putting pen to paper – I've heard stories about primary school pupils being asked to spend time writing letters to members of the community at risk of loneliness, and of kids writing to care homes.
Charities such as Age Concern have urged people to write to older folk among other approaches to challenging isolation.
Actors Sally Reid, from TV comedy Scot Squad, and pal Katie Barnett, have asked some pals to write letters to their grans, establishing the social media hashtag #grannymail.
Paul Goulden, director of The Silver Line charity, has encouraged more folk to lift a pen and share a thought with someone.
He said: "In these difficult times, letter writing is an important way to keep in touch with older friends and family, particularly for those who may struggle with technology. The time and thought that goes into putting a pen to paper makes it an extra special way to send words to loved ones.
"It's vital that, now more than ever, we keep in touch with older people to see how we can help. We all need to look out for each other during this time, particularly for those who are more at risk, and a letter or phone call could make a huge difference for someone who may be struggling."
Thousands of us have already taken up pens to keep connecting during these times of isolation.
And as I posted my latest letter to Patsy in her Cotswolds home, with old photographs of sunny summer days, I thought how unimaginable it was that letters written between a woman and a child in more carefree times would take on such meaning during such an unprecedented global crisis.
It's a simple combination, but as these small parcels of words and thoughts bound together on paper fall on doormats, they might just make someone's world a little lighter.