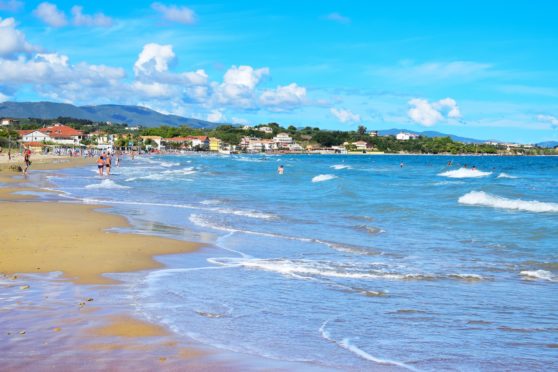 Stewart McPherson wants to warn other holidaymakers about the hefty charges they could face when using pre-paid money cards to withdraw cash abroad.
Last summer, Stewart and his partner Carol went on a break to the sun-kissed resort of Tsilivi on the Greek island of Zakynthos.
In the past, the couple had taken travellers cheques with them on holiday. But, because fewer overseas businesses are now willing to accept these, Stewart instead decided on a pre-paid Post Office Travel Money Card.
It was a decision he has paid dearly for.
Stewart had put €1,200 on the card and, while abroad, made two withdrawals from a cash machine, totalling €600.
However, when the retired council worker recently checked his balance he was shocked to discover he had been charged €90 in fees.
"When I had looked at the sales literature for the card it gave me the impression that I would be charged €2 per transaction," said Stewart, 54, from Banff, Aberdeenshire.
"That was the sole reason I invested in the card but, instead, I was charged €90 for making two €300 withdrawals. I was stunned."
Stewart said Carol had watched him make the withdrawals at the ATM in Tsilivi.
He said there was no on-screen information warning of the fees per transaction. "I was asked which currency I wished to select and I chose euros because that was the currency loaded on to the card," he said.
"I don't see what else I could have done."
When Stewart contacted the Post Office, he was told the extra charges were because of the exchange rate set by the ATM – known as a dynamic currency convertor fee – or other charges applied by the operator.
As a result, the Post Office said it could not refund him the full amount but offered €13.40, which represented its portion of the charges.
Stewart was told he should have received a separate leaflet in the pack his card came with, advising people to look out for these exchange rate charges when using an ATM overseas and how to avoid them.
The holidaymaker then wrote to Raw Deal and we asked the Post Office for an explanation.
It turns out these types of travel cards are inexpensive when used in, for example, shops and restaurants – but it can be a different story if withdrawing cash from an ATM.
ATM charges overseas are very common and apply to many different types of cards – not just the Post Office's Travel Money Card, but to other credit, debit and prepaid products.
The Post Office said: "We recommend our customers take a mixture of card and cash with them on holiday, so they can keep visits to a cash machine to a minimum.
"The Post Office's Travel Money Card can be used like a debit card in millions of shops, bars and restaurants across the world.
"That's the best way to use the card; paying with it directly is commission and fee-free when used in one of the 13 currencies we support that can be loaded on the card.
"When making purchases abroad, we strongly recommend our customers complete the transaction in the local currency, as converting the transaction to sterling will result in additional fees."
A spokesperson added: "These fees may include a dynamic currency conversion fee, none of which is levied or received by the Post Office; but which we know can be frustrating for customers, especially as ATM options are not always easy to follow."
---
How to avoid financial pitfalls when abroad
● Local cash is normally the easiest way to pay abroad. However, you will need to shop around for a good exchange rate. Avoid exchanging cash at airports as this can often be the most expensive option.
● Unless they are designed for travellers, credit cards and debit cards are usually expensive to use overseas. Avoid withdrawing money with a credit card, as this can attract steep fees and interest.
● Pre-paid cards are usually safer and cheaper than traditional credit and debit cards. However, they may not be accepted everywhere and can be expensive if withdrawing cash from an ATM.
● Always pay in the local currency, whenever you use a credit, debit or pre-paid card. This usually gives you the best exchange rate.