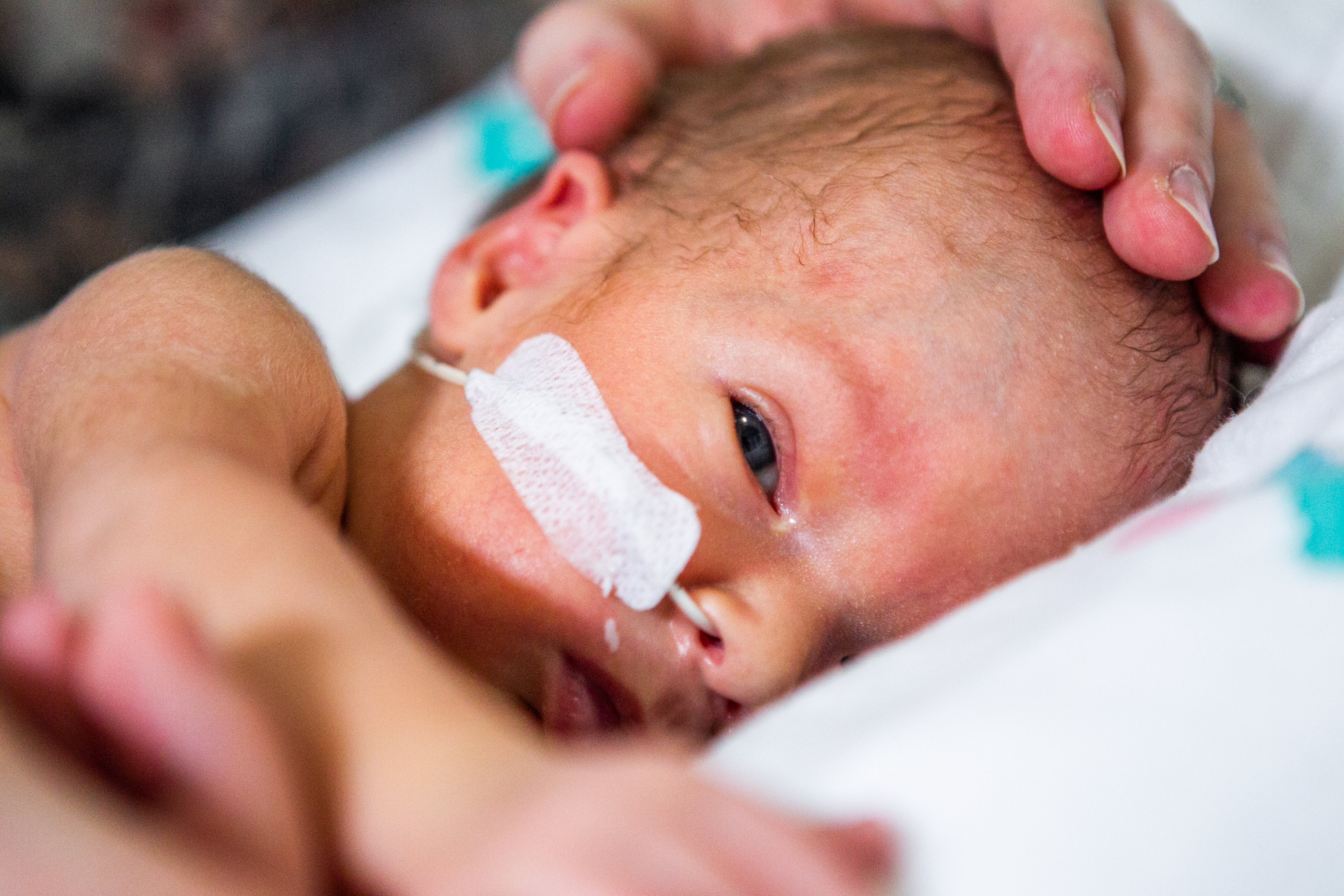 SURGEONS have transformed a baby's life after carrying out an astonishing spinal operation while he was still in the womb.
The parents of Augustine Somers yesterday hailed the pioneering surgery to repair spinal damage months before he was due to be born.
The operation was carried out soon after he was diagnosed with spina bifida. He is the first Scots baby to have his spine repaired while still unborn and, since his birth last month, is doing well in hospital in Glasgow.
Parents Amanda and Benjamin Somers described the surgery that transformed their son's life as "a little miracle'.
Benjamin said: "Doctors tell us it is the most remarkable surgery they have ever seen but it feels more than remarkable to us. You hope for the best while trying to prepare for the worst.
"We are in awe of what has happened."
Amanda said: "We are hugely grateful that our beautiful baby boy has had the opportunity to undergo this amazing surgery before he was born.
"Augustine is doing so, so well. We want to thank everyone who made it possible."
The couple had been shattered by the diagnosis 22 weeks into Amanda's pregnancy when, after a routine scan, doctors told them their baby had spina bifida.
The condition occurs when a baby's spine does not develop properly, leaving a gap that can lead to life-changing damage to the brain and nervous system. Depending on how much injury has been done, spina bifida can cause brain damage and leave sufferers in a wheelchair.
Desperate to seek out treatment for her unborn baby, Amanda immediately scoured the internet. After reading about a ground-breaking operation carried out on babies before birth, she contacted a research team at University College Hospital in London.
Their team, along with specialists from Great Ormond Street Hospital, were on the threshold of carrying out their first operations in the UK but had no capacity to take on Augustine.
They put the couple in touch with Professor Jan Deprest, who had pioneered the surgery in the Belgian city of Leuven, and had trained the British surgical team and others around the world.
Amanda, 32, a post-graduate philosophy student at St Andrews University, said: "We were hugely aware that we were working against the clock as the surgery can only be carried out before the end of the 26th week of pregnancy and I was approaching that."
Amanda travelled to London to let the specialists assess her baby for surgery and the go-ahead for the operation in Belgium was given by her obstetricians at Ninewells Hospital, in Dundee, and NHS Tayside.
With only days to the operation's deadline, the couple flew out of Edinburgh Airport, while Amanda's mother Beverley cared for the couple's two older children, Clementine, two, and Isabel, 17 months, at home in Dundee.
The four-hour operation involves a team of up to 30 theatre staff, including neurosurgeons and specialists in brain and spinal surgery, operating on the baby in the womb to close over the split, an open lesion, on the lower spine and repair the damage.
Benjamin added: "Scans had indicated that the lesion was large and about the maximum that surgeons could attempt to repair.
"The skin opening was large but the covering of the spinal cord was smaller, which was good news because that meant that less of the cord had been exposed to damage in the womb.
"We have been told that the surgery stops any further damage being done to the spine by closing it over and protecting it."
Amanda, who was told her baby is the first Scot to undergo the pioneering surgery, spent 10 days recovering in Leuven before flying back with Benjamin to Scotland.
The Somers were told a premature birth was likely after surgical intervention and Amanda was given drugs to subdue an early labour.
Amanda had to undergo seven weeks of bed rest before the birth to help prevent a premature delivery. Doctors were anxious to ensure that Augustine would grow to a good weight and become old enough for his lungs to mature before being born.
But 33 weeks into pregnancy her waters broke and she was transferred to the Queen Elizabeth University Hospital in Glasgow.
Benjamin said: "We were told there was an extensive team of intensive care paediatricians, obstetricians and a neurosurgeon if Augustine needed further repair to his spine."
Despite his early birth, Augustine weighted a healthy 5lbs 9oz when he arrived last month.
He was delivered by caesarean section and Amanda remained conscious throughout the birth, with a spinal anaesthetic for pain relief and Benjamin by her side.
She said: "When Augustine was born I felt overwhelming relief. My part was complete and we waited for the doctors to examine him.
"He was well and we were so happy."
Follow up tests by specialists have shown that all the major nerves giving him ambulatory movement are working. The signs are that he will be able to walk.
After vital bonding moments with his parents, Augustine was taken to the newborn intensive care unit to spend his first weeks of life under close monitoring.
But he has now progressed so well that he has been moved out of intensive care to special care. Last week, he tipped the scales at 6lbs – more than a month before he was due to arrive.
His grandparents, Benjamin's mum and dad Bruce and Karen, flew in from their home in St Louis, Missouri, last week to see him. "We are so happy that Augustine got the chance to undergo this amazing surgery.
"Our family will be eternally grateful for everything that has been done for him.
"We have a deep faith in God and we placed our trust in him for successful surgery," Benjamin said. "It has been an incredibly worrying time for us but so far, so good. We are so grateful everything has gone to plan. Our prayers have been answered.
"As we held Augustine for the first time we felt overcome with joy. He is a wonderful baby boy with a huge determination."
The surgery in Belgium was led by Professor Jan Deprest, who has pioneered the operation.
He has trained other surgical teams around the globe while performing the operation more than 40 times. Other neurosurgeons have visited his hospital to be trained in the techniques, including a team from Great Ormond Street and University College Hospitals in London. In October, they announced the operation had been carried out on two babies, the first in Britain.
Speaking to The Sunday Post on Friday, Professor Deprest said the surgery could not repair damage already inflicted on babies' spines but could "stop the clock" and prevent further injury.
---
Spina bifida: What is the condition affecting just six babies in every 10,000 born in Britain?
Spina bifida is a condition that develops during pregnancy when the bones of a baby's spine do not form properly, creating a gap that leaves the spinal cord unprotected in the womb.
It can cause a baby's spinal fluid to leak and affect brain development and inflict nerve damage to the lower body, potentially leading to long-term health and mobility problems.
It is thought spina bifida can be caused by low intake of folic acid and some medicines taken by women during pregnancy.
But genes are also a factor. Six in every 10,000 babies born in Britain are diagnosed with the condition, around 200 every year.
Spina bifida can take several forms but is a type of neural tube defect. The neural tube is the structure that eventually develops into the baby's brain and spinal cord.
The neural tube starts to form in early pregnancy and closes about four weeks after conception.
In spina bifida, part of the neural tube doesn't develop or close properly, leading to defects in the spinal cord and bones of the spine.
There are two types of neural tube defect: open, also called spina bifida aperta or myelomeningocele, or closed, also called spina bifida occulta.
While there is no cure for the condition, treatments focus on the complications.
The goal is to create a lifestyle for the child and family in which the disability interferes as little as possible.
Specialist nurses, physiotherapists, occupational therapists can also provide interventions, treatments and support.
---
Charity: Our hope
Charity Spina Bifida Hydrocephalus Scotland notes that Scotland has more live births with spina bifida per head of population than anywhere else in the UK.
It believes this is possibly due to religious and cultural differences as only 50% of pregnancies are terminated in Scotland as compared with 80% in the rest of the UK.
Andy Wynd, chief executive of SBHS, said: "Children born with the lifelong condition often have paralysis in the lower limbs, urological, neurological and orthopedic problems which often become more significant as they become older.
"We welcome any medical developments which have the potential to improve the life of those born with spina bifida. While it is still a relatively new procedure, there have been some positive results worldwide, with emerging interest in Europe and most recently in the UK. We would advise parents affected to speak with their consultants as soon after their 20-week scan as possible.
"Families looking for any further information can also contact SBH Scotland directly on 03455 211 300."
Scotland has a higher proportion of babies born with spina bifida than anywhere else in the UK, according to charity Spina Bifida Hydrocephalus Scotland.
One factor may be the lower number of pregnancies that are terminated after a diagnosis in Scotland, 50%, compared to the rest of Britain, 80%, possibly because of religious and cultural differences.
Andy Wynd, chief executive of the charity, said: "We welcome any medical developments which have the potential to improve the life of those born with spina bifida. While it is still a relatively new procedure, there have been some positive results worldwide."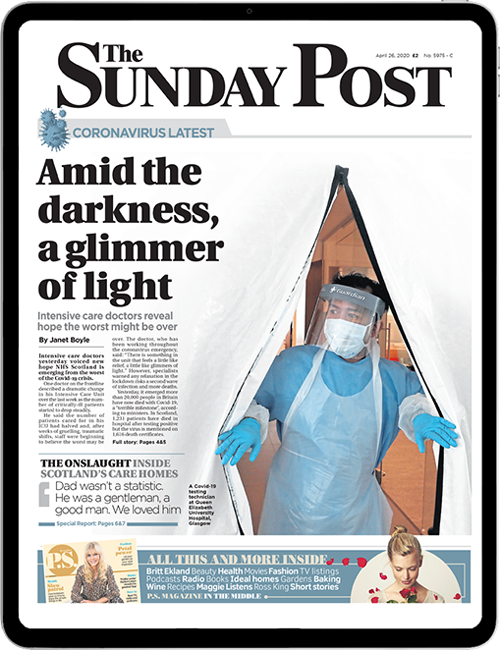 Enjoy the convenience of having The Sunday Post delivered as a digital ePaper straight to your smartphone, tablet or computer.
Subscribe for only £5.49 a month and enjoy all the benefits of the printed paper as a digital replica.
Subscribe