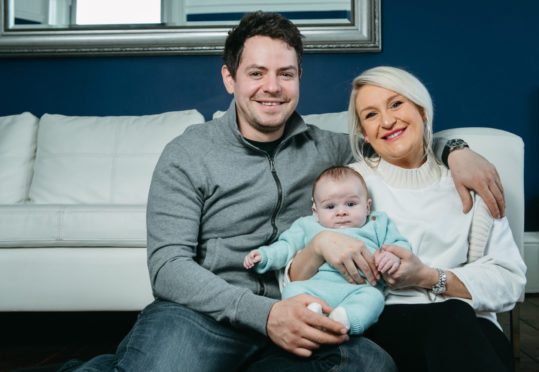 The world will always be a strange and wondrous place for newborn babies, but the world today's new arrivals face is a strange place for their parents, too.
Born in lockdown and, inevitably dubbed the "Quaranteenies", newborns arrive in a world of masked faces and the smell of hand sanitiser. However, while few have met their extended families, or even know other children exist, new arrivals have probably had more precious time with their parents than ever before.
As we approach the anniversary of the start of restrictions being introduced, it sparks wonder whether having 2020 on your birth certificate is a blissful blessing… or a Covid curse.
Emma Willis has returned to our screens with another series of Delivering Babies, which explores what it's like to be pregnant and give birth during a global crisis.
Filmed during the first lockdown which hit 11 months ago, the TV presenter gets in touch virtually with parents-to-be across the country whose birthing plans have been disrupted by Covid-19.
Over the course of the four-part series on the W channel, Emma, a mum-of-three, asks couples to turn the camera on themselves and film the stress, drama and joy of bringing new life into the strange world we are currently living in.
Emma describes the babies as "pockets of hope" in these turbulent times. And she's absolutely right. While every new life is a little miracle, the Quaranteenies are a promise of the good things to come.
Here, we speak to two new mums about their experience of pregnancy during the pandemic and the magic of motherhood in lockdown.
---
It's sad that people can't cuddle him yet, but he is bringing us so much happiness
Baby Jack is eight weeks old – and absolutely thriving.
"I don't know whether it's a product of lockdown or not, but he's just a super-happy baby," mum Sarah Ballantyne said.
"It hasn't been a great year for a lot of people, but Jack has made it a special one for us.
"We've certainly had something positive to focus our attention on."
The week Scotland plunged into lockdown was the same week Sarah found out she was expecting.
"It wasn't ideal," she said. "It was still early days and nobody knew what was going to happen.
"But we were optimistic and assumed it was just a short-lived thing and would have blown over by the time the baby arrived.
"My mind was busy thinking about baby showers. I didn't think for a minute that we would still be in lockdown a year down the line."
Events manager Sarah and partner John Bell were a little nervous, and, as time moved on, started to become anxious about the birth.
"It turned out I had a big baby, so I was having growth scans every couple of weeks," Sarah, 33, said.
"John wasn't allowed to come to the appointments so I had to make important decisions on my own.
"There were conversations about complications like shoulder dysplasia, a difficult delivery… it was quite overwhelming not having John there."
Sarah opted to have a C-section, largely because it guaranteed John would be with her when the baby arrived, as opposed to only being called last minute for a natural labour.
Happily, everything went smoothly and baby Jack arrived on December 10, weighing 8lb 4oz. The first few weeks back at the couple's flat in Dennistoun, Glasgow were hard.
"I lost my mum eight years ago so my girlfriends had big plans to pop in every day and help me with the baby after the section – but of course, nobody was allowed to come," Sarah said.
"And there was very little post-natal support either. We felt completely on our own. It was a case of a lot of Googling or downloading apps on our phones to learn about things."
Sarah has been focusing on the positives and using the time with Jack to bond and get into a routine.
"We haven't been able to go to classes so Jack hasn't met other babies and I haven't had that peer support and all the hints and tips you pick up from other mums.
"But Jack doesn't seem to mind. I don't want him to miss out, so every day, we have sensory class, read stories and do tummy time.
"And he's coming on in leaps and bounds. While there have been some negatives, the plus point is that I get to spend real quality time with him while I'm on maternity leave."
Sadly, at two months old, Jack has yet to meet many members of his family.
"We were thankful that it was Christmas a few weeks after he was born and we were able to spend the day with family," Sarah said. "That was a real blessing.
"But since then, we have been back to not seeing anyone. It is so sad knowing there are people who want to cuddle him, but they can't.
"I worry that by the time some people get to meet my baby, he won't be a baby anymore. But at the moment, he's bringing us so much joy and that's the best we can ask for."
Sarah added: "I am terrified about the future. I worry that not interacting with other people might turn Jack into a clingy baby… and what will happen when it's time for him to start nursery?
"But thankfully that's not for a while yet and hopefully things will be back to normal by then."
---
He's amazing, but it may be a while before his grandparents hold him for the first time
After a tough year as frontline hospital workers, Caroline and Pete Hutchison are enjoying a well-earned rest, following the arrival of their baby son.
The couple, who live in Newport, Fife, welcomed 9lb 2oz Fraser on February 5.
"He's just amazing," NHS physiotherapist Caroline said. "It's all been a bit of a blur since we got home but we're just enjoying our little bubble.
"Because of the restrictions, there's no pressure. We don't need to be anywhere or do anything. We're not allowed any visitors.
"It's been a nice start to life as a family of three so far."
However it does mean Fraser has yet to meet both sets of grandparents, with Pete's parents in Aberdeen and Caroline's mum and dad in Northern Ireland.
"We just love Fraser and want to show him off," Caroline, 32, said.
"But it's going to be a while before he meets his relatives.
"Fraser might not be a tiny baby anymore by the time his grandparents have their first hold of their first grandchild and that makes us really sad."
Caroline and Pete, a trauma and orthopaedic registrar at Ninewells, were prepared for the eventuality and bought Caroline's parents an iPad for Christmas so they could at least meet the baby virtually.
"They aren't very technically aware but they have mastered it well enough to meet Fraser and that's better than not seeing him at all," Caroline said.
Caroline and Pete, 33, found out they were expecting not long after lockdown hit last March.
And the pregnancy got off to a bit of a rocky start when Caroline's appendix ruptured 14 weeks in and she had to undergo emergency surgery.
"It was a scary time wondering if everything would work out with the pregnancy and if I would get bad news when I was on my own as Pete was only allowed to visit for an hour a day and had to book in.
"But apart from that, everything was good. Named birthing partners were allowed to come to scans so Pete was with me for those and able to be with me in labour and for five hours a day after Fraser was born.
"Although there were fewer midwife appointments, the maternity team have been fantastic."
With the baby here safely, the couple say their biggest parental challenge now is finding things to fit Fraser.
"He outgrew newborn size on the first day, so we need to get him some bigger clothes," Caroline laughed.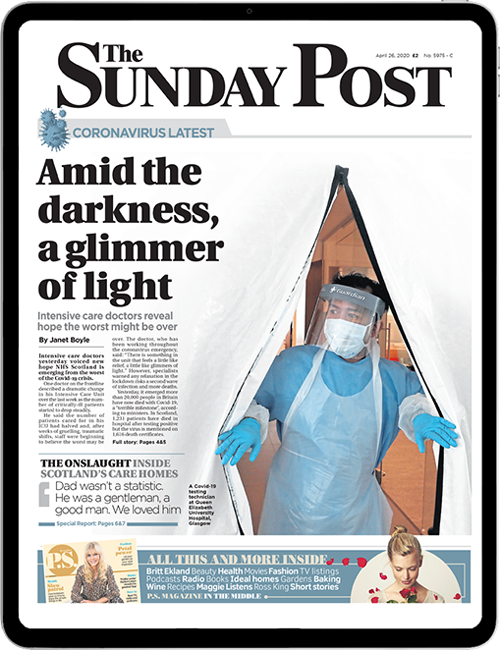 Enjoy the convenience of having The Sunday Post delivered as a digital ePaper straight to your smartphone, tablet or computer.
Subscribe for only £5.49 a month and enjoy all the benefits of the printed paper as a digital replica.
Subscribe