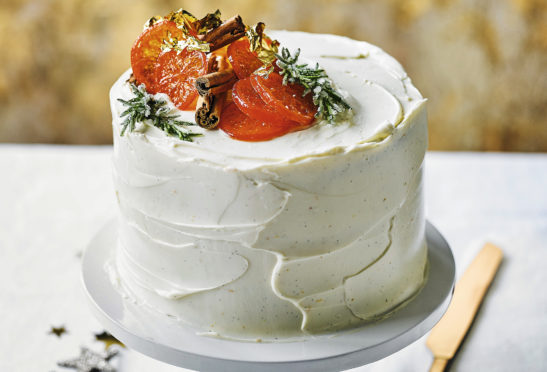 Preparation time: 30 minutes
Cooking time: 1 hour 20 minutes
Total time: 1 hour 50 minutes
Serves: 12
You'll need
For the cake
225g butter, softened to room temperature
340g caster sugar
4 British Blacktail Medium Free Range Eggs
340g self-raising flour
½ tsp ground cinnamon
½ tsp mixed spice
8 clementines, zest and juice
4-6 tbsp semi-skimmed milk
250g granulated sugar
4 tbsp Cooks' Ingredients Kalamansi Juice
Candied fruit
2 clementines or mandarins
150-200g caster sugar
For the frosting
400g full-fat cream cheese
75g icing sugar
1 tsp vanilla paste
100ml double cream
1 clementine, finely grated zest and 1 tbsp juice
For the decoration
Crystallised rosemary
(see Cook's tip, below)
Cinnamon sticks
Gold leaf (optional)
Method
1. Preheat the oven to 180°C, gas mark 4. Grease and line 3 x 18cm round loose-bottomed tins with baking parchment.  Cream together the butter and caster sugar in a large bowl using an electric whisk for about 4-5 minutes, until pale and fluffy.
2. Beat in the eggs, one at a time, with a spoonful of the flour, then fold in the remaining flour with the ground cinnamon, mixed spice and clementine zest. Stir in enough milk to make a smooth batter that easily drops off the spoon.
3. Divide the mixture equally between the three tins, using a spatula to smooth over the top. Bake for 25-30 minutes, or until the cakes are risen, golden and a skewer inserted in the centre comes out clean.
4. While the cakes are baking, mix the granulated sugar with the clementine and kalamansi juices until dissolved. Prick the hot cakes all over with a skewer and pour over the citrus syrup and cool in the tin.
5. While the cakes are cooling make the candied fruit. Using a sharp knife, slice the clementine very thinly, removing any pips. Arrange the slices in a pan and just cover with water. Bring to the boil, then reduce to a simmer for 15-20 minutes, until tender. Strain, reserving the clementine slices and cooking water. Weigh the reserved water and return to the pan with the same amount of caster sugar, heat gently until the sugar dissolves, add the reserved fruit and cook in the syrup for 15 minutes. Lift the clementine slices onto a baking sheet lined with baking parchment and cook in the oven at 130°C, gas mark ½, for 30-40 minutes to dry out. Then leave to cool.
6. When the cakes are cooled, make the frosting. Using an electric whisk beat together the cream cheese, icing sugar, vanilla paste, clementine zest and juice, until smooth. Then add the double cream in a steady stream, whisking all the time until thick.
7. To assemble, place one of the layers topside down, spread a generous spoonful of the frosting evenly over the surface and top with another layer of cake and repeat. Top with the final layer of cake and spread the remaining frosting over the top and around the sides with a palette knife.
8. Arrange the candied clementine slices, cinnamon sticks and crystallised rosemary on the top, and finish with a little gold leaf (if you wish).
Cook's tip
To crystallise rosemary, whisk a British Blacktail Free Range Egg white and brush over some washed, well-dried rosemary sprigs. Dust liberally with caster sugar and shake off any excess, then leave to dry for at least 1-2 hours on a wire rack.
---