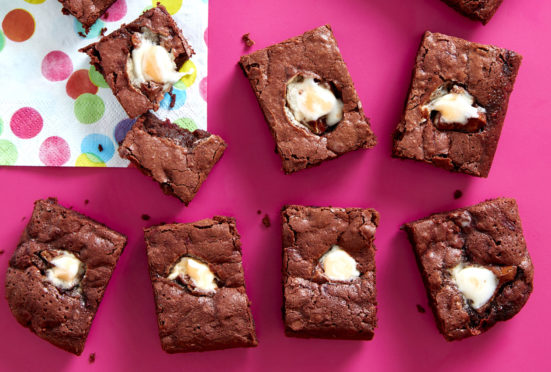 You'll need
225g dark chocolate
150g butter
225g golden caster sugar
3 eggs
120g plain flour
200g cooked beetroot, grated
3 crème eggs, cut into 20 pieces
Method
Preheat oven to 180C/fan 160C/gas 4 and butter and line a 20cm x 30cm baking tin, 3-4cm deep with baking parchment.
Place the chocolate and butter in a bowl and melt, in microwave or over pan of gently simmering water. Stir until smooth, set aside to cool.
Whisk sugar and eggs in large bowl with a hand-held whisk for until pale and thick. Whisk cooled chocolate and butter into the eggs, gently fold in flour and grated beetroot until evenly mixed. Pour into the prepared baking tin.
Dot the crème egg pieces on top of the batter, spacing that each square of brownie has crème egg in it.
Bake in the oven for 25-30 mins until brownie is firm to the touch. Leave to cool in tin for 10 minutes then place on a wire rack to cool before cutting into 20 pieces.
The brownies will keep for up to a week stored in an airtight container.
---
Creme Egg Cookbook, £9.99, Waterstones