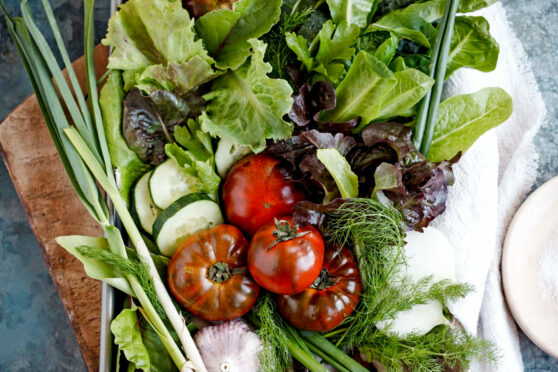 When Fi Buchanan was growing up, salad usually took the form of a sad little pile of wilted leaves shoved on the side of the plate – a "useless kind of falderal" – always included but never eaten.
"In the '70s and '80s, it was two leaves of lettuce, half a tomato cut into zig-zags at the edges and dried parsley sprinkled over the top," explained the cookery writer with a laugh. "But salads are so much more than that, so much more real, and they cater to our every needs. Sometimes you just need dark green leaves, something sour and crunchy, something smoky and bacon-y, and you can have it all in a salad."
In her new book, the Glasgow-based foodie aims to dispel the myth of salads being nothing more than a few chopped veg that are forced down when we're on a diet or used as a bargaining tool by tired parents. By using a variety of textures, colours, dressings and seasonal ingredients, we can easily, Buchanan says, turn the humble salad from "just one more bite, please" to a lip-smacking nutritious, affordable and delicious meal.
She explained: "In truth, a salad can be anything you want it to be if you just throw together what's best, fresh and good value. It fits my style of cooking, which is simply getting the tastiest things in one big bowl, and popping it the middle of the table so everyone can just get their forks in and help themselves."
Featuring 52 seasonal recipes, one for every week of the year, Buchanan's Seasonal Salads shows homecooks how to create harmony on the plate, turning a mish-mash of seasonal vegetables into everything from show-stopping centrepieces to quick mid-week meals. Plus, with a section on "delicious additions" such as crispy shallots and garlicky breadcrumbs, and a handy flavour guide for choosing between peppery rocket or juicy iceberg, every mouthful can be packed with taste.
"To me, salads are composed of elements like a song is composed of chords," she writes in the introduction to the cookbook. "I don't think I'm alone – in fact, anyone can experience a salad like this, looking for harmony, then enjoying the taste of it. Take a veg or fruity base, add flavour with fresh greens, herbs and dressing, and enhance the texture with a sprinkle of something crunchy, or a dollop of something refreshingly cool."
From spice-roasted carrots made with thick multi-coloured julienne slices, dressed in maple syrup and served in the winter months, to the classic summer fattoush, a Middle Eastern bread salad, Buchanan finds inventive ways to make the most of seasonal produce. And with recipes acting only as a guide rather than a rule, it's easy to pick and choose your favourite elements.
She continued: "My rule is that there are no rules. Well, except I would say it's possible to overdress a salad, which renders it soggy a bit too quickly – it pays to have a light touch and taste as you go.
"And then there's the ultimate hedonistic rule, which is to just please yourself. If you're making something that you like and it's full of vegetables, protein and different textures and it's rainbow coloured, then it's going to be wholesome."
Pulses, grains and rice, proteins, carbs and veg are all integral to a nourishing salad, and this month, Buchanan recommends big, warming plates and bowls of roast sweet potatoes with chermoula or fresh and tangy celeriac remoulade to beat the winter blues. However, her favourite salad for the season is a classic and crunchy Caesar with cos lettuce, homemade croutons and the pièce de résistance, "Parmesan shards".
"Grate Parmesan on to a piece of baking paper and it makes this beautiful crisp," she explained of the recipe, which is perfect for January. "Oh I'm going to have that for lunch now we're talking about it. The dressing is a skoosh, too."
Classic Caesar with Parmesan shards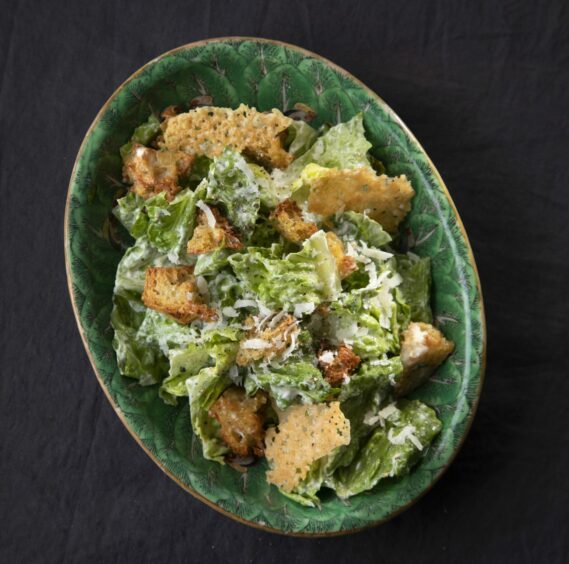 Serves: 4
The trick here is to dry your lettuce well after you've washed it and to dress the croutons at the same time as the leaves. The croutons should be delicious little magnets for the Parmesan. It's worth using a microplane, which produces light snowflakes of Parmesan, rather than an old-school grater.
You'll need:
2 Cos lettuces, trimmed and cut into quarters lengthways, or 4 baby gems cut in half
50g freshly grated Parmesan
Salt and freshly ground black pepper
For the dressing:
1 tsp Dijon mustard
juice of ½ lemon
1 garlic clove, minced
30ml extra virgin olive oil
200g good-quality shop bought mayo
2 anchovy fillets, mashed to a paste (optional)
For the Parmesan shards:
100g Parmesan, freshly grated
½ tsp cayenne pepper (optional)
For the croutons:
2 slices of de-crusted bread (stale is fine)
1 garlic clove, cut in half lengthways
3 tbsp extra virgin olive oil
½ tsp fine sea salt
Method
Make the dressing by whisking the mustard, lemon, garlic and oil into the mayo and, when combined, add the anchovies, if using. Taste and add salt and freshly ground black pepper to your liking.
Next, make the Parmesan shards. Preheat oven to 200C/180C fan. Line a baking sheet with greaseproof paper and sprinkle over the Parmesan. Bake for 8-10 minutes until the cheese is golden and bubbling. Once cool, sprinkle with the cayenne, if using, then break the cheese into shards. The shards will keep in an airtight container for 4 to 5 days.
For the croutons, rub the bread on each side with the cut half of the garlic and cut or tear into 2–3cm cubes. Add the olive oil and salt to a large bowl and throw in the bread, mixing (with your hands) to ensure it is well coated. Put the cubes on a baking tray and bake for 10-15 minutes.
Dress the lettuce and croutons in a wide shallow bowl, make sure everything is well coated. Transfer to a serving plate and scatter over the freshly grated Parmesan then arrange the Parmesan shards. Add a final twist of black pepper before serving.
---
Seasonal Salads: A Salad For Every Week Of The Year, Kitchen Press, £15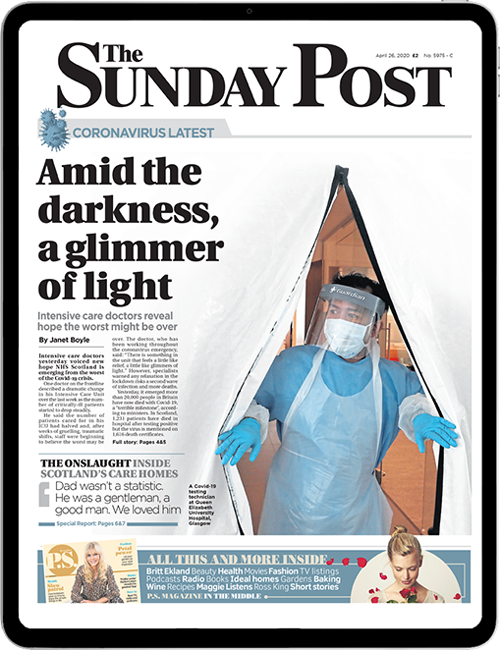 Enjoy the convenience of having The Sunday Post delivered as a digital ePaper straight to your smartphone, tablet or computer.
Subscribe for only £5.49 a month and enjoy all the benefits of the printed paper as a digital replica.
Subscribe