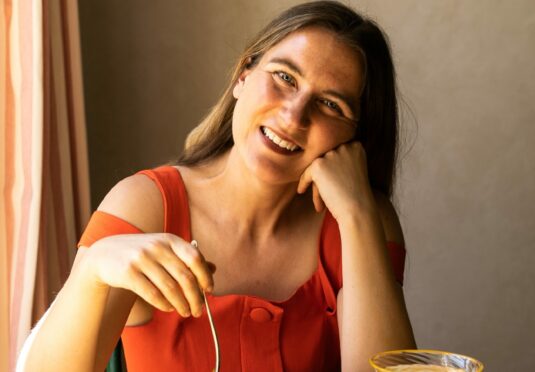 During those first years away from home, most students' culinary repertoire rarely extends beyond ready meals and beans on toast.
But it was during her freshers' year at Oxford University that Skye McAlpine started getting serious about cooking.
"My parents cooked a lot, so I always felt comfortable in the kitchen, but it was that transition from being asked to peel a potato or chop something, to the whole production of creating a meal," says the food writer.
"I was always planning supper – who I was going to have over, or what I was going to cook – when I probably should have been more focused on my studies."
Born in London, she moved to Venice with her parents (her father is the late businessman and politician Lord McAlpine) when she was six, enrolling in a local school and picking up Italian within a year.
Fast-forward to her first year studying classics at Oxford. After a chance encounter in the college bar, the then-18-year-old began dating the man who would become her husband, Anthony Santospirito – and that wasn't her only burgeoning passion at the time.
"That's when my love affair with cookbooks really started," says McAlpine, who now splits her time between Italy and the UK. "I bought a couple to learn to cook, and just loved reading them. Then I started collecting them, and spent a lot of time cooking."
Completing undergraduate and master's degrees, she was partway through a PhD, when she became pregnant. And it was while on maternity leave that McAlpine started a food blog.
"By the time I'd completed my PhD a year and a half later, the blog had gained momentum, and I'd been commissioned to write some freelance pieces. I also had my first cookbook commissioned."
Now the proud author of three titles, the 38-year-old hatched the idea for her latest book, A Table Full Of Love, during lockdown in 2020.
"I spent a lot of time thinking about why we cook, and wondering what makes it feel like a worthwhile investment of time, when time is such a precious commodity. We cook for people – I do anyway – and that's why it matters. You make a plate of pasta, then you sit down and eat it – it's the rituals around it."
She settled on five themes to illustrate why we cook: comfort, seduce, nourish, spoil and cocoon.
"The first chapter is about friendship," she explains, which is where you'll find recipes for gooey macaroni cheese, warming chicken soup, and her mum's saffron and lemon risotto.
"It's this idea of cooking to lift someone's spirits, whether that's because they've had a tragedy, or they're having a rough day, or you just want to show them you care."
In the seduce section, McAlpine shares the recipe for Anthony's Special Pancakes, made by her husband in the early days of their courtship.
"Some couples have songs, but we have recipes or dishes," she says. "I remember being blown away by how delicious Anthony's pancakes were."
The couple's sons – Aeneas, 10, and Achille, three – are pictured in the nourish chapter, helping mum make "polpette" – ricotta balls. And the spoil theme is all about the joy of edible gifts – for both the recipient and the giver.
"When there's nothing you can do to help someone, you can make a phone call, you can bake a tray of brownies, or you can make them a cup of tea," McAlpine says.
"Being able to do something that visibly makes someone you care about happy is a precious thing."
The final chapter, cocoon, celebrates self-love with dishes perfectly portioned for solo dining, such as roast poussin with lemon potatoes…"the joy of a chicken lunch, but for one".
Featuring sumptuous photos taken in the author's magnificent Venetian apartment, the book is beautiful to behold, but McAlpine wants to stress the dishes aren't as elaborate as her decor.
"There are so many shortcuts and a lot of simple recipes. It's not about cooking something amazing or fancy or impressive, it's about doing something, no matter how small, because sometimes these things can bring so much pleasure."
The Venetian cookery influence is obvious, with the plethora of vibrant pasta and creamy risotto recipes.
"It was a magical place to grow up," says McAlpine of the city famous for crisscrossing canals, gondola rides and incredible architecture.
"It's a bit of a fairy-tale city. It's deeply impractical, but it kind of lives in its own time capsule."
After more than three decades as a part-time resident, McAlpine has watched Venice strain under the weight of millions of visitors.
"The volume of tourists is high, and I'd say it has been for the past 15 years.
"That has had a big impact on the fabric of the city, but it's still magical. It's a magic, magic city."
Skye's rhubarb and cheddar tart recipe
"As much as you might associate rhubarb with puddings and nursery fare, don't be fooled: this is very much a savoury business, and also very much a 'grown-up' dish," says food writer Skye McAlpine.
"To go with it, you only need a salad: a similarly pastel-hued salad of blush-pink radicchio rosa or dark red bitter chicory.
"One warning: this works best with long, thin, furiously pink rhubarb stems, rather than fatter ones, which take longer to cook and can taste a little too sharp."
You'll need
325g sheet of ready-rolled all-butter puff pastry
1 egg, lightly beaten
250g mascarpone
2 tbsp finely grated Parmesan cheese
400g thin stems of bright pink rhubarb
1 tbsp caster sugar
130g Cheddar cheese, grated
Small bunch of thyme
Sea salt flakes and freshly ground black pepper
Method:
Heat the oven to 200°C/180°C fan/ gas mark 6. Line a baking tray with baking parchment and unroll the sheet of pastry on to the tray. Use a ~sharp knife to score a two to three-centimetre border around the edge, then prick all over the centre part with a fork.
Brush the pastry edge with the egg, then line with baking parchment and baking beans. Blind-bake in the oven for 10 minutes, until dry to the touch and lightly golden at the edges. Take out of the oven and leave to cool for 10 minutes or so.
In a small bowl, combine the mascarpone with the Parmesan and season generously with salt and pepper. Spoon the mascarpone over the middle of the tart, and spread it out as evenly as you can. If the pastry is puffed up in the middle, don't worry, just press it down gently with your hands and spoon the mascarpone on top. Cut the rhubarb into long-ish pieces, roughly 16 centimetres long, and arrange them snugly, side by side like soldiers, over the mascarpone. Sprinkle the sugar over the rhubarb, then top with the grated Cheddar. Lastly, scatter over a few thyme leaves.
Set in the oven to bake for 15-20 minutes, until the cheese is melted and the rhubarb is tender. Serve warm.
---
A Table Full Of Love, published by Bloomsbury, priced £26, out now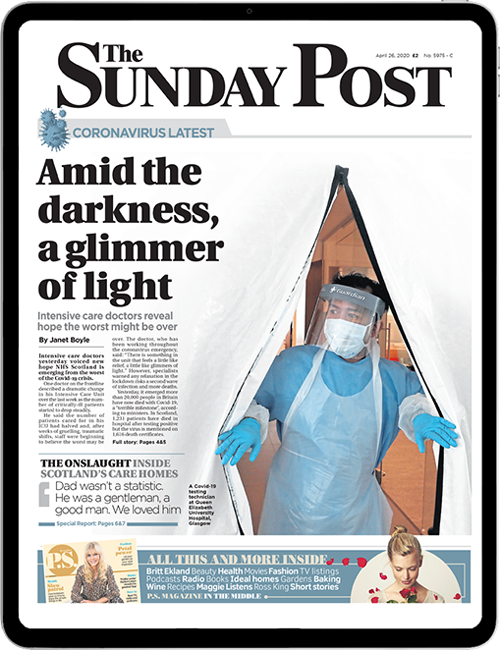 Enjoy the convenience of having The Sunday Post delivered as a digital ePaper straight to your smartphone, tablet or computer.
Subscribe for only £5.49 a month and enjoy all the benefits of the printed paper as a digital replica.
Subscribe