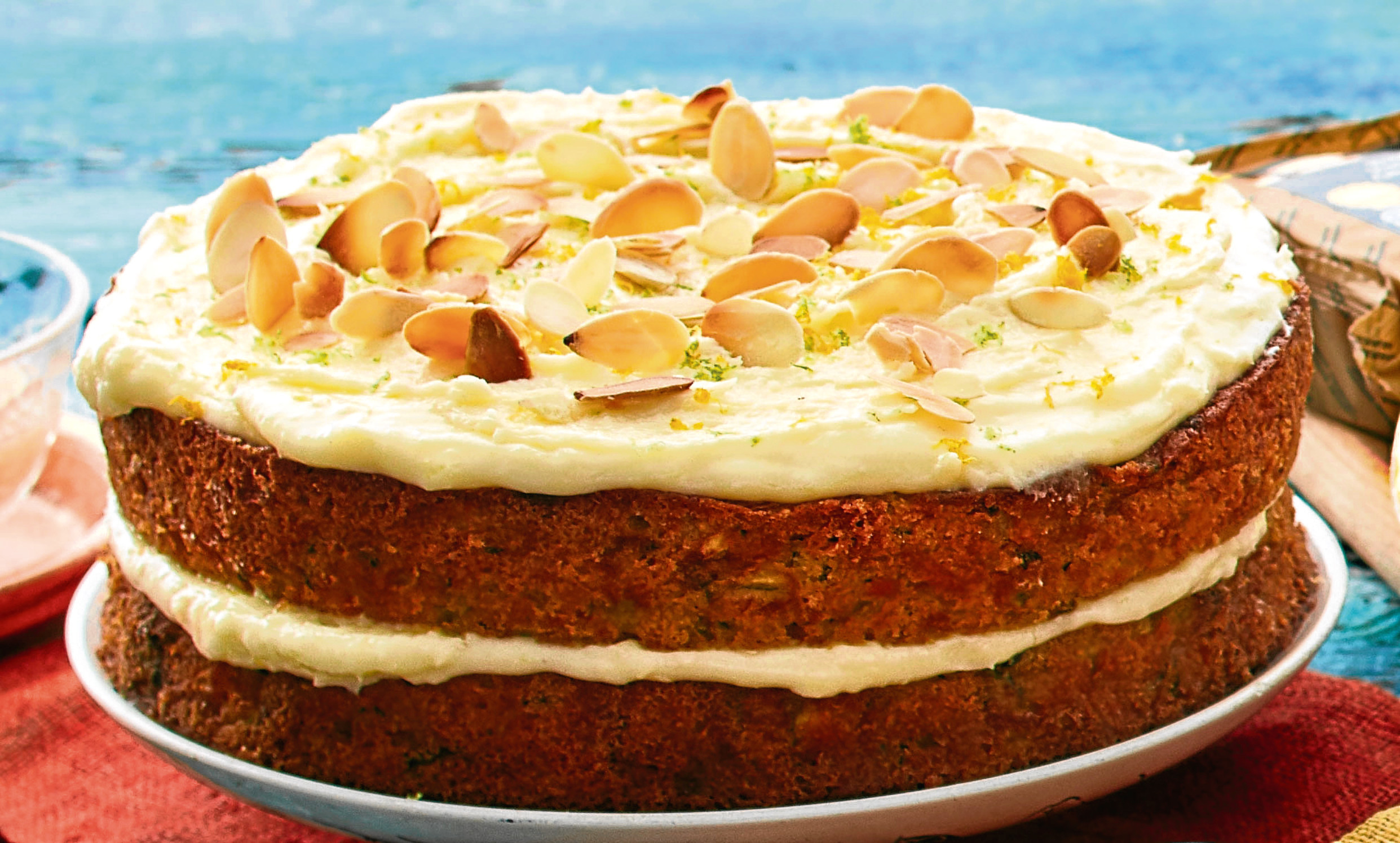 EVERYONE loves carrot cake but, having tried this courgette cake, we've decided it's our new fave. It has a delicious combination of citrus flavours, nuts and sultanas.
We reckon there's so much goodness packed into it, a slice definitely counts as one of your five a day – and it's much more tasty than a portion of boiled cabbage.
Thanks to Lidl for this week's gorgeous bake.
You'll need
2 courgettes, ends removed
1 carrot, peeled
200g self-raising flour
200g sugar
1 tsp baking powder
50g ground almonds
1 lemon
1 orange, zest only
40g sultanas
3 eggs
200g butter, softened For the frosting
200g softened butter
1 tbsp orange juice
200g icing sugar
400g cream cheese
1 lemon, zest only To serve
Citrus peel, to decorate
Method
Preheat the oven to 200C/180C fan/gas mark 6. Grease and line two 20cm cake tins.
Coarsely grate the courgettes and carrots, then place into a colander over the sink and squeeze to release any liquid. Repeat twice, or until barely any more moisture comes out. Toss in 10g of flour and set aside.
Sieve flour into the bowl of a food mixer and add the sugar, baking powder, almonds and a pinch of salt. Zest the lemon – reserving the juice for the frosting – and add to the bowl, along with the orange zest, sultanas and eggs and butter.
Mix for two minutes, then add courgette and carrot and mix for a further two minutes, or until well combined – but do not overmix.
Divide between the cake tins and bake in the oven for 30–40 minutes, or until the tip of a knife inserted in the centre comes out clean. Leave to cool for 10 minutes in the tins, then place on a rack and leave to cool.
For the frosting, place butter into a bowl and add the juice. Beat until combined, then add the icing sugar and beat till smooth.
Stir in cream cheese and lemon zest, mixing gently with a wooden spoon until combined.
Spread half the frosting in the middle of the cake and use the rest on top. Decorate with a little lemon and lime zest, or curls of citrus peel.