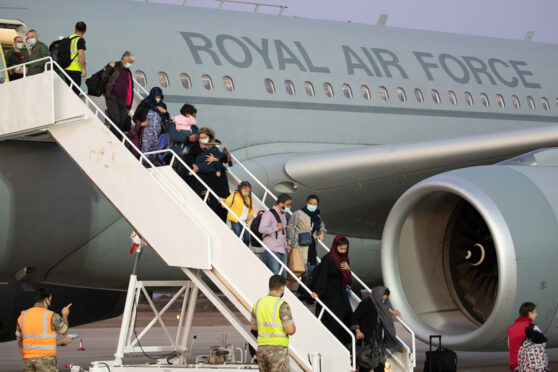 The UK Government has been urged to do more to bring Afghan refugees to Britain amid mounting fears for their safety under the Taliban regime.
Refugees' organisations yesterday called for more urgency in the official response and said many Afghans fleeing for their lives after the sudden withdrawal of Nato forces faced tortuous delays in finding help.
The Scottish Refugee Council (SRC) said Britain's response had been deeply disappointing, with key details of a resettlement scheme still to be decided.
Charities spoke out after Afghan refugees fleeing the Taliban and now stranded in the Gulf last week branded Britain the worst country in the world for processing applications.
Yesterday two RAF flights arrived in the UK carrying more than 100 Afghan and UK nationals – the first such military flights since the end of the evacuation from Kabul, in August.
But refugee charities said resettlement needed to be more than just an emergency response and warned of some families being stuck in hotel rooms for months on end.
In limbo
Last week it emerged that, more than two months after the Afghan airlift to the UK, about 7,000 refugees remain in hotel rooms and have been given no guidance about when they will be given a permanent home.
Wafa Shaheen, the SRC's head of asylum, integration and resettlement said: "The UK's response to the crisis was, and continues to be, deeply disappointing.
"We are still waiting for full details of how the Afghan Citizens' Resettlement Scheme will operate. Resettlement should not just be an emergency response. We need to see the UK Government commit to resettling 10,000 people each year so that we can better offer safety to the people displaced by future crises.
"We need the government to commit to more safe routes to protection, like resettlement schemes. But the reality today is that the majority of people who seek protection are only able to do so through the UK's asylum system.
"This system is leaving far too many people living in limbo for months or even years while they await a decision, unable to work or have real control over their lives. We urgently need to see an asylum system which is fair, humane and efficient. The UK can, and must, do a lot better than this."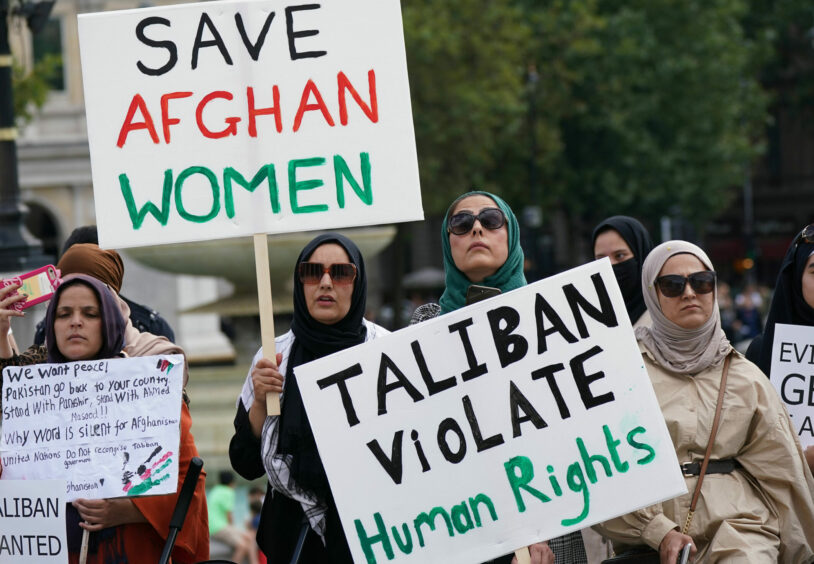 Her concerns were echoed by Mohammad Asif, of the Afghan Human Rights Foundation, who said the UK Government should have drawn up contingency plans long before the military pullout.
He said: "The evacuation was rushed but the government must have known what was going to happen. There should have been a plan. Now we have people who escaped the Taliban facing being stuck in a hotel for a year or longer."
Asif said he had met with around 50 Afghans being housed in hotels on the outskirts of Edinburgh. He said: "It is fine if you are staying in hotel for a week or two, but it is not good if you are staying for months and have a family, especially those who have no money.
"People want to work and for their children to go to school. Everyone I spoke to wanted to leave their hotel."
Refugees waiting to come to Britain are being processed at camps in countries including Qatar and Germany.
Asif said: "I have had people calling me about the terrible conditions. I have even heard of people having to sleep in stretchers."
Vulnerable people stranded
Last week MPs were warned vulnerable Afghans, including unaccompanied children, have become stranded awaiting flights to the UK. SNP MP Angus MacNeil said refugees he met during a visit to camps in Qatar had told him Britain was the worst country in the world for processing claims and moving people on.
He described refugees being temporarily housed in accommodation built for the World Cup being hosted by Qatar this year.
He said: "They had a list of 23 countries on a wall and I asked them what the best countries were for moving them on. They said that Sweden and Italy were the best and that Britain was the worst. I met a 12-year-old boy who said he has a brother in Southall and asked why was he waiting. These people are stuck in limbo. There's a slowness about the UK system that seems to be causing the problems, and that needs to be speeded up. The UK Government has to step up to the mark."
Scottish councils have already taken in or made firm commitments to provide homes for more than 1,000 Afghans. A total of 265 families, around 1,120 men, women and children, are now settled here, or plans are in place for them, with the number expected to rise.
The new arrivals are spread across the country, from city locations to island authorities, data from councils shows.
Last week Home Office Minister Victoria Atkins claimed only 18 of the 32 Scottish local authorities had offered homes but umbrella body Cosla later insisted "almost all" were signed up to it.
Figures obtained by The Sunday Post show 22 councils confirming they had already taken, or were about to, a specified number of refugees and the majority of the remainder saying they too planned to help. The Church of Scotland welcomed councils' efforts but said: "The Government has a moral obligation to offer protection to those in need and we hope that in light of this evidence they will rapidly increase the speed at which people are processed."
Yesterday, after the RAF airlift arrived, Defence Secretary Ben Wallace said: "These flights mark the beginning of what will be an enduring effort to support those who need our help."
The MoD said more than 102 people had left Afghanistan from the unnamed third country across two flights.
Further flights are due to arrive in the coming weeks with more eligible people on board. The UK Government has described the rescue of Afghans as the country's "biggest and fastest emergency evacuation in recent history" which helped bring over 15,000 people from Afghanistan and that there was a "huge effort under way" to get families into permanent homes.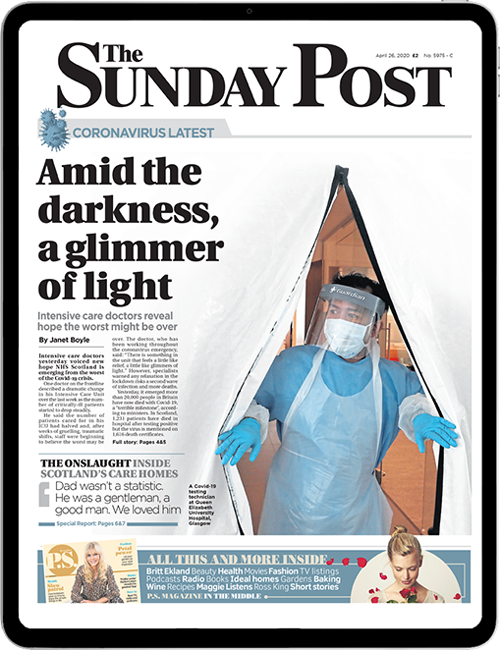 Enjoy the convenience of having The Sunday Post delivered as a digital ePaper straight to your smartphone, tablet or computer.
Subscribe for only £5.49 a month and enjoy all the benefits of the printed paper as a digital replica.
Subscribe