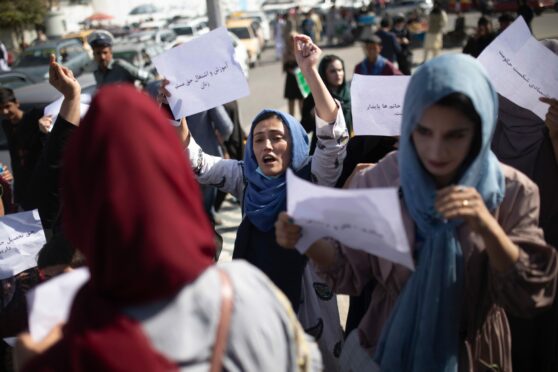 They promised it would be different. As the Taliban gunmen surged into Kabul to seize power again, they said women had nothing to fear.
Few believed them then and, as each day passes, there are fewer still as people living in the capital say life is deteriorating under growing Taliban oppression and violence.
Women forced to flee Afghanistan have urged Britain and the US to put political pressure on the fundamentalists to restore women's rights built up in the 20 years since the start of the Nato allies' offensive against the Taliban.
Their sudden withdrawal prompted the resurgence of the hardline faction but former Afghan Women's Minister Hasina Safi told The Sunday Post: "Until the last drop of our blood we will struggle for our country."
Her pledge comes amid growing concern over Taliban violence towards women.
On Friday it was reported that the Taliban had beheaded Mahjabin Hakimi, a member of Afghanistan's female youth volleyball team. According to her coach, the killing had taken place in early October but that her family had been threatened into silence.
And in a chilling sign of the extent of the crackdown women face, one Taliban spokesman said woman should wear only silent shoes – to avoid attracting the attention of young men.
Afghan TV news presenter and journalist Khadija Amin had to flee her country after being told her work, in which she had spoken on air about the Taliban, put her life at risk.
When she arrived at her office after the Taliban took control of the government, she was told there would be no female presenters or journalists and only shows approved by the Taliban broadcast.
Amin, who is now living in Spain, said: "After doing interviews about the Taliban banning me from my job, I was warned that the Taliban might try to kill me because I was talking about them.
"It was my right to talk about the Taliban but I felt that it was now dangerous for me and I decided to leave the country.
"Since I have left, the situation in Afghanistan has been getting worse day by day. Universities are closed, schools are closed and women are told to stay at home. Women who hold protests against the Taliban are beaten.
"The Taliban don't have any respect for women's rights. They don't want women to be educated and to have jobs. For them, women should be at home raising children, cooking and cleaning. We can't call the Afghan government a government. It is a dictatorship.
"We need the US and UK governments to put pressure on the Taliban to restore women's rights."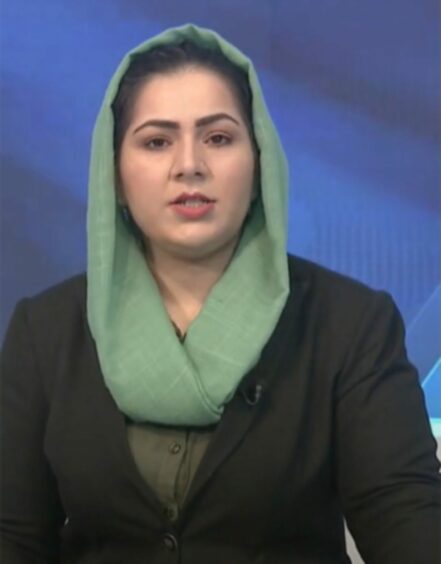 Tuesday marked 50 days since the last UK and US troops left the country. Since August there have been allegations of reprisal killings by the Taliban of former Afghan security forces, as well as beatings, violence and oppressive practices.
Demonstrations by women against the regime's policies have been met with violence. One Taliban supporter, in a TV appearance featured on the BBC's Panorama last week, described the new rules for Afghan women. He said: "One is that the colour of their clothing should not be very attractive.
"A second condition for a woman is that she should not smell good and should not wear perfume when she leaves home.
"The third is that she should not wear high boots and her shoes should make no sound.
"Those boots attract attention and are designed to entice young men to immoral behaviour."
Scots family on one of the last flights out of Afghanistan arrive in Britain
The Post also spoke to a former Afghan government worker who has gone into hiding with his family, fearing he will be killed if caught by the Taliban.
Mohammad, whose name has been changed, worked for the Afghanistan government for 13 years, including several years for the Ministry of Interior Affairs, which was responsible for law enforcement, civil order and fighting crime. He said: "When the government collapsed, all the Taliban prisoners were released. The people I arrested are now trying to find me and kill me.
"They attacked my house in August but I managed to escape to my brother's house. When they came to my brother's house, I escaped again but they arrested my brother and beat him. They finally released him when they could not find me.
"My family and I tried to escape from Afghanistan but the border was closed. I do not know what to do now. I am concerned for my wife, who is a midwife, and my daughters, who are four and three years old.
"For women in Afghanistan now, it is like they are all in prison. They have no right to study, they do not have the right to work in many districts, and they do not even have the right to go out without a man.
"My wife is very worried about the future of our daughters, and whether they will be deprived of the right to education. With the Taliban in control, all hope is lost."
Other Afghans who have remained there also described day-to-day life. One, Bahar, worked as an interpreter with the British Army in Afghanistan around 10 years ago. His work with the UK means he now fears for his life and has been forced into hiding with his wife and two young daughters, whom he fears will be unable to attend school.
He said that the Taliban presence in the streets has increased as the group attempted to enforce certain rules.
He said: "When you are going out, everywhere there are checkpoints.
"The Taliban ask, 'Why don't you have a beard? Why were you wearing the T-shirt? You must wear the Afghan clothes, you must have the beard.'"
Bibi, a university student, said "everything seems so dark for me" after she and her classmates were sent home by Taliban members.
"They said 'you girls should go back home and work at home and pray. You don't deserve to study, it's not good for you.' We came back home with so many disappointments."
Bibi hopes to find a scholarship so she can study in another country.
She said: "There are so many limitations for women – how should they dress, how should they appear in society, where they should go and where should they not go."
Nemat Sadat, a gay Afghan-American activist from San Diego, California, said he had been contacted by more than 500 LGBTQ Afghans through social media after he started a GoFundMe page to help them reach safety in other countries.
The activist said he spoke to one man who had been evading capture since his partner was beheaded by Taliban fighters.
In another instance, a lesbian woman reached out to Sadat for help because she said her ex-husband was "hunting her", planning to hand her over to the Taliban who would "probably stone her to death".
Abdullah, who worked for the BBC, is in hiding in Afghanistan. He said his country had become the "worst place in the world" to be a journalist.
He said: "People are dying from hunger. People cannot afford to buy bread to feed their children. The health system is collapsing. Everyone is afraid of their future.
"The Taliban are suppressing minorities. We have seen an increase in terrorist attacks on Shia people, a minority group. The West needs to provide urgent humanitarian aid to those in need.
"If the world remains silent and does not take urgent action, Afghanistan will face a humanitarian catastrophe."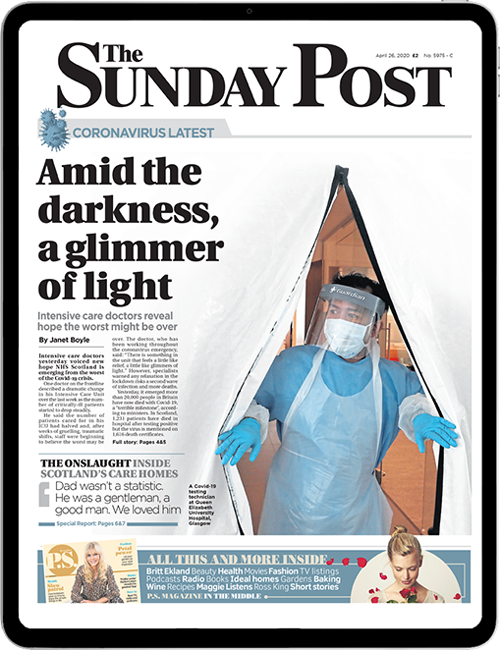 Enjoy the convenience of having The Sunday Post delivered as a digital ePaper straight to your smartphone, tablet or computer.
Subscribe for only £5.49 a month and enjoy all the benefits of the printed paper as a digital replica.
Subscribe