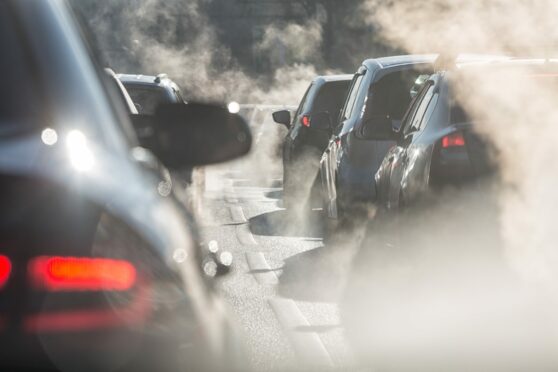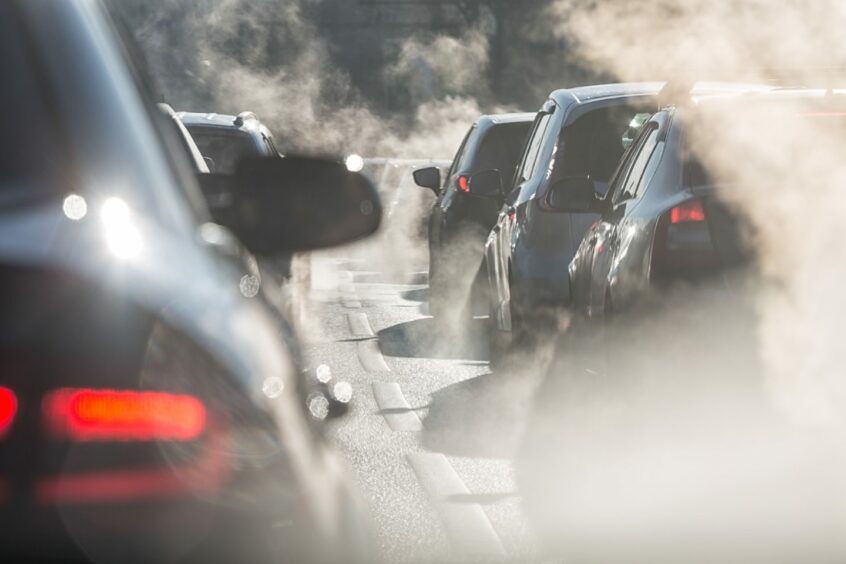 Childhood cancers have increased by more than a fifth in 10 years as experts link the rise in cases to air pollution.
As world leaders prepare to gather in Scotland to limit damaging emissions and slow global warming, Scottish figures reveal a 21% increase in childhood cancers between 2010 and 2019.
Professor Denis Henshaw, former scientific director at charity Children with Cancer UK, said research is urgently needed to establish the impact of pollution, particularly exhaust fumes, on children and mothers-to-be.
He said scientists must work to establish if children diagnosed with cancer, or their mothers when pregnant, had been exposed to air pollution.
The incidence of leukaemia in young Scots has risen from 27 cases in 2010 to 41 in 2019, an increase of more than 50%, according to a report into childhood cancers released by Public Health Scotland.
The figures show a 30% increase in the number of girls diagnosed with cancer compared with a 13% rise among boys.
The report into diagnostic trends in children, aged 14 and under, stated: "The annual number of new cancers in children has generally increased over time.
For all children, the increase was almost 21% between 2010 and 2019. The increase in boys at 12.8%, was smaller and may be a chance finding but the increase in girls was 30.1%, larger and unlikely to be due to chance."
Henshaw said the rise in air pollution is almost certainly a contributory factor. He said: "You have to consider what is changing and it is not our genetics but our environment, in particular air pollution from the increase in the number of cars on our roads during that time.
"It has to be a major contributor in the rise of cancer in children."
A Scottish Government consultation document on the need for cleaner air last week revealed almost a third of Scotland's streets have higher levels of toxic particle air pollution, caused mainly by traffic, than they did before the Covid-19 pandemic.
In 2018, Health Protection Scotland estimated that air pollution caused around 1,700 deaths in Scotland every year while the number of vehicles on UK roads increased during that time from 34 million to 38.4 million.
As Cop26 begins next week and world leaders hammer out agreements to curb emissions and the need to speed the change to greener, electric transport, Henshaw said air pollution was a factor in the rising number of childhood cancer diagnoses: "Vehicle exhaust and diesel cars are a major factor, I believe. While we consider the impact on climate change we must examine what it is doing to our health, especially that of our children.
"The rise in cancer in children is worrying and should absolutely be on the agenda of Cop26.
"The highest number of childhood cancers are leukaemias and other blood cancers which together account for 40% and the peak age is very young children, under five. From that we can deduce that they have been exposed either in the womb or shortly after birth – the children or their mothers. We also have to look at what is in our food.
"The rise in cancer in girls is also of concern and merits investigation. We must examine the origins of the child and its mother during pregnancy and see what part their environment played in the cancer. The placenta is seen as a barrier but pollutants cross it to the baby. Lead is an example."
Henshaw's fears over pollution as a cancer driver in children are mirrored by Professor Catherine Metayer, of Berkeley School of Public Health in the US. Cases of childhood cancers have also risen there.
She studied environment and diet factors in the rise of childhood leukaemia and stated that population-based studies have provided enough evidence to start prevention by reducing exposure to multiple harmful chemicals from various sources. Her studies cite the contribution of pollution to cancer in children.
She also advocates an increase in healthy diet during pregnancy, and breastfeeding.
She believes that chemicals pass the placenta and damage the foetus's blood cells and also that germ cells in sperm before conception may play a role. Dr Robert Hughes, a clinical research fellow into early childhood development at the London School of Hygiene and Tropical Medicine and an adviser to the Clean Air Fund, agreed more research was needed on air pollution and cancer.
He said: "There is certainly a growing awareness of the way in which air pollution affects us all from cradle to grave. This rise in childhood cancer and the suggestion that air pollution plays a part certainly merits more investigation.
"That said, we do not need any more reasons to act now to reduce the levels of air pollution in our towns and cities, as we already have good evidence that cleaner air can make us – and our children – healthier in several ways. For example, cleaner air will result in lower risk of babies being born too small or prematurely, healthier lung growth, and lower risk of asthma and other childhood illnesses. Pollution levels also seem to affect brain development and learning in children too."
The Scottish Government said it last month published its first cancer care strategy for young people, backed by an investment of £6m.
It said: "We are committed to making sure the necessary support for physical and mental health is available to all who need it, when they need it."
On the issue of air quality, it said: "Improving air quality and in turn the health of our people and planet is an urgent priority for this Government and we are taking action across the board. We work closely with local authorities to tackle air pollution issues and fund measures outlined in their Air Quality Action Plans."
The danger
Jack had blood taken. Then, just hours later, our GP turned up at the door

– Mother Natasha Hunter
It is six years ago now but Natasha Hunter remembers her little boy's diagnosis like it was delivered yesterday.
Jack Hunter, now eight, is in remission from leukaemia but Natasha, 36, and Stuart, 39, from Perth remember how their fears escalated after their GP arrived at their door with the results of a blood test taken a few hours earlier at the surgery.
"Jack had been ill for a few weeks, feeling listless and sleepy and I went back and forward to our GP," said Natasha.
"Then when bruises started appearing on his arms I asked for him to be examined by a paediatrician but was told an appointment could take six months.
"A blood test was taken and hours later our GP appeared at the door telling us Jack had to go to the children's hospital at Ninewells, Dundee, to see a specialist.
"I was working as a carer then and knew immediately that this could mean cancer. The test results confirmed doctors' suspicions and Jack entered the world of childhood cancer where children have to undergo serious chemo treatment to try to survive. The side-effects of chemo at two means Jack now has a marked loss of concentration, loss of muscle tone in his hands and feet and other physical problems.
"His acute lymphoblastic leukaemia was initially resistant to the usual protocol so higher doses were needed so the side-effects have been more pronounced. This is what it took to live and Jack had to endure it.
"We have two older children who had to accept us disappearing to hospital at short notice when Jack had setbacks after he left hospital. The whole family experiences fear and uncertainty.
"It takes years to summon up the courage to tell the world what we have all been through with Jack's leukaemia but it is important that people know.
"If pollution is driving childhood leukaemia then surely it must be on the agenda for the Cop26 meeting in Glasgow."
Jack is three years into remission and working hard at school despite the legacy of his cancer and treatment.
Remembering Ruby: Parents say resource is needed to prevent more terrible loss
More than 80% of children survive cancer but the legacy of treatment can have devastating effects on their quality of life and age expectation.
The loss of those who do not survive inflicts the saddest, cruellest grief for parents, according to hospital pharmacy manager Claire Stewart.
She and husband Andy lost their daughter, Ruby, to a soft tissue tumour which first appeared as a lump on her ankle when she was only four.
Diagnosed in September 2017, the cancer was metastatic alveolar rhabdomyosarcoma.
Despite arduous treatment, Ruby did not reach her seventh birthday.
The number of patients suffering this type of cancer has increased since 2010.
In tribute to their daughter, who remained relentlessly upbeat despite her illness, her parents founded the Be More Ruby charity to raise awareness of childhood cancers and to drive for research into treatment.
"Ruby was diagnosed at stage 4 and, while her aggressive cancer may not have been successfully cured, I know of other parents whose children's cancers have not been detected earlier and that can make a considerable difference to survival and severity of treatment," said Claire, from Perthshire.
"GPs are the first port of call for parents worried about symptoms in their children and so we must ensure an adequate level of teaching of childhood cancers is given both at undergraduate and post-graduate GP training.
"While child cancer is rare, it is devastating to every child and its family and merits no less attention than other diseases of childhood.
"What is woefully inadequate are the resources devoted to the research and treatment of paediatric cancers, compared with those in adults.
"Survival of other cancers more common in adults has risen significantly."
She points to astronaut Neil Armstrong's daughter Karen Anne, who died from a childhood brain tumour called a DIPG which is still incurable 52 years later. She asks why, decades after putting a man on the moon, survival after diagnosis is still less than a year.
"Those lost years of life for our children need addressing urgently."
Visit bemoreruby.com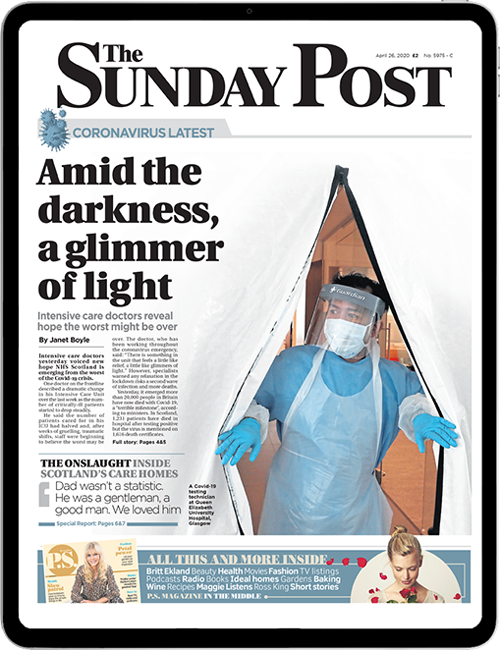 Enjoy the convenience of having The Sunday Post delivered as a digital ePaper straight to your smartphone, tablet or computer.
Subscribe for only £5.49 a month and enjoy all the benefits of the printed paper as a digital replica.
Subscribe