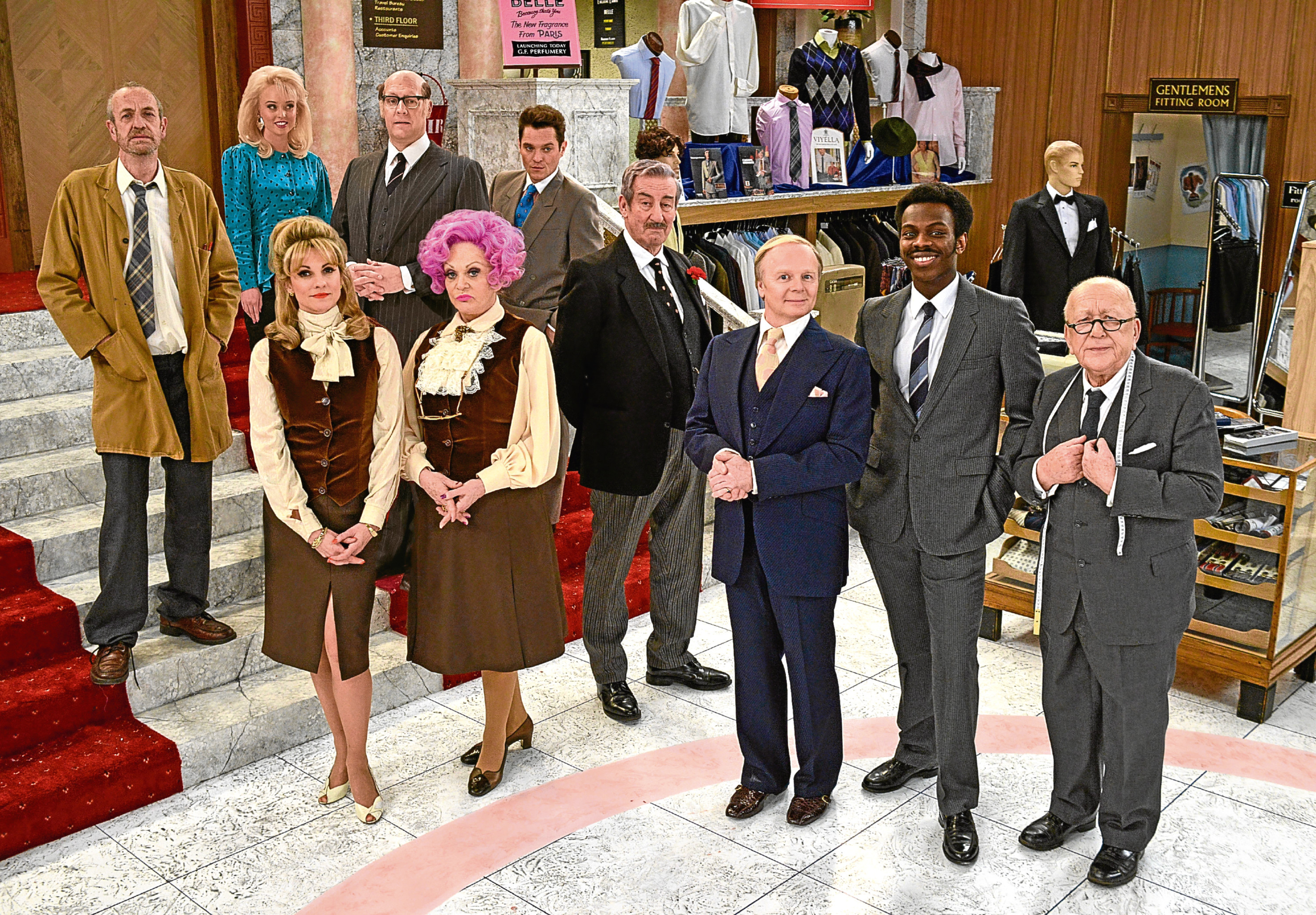 WE all love a good sitcom, and no one does it better than the BBC.
But what did we think of their Landmark Sitcom Season?
Billy Higgins, Alan Shaw and Craig Campbell from the Weekly News decided to have a look, but were they having a laugh?
---
Let's start with Are You Being Served? Did they all do very well?
BH: Well, it started very well. But that's because its theme tune is one of the catchiest in sitcom history and it was great to hear it again.
Unfortunately, everything was "going down" for me as soon as the theme faded.
Reboots are common in film and TV and they can work, more so on the big screen perhaps.
But Doctor Who and Poldark are just a couple of BBC behemoths which have enjoyed triumphant revivals.
The classic characters of the original Are You Being Served? are still instantly recognisable nearly 45 years after the show began, which is a great tribute to creators David Croft and Jeremy Lloyd and those who played them.
Simply putting a new set of actors in these roles didn't work for me at all.
Sherrie Hewson as Mrs Slocombe did a reasonable job, but I couldn't really accept most of the others.
Jason Watkins, a fine actor who I thought was hilarious as a BBC executive in W1A, had an impossible task trying to be Mr Humphries.
The script, by Benidorm writer Derren Litten, was more of an affectionate fan tribute than laugh-a-minute and I likened the whole thing to the latter Carry On movies, such as Carry On Columbus, compared to some of the classics like Carry On Screaming or Carry On Up The Khyber.
In summary, up against the Croft/Lloyd original, it was a store mannequin plonked beside a Tussaud's waxwork.
---
CC: Mike Berry, one of the original Are You Being Served? stars, said he was disappointed they didn't cast him in the new version, and he felt making it was a mistake in the first place.
I reckon he was right on both counts, and what we were served was a right load of nonsense!
---
What about the 2016 version of Porridge? Leave it to rot in jail?
BH: Unlike Are You Being Served?, the new version of Porridge had the benefit of being written by the creators of the original 70s classic, Dick Clement and Ian La Frenais, also the wordsmiths behind The Likely Lads, Lovejoy and Auf Wiedersehen, Pet.
That's not a bad writing CV, is it?
Another plus point was that this wasn't a revival, but set 40 years later and centred on Porridge's iconic Norman Stanley Fletcher's grandson, Nigel (also known as Fletch), sent to jail for cyber crimes.
There were pleasing nods to the classic series, such as finding out Fletch and Godber never returned to prison.
There were also a few deliberate transfers of memorable spoken or visual gags from the original series — though you'd probably have to have been a serial rewatcher of the Ronnie Barker version to pick them out.
Kevin Bishop showed distinct promise in the central role as the new Fletch, a quick-witted, smart-mouthed loveable rogue.
Enjoyable as a one-off, I wouldn't mind seeing more from this new team.
---
AS: It was watchable, but for me, the joy of the original wasn't just Ronnie Barker's peerless performance as Fletch, it was the ensemble cast as a whole.
Porridge just wouldn't have worked without Grouty, Lukewarm, Bunny Warren, McLaren and, of course, the menacing Mr Mackay!
---
Young Hyacinth then — did this Keeping Up Appearances prequel bloom for you?
BH: As with Porridge, I think this worked as it was something new rather than simply trying to recreate the original. Well, new-ish.
Roy Clarke, the man who created Hynacinth Bucket, as well as Open All Hours and Last of the Summer Wine, is the most prolific of sitcom writers and is a master of the craft of gentle, rural-based comedies.
The sort that millions of viewers love.
You'd have recognised this as one of Clarke's creations without being told.
Actually, Young Hyacinth, set in the late 50s and focusing on the early adulthood of the future Mrs Bucket (pronounced bouquet!) wasn't overladen with continuity references and did feel more like a nostalgic comedy drama.
Kerry Howard in the title role was a positive triumph — a worthy successor, or should that be predecessor, to the brilliant Patricia Routledge.
You could easily see this one as a long-running series on a Sunday night.
One thing that didn't click with me before was that Hyacinth and her sisters, Daisy, Rose and Violet, were all named after flowers!
So, to paraphrase a line from another classic sitcom, Fawlty Towers, I won't be putting forward "the bleedin' obvious" as my Mastermind subject . . .
---
Did you have any time for Goodnight Sweetheart?
BH: Although Nicholas Lyndhurst as Rodney in Only Fools And Horses is one of my favourite comedy creations, I would never place Goodnight Sweetheart in the classic sitcoms category.
That said, it was pleasant enough to have it back after 17 years with Gary Sparrow seeing 2016 for the first time.
Original creators Laurence Marks and Maurice Gran brought back Birds Of A Feather as a "continuation" after 16 years away to a warm reception, and you could easily see the same happen here.
I did particularly enjoy the running gag about Gary claiming to have written classic songs extend to him playing an Adele track back in 1962!
CC: It seems that a large percentage of viewers want this series to make a full return, so clearly they enjoyed it.
Still nice and gentle, with some excellent gags, you have to say there are worse ideas that manage to get full series!
---
AS: Hated it then, avoided it now.
---
And what of the Lost Sitcoms screened on BBC Four?
BH: These were an episode each of Till Death Us Do Part, Hancock's Half Hour and Steptoe and Son, which were "wiped" from the archives, filmed with a new cast in a theatre setting.
So not a reboot as such.
Pick of those by far was Hancock, featuring Kevin McNally, a big fan of The Lad Himself, in the title role.
He was ably assisted by a fine supporting cast including Robin Sebastian as Kenneth Williams. And the original Galton & Simpson script of The New Neighbour, considering it was 60 years old, stands the test of time.
Although Simon Day didn't do badly as Alf Garnett, this particular episode, A Woman's Place Is In The Home, wasn't Johnny Speight's finest.
Nothing much happens, even by sitcom standards! Maybe it was better lost . . .
Speight does get a lot of retrospective criticism for his famous creation's racist and bigoted persona, but at its best, Till Death is a clever satire of racism and ignorance in the 60s and 70s.
It would be bold to screen a more-contentious episode with Day in the Garnett role and see how that would be received, but that's not likely to happen.
I also felt the lost Steptoe and Son episode, A Winter's Tale, was troubled by not being one of writers Galton & Simpson's finest.
Jeff Rawle and Ed Coleman did a decent-enough job of recreating Albert and Harold, but the original characters are just too iconic for anyone else to play.
---
AS: Hancock was the pick of the bunch. Kevin McNally, a self-confessed Hancock anorak, was excellent in the title role, and Robin Sebastian note-perfect as Kenny W.
But did it work well as it was an original script and not a modern-day rehash?
---
Are there any other classic sitcoms that you'd like to see revived?
BH: There has always been talk of a fifth Blackadder series, possibly set in the 60s.
As the writers and cast are still with us, and huge names in the industry, and because the nature of the Blackadders has been to set them in different eras, this is something I'd love to see.
---
CC: I'd love to see Porridge revived. It's a subject that will never seem dated, it would be interesting to see how life behind bars has changed, and it's the kind of sad-tinged sitcom everybody can relate to.
---
AS: To be brutally honest, I'd rather they came up with new "classics" than continued to raid the tombs — sorry, vaults — for oldies to desecrate.
That said, they should repeat It Ain't Half Hot, Mum!
Mind you, they could redo Rosie, the BBC sitcom about the young Yorkshire policeman from the late 70s.
It couldn't be any worse than the original.
---
And any sitcoms that should never be revived under any circumstances?
BH: Fawlty Towers should be frozen in a sitcom bubble and treated like a listed building!
But the likes of Love Thy Neighbour and Mind Your Language (which got millions more viewers in the 70s than today's top-rated shows Great British Bake Off and Britain's Got Talent) would send the current world into meltdown if they were rebooted.
---
CC: Got to agree with Billy. Fawlty was genius, and I would add Father Ted to that type as well — too perfect for a modern-day attempt at doing it again!
It would be interesting to see a modern-day take on Steptoe, though the whole basis of what the main characters did for a lviing would have to change.
In a way, Only Fools And Horses was a bit like that, rethinking Steptoe, and it would be fun to see what they came up with these days.
---
AS: After the abonination that was the Regie Perrin reboot, if I get wind anyone is planning to mess around with the late, great Leonard Rossiter's finest hour again, I will lead a horde of pitchfork-wielding villagers against the BBC's Comedy Dept!
---
Finally, who's the greatest sitcom character of all time (you can have three)?
BH: In third place, probably because I'm watching the boxset at the moment, I'll go for Norman Stanley Fletcher.
As well as the brilliant writing, compare Fletch to Arkwright from Open All Hours.
Hard to believe they were played by the same man and very few can claim two such iconic sitcom characters. Ronnie Barker is rightly revered.
Second is the fourth incarnation of Blackadder, the acerbic, cynical Great War captain, so superbly realised by Rowan Atkinson.
But top just has to be that "brilliantined stick insect" Torquay hotel owner Basil Fawlty.
---
CC: My all-time favourite would have to be Mr Fawlty, who seems to get funnier the more I watch repeats.
Father Dougal, played to perfection by Ardal O'Hanlon, was a major part of the success of Father Ted and, like Fawlty, despite knowing his lines inside out, they still make me burst out laughing.
And Wilfred Brambell as Albert Steptoe was unforgettable, which he must have been as I was only nine or 10 when I first watched him.
He managed to get a great mixture of sad, lonely, pathetic, mean-spirited and strangely loveable into the one character!
---
AS: I could nominate the entire roster of Reggie Perrin stars — especially Geoffrey Palmer's cock-up prone Jimmy — but in third is Sunshine Desserts' bombastic boss CJ, brilliantly played by John Barron who also played the brother, FJ.
Runner-up? I could have gone for Father Ted himself, but instead the honours go to Pauline McLynn's note-perfect portrayal of his quite insane housekeeper, Mrs Doyle. "Tea, Father?"
But the greatest-ever is that undisputed Queen of the Sitcoms, Sybil Fawlty. All perfectly-coiffed hair and "a laugh like someone machine-gunning a seal". Prunella Scales, I salute you.
---
READ MORE
Quiz: Can you name these classic British sitcoms?
BBC set to revisit classic sitcoms including Till Death Us Do Part, Steptoe and Son and Porridge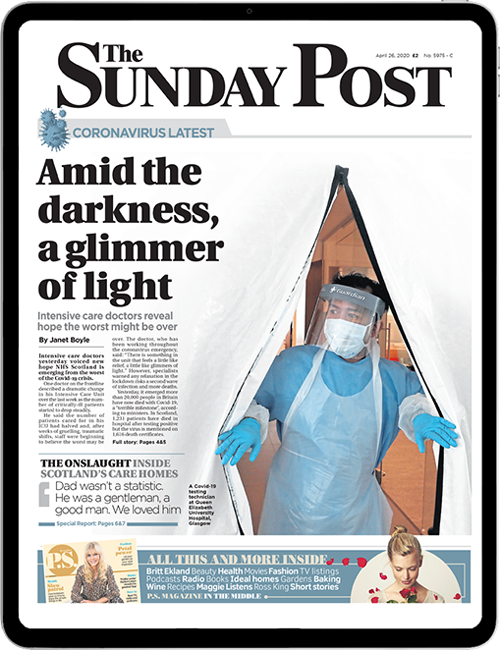 Enjoy the convenience of having The Sunday Post delivered as a digital ePaper straight to your smartphone, tablet or computer.
Subscribe for only £5.49 a month and enjoy all the benefits of the printed paper as a digital replica.
Subscribe