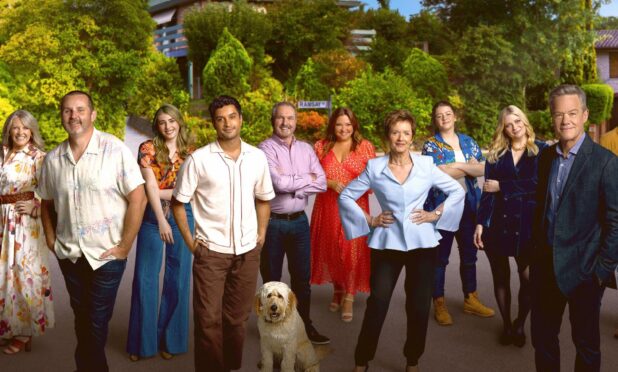 Sitting in the Kennedy living room is a surreal experience as a Neighbours fan.
It's the place you've watched a thousand dramas unfold via your TV screen, and suddenly you're there, plonked on the sofa. And not only that, but you're sitting opposite Karl and Susan Kennedy, aka actors Alan Fletcher and Jackie Woodburne.
But what makes it truly unreal is that this shouldn't be happening at all.
Last year, Aussie soap Neighbours finished its 37-year run on our screens with an epic last episode that pulled out all the stops, even wooing back original supercouple Kylie Minogue and Jason Donovan. As fans wiped away tears of joy and sadness, it was truly the end of an era.
Except it wasn't. The finale was such a success that a few weeks later streaming service Amazon Freevee enquired about picking up the series, which had previously been screened on Channel 5 in the UK, for a new run. After a whirlwind of negotiations, earlier this year Neighbours was back filming, with a mix of old faces and fresh recruits to deliver new drama to our screens.
"It felt a bit like you've been told that someone you love has died, you've had the funeral and then someone says, 'Actually, they're over there behind that curtain!" reckons Jackie, who's played her lead role as Susan since 1994, on the sudden resurrection. "Doing my first scene back was emotional, it did feel like coming home. It was lovely."
A peek at the new Neighbours
I'm here for a tour of the show's production complex ahead of the new episodes screening.
It's clear the soap is back in the old routine, having by this time recorded three months-worth of episodes from its base at Nunawading, a 40-minute drive east of Melbourne's city centre. There's a buzz of energy as we walk down corridors past costume, art, script and editing departments, teams who put together several episodes a week of drama.
But how do you bring back a soap after you've given it a happy ever after? Producer Jason Herbison, who oversaw the end of the show and its revival, let us in on his plan.
"I always said the finale was a goodbye hug to the audience and I want this new series to be a welcome back hug," he explains. "But at the same time, we want the show to be accessible to a new audience. Time has moved on in Ramsay Street since the last episode, so with new characters coming into the show, there are natural ways to bring new viewers on board and update them on what's been going on."
We pause to watch some filming in The Waterhole, the show's famous pub. However, as they are currently shooting episodes which will screen around Christmas time, what and who we see has to remain a soapy secret until then.
While the shooting continues in one studio, next door in the show's second studio the scenery for more famous living rooms is being prepared for shooting while others are being taken down. Only four of the show's famous sets stand permanently in the studios, while the rest rotate as the demands of the fast-moving scripts and ever-changing filming schedule dictate. In fact, when the show ended, some of the soap's scenery was repurposed for other shows, including Channel 5 dramas Heat and Riptide, so they then had to be de-purposed again to return them to their Ramsay Street roots!
Outside in the grounds sits the set for the Lassiter's complex, the long-standing secondary hub of the show, where scenes outside the famous hotel and Harold's iconic cafe are filmed. Fictional owner Stefan Dennis – aka Paul Robinson – stops for a chat.
"I had to come here a couple of times before we started filming again and this had all become so overgrown; seeing it in such a dilapidated state was very weird," recalls the actor, who starred in the very first episode of the soap back in 1985. "It felt like tumbleweeds going down the corridors. It was so desolate. So, it's great to be back and have everyone here. It was like putting on some comfortable old shoes. It's the same but different."
Life according to… Ryan Moloney: Neighbours star on celebration tour, show's return, and playing Toadie
The cast's renewed enthusiasm for the show is apparent, especially with the show now launching in new territories such as the US and Canada, where it never achieved the huge success it did in the UK. But while the soap may have cast American actress Mischa Barton, star of US teen drama The O.C., in a major guest role for the new series, everyone is keen to point out to us that the show is not moving away from its antipodean roots.
"It's the same show," insists Annie Jones who plays Jane Harris and first starred in the show from 1986-1989, before making a return in 2019. "We didn't change it to appeal to the UK audience, they loved us for who we are, so we're hoping the Americans feel the same way. It's a little slice of Australia."
Real-life Ramsay Street
Meanwhile, our set tour brings us some magic of TV, as we visit the backyards of the houses of Ramsay Street. These, it turns out, are actually replicas built in the grounds of the studios – in reality, it's a 15-minute drive to the real-life cul-de-sac of Pin Oak Court, where scenes of the house fronts are filmed.
The houses on Pin Oak Court have been used as the location for Ramsay Street since Neighbours began, with the real residents living there keeping themselves out of view when filming takes place. And the street still continues to feature heavily in the show.
"We filmed the first very scene of the new series on Ramsay Street," says Kate Kendall, who was the director of the show's returning episode, and in her previous career spent five years on the show as an actress playing Lauren Turner. "We were filming the arrival of our new family who are joining the show, so that felt like a really beautiful moment of re-energising things."
And, appropriately enough, our last stop is a trip to that famous cul-de-sac, where we have the obligatory photos outside the famous houses, under the watchful eye of the security guard who is employed full-time to ensure homeowners aren't bothered too much by over-enthusiastic fans.
So, any of those real-life residents of Ramsay Street hoping for a quieter life when the soap ended last year may be out of luck – it looks like there could be another 37 years of drama ahead!
"We see this as an exciting new chapter," says producer Jason. "We hope we've found that Neighbours 'perfect blend' – if you'll pardon the pun! – for our audience old and new."
---
Soaps: will they be the future of streaming?
While online TV services such as Amazon Freevee are now commonplace, soap is still uncharted territory for the streamers.
The services have hours and hours of classic shows available – everything from Brookside to Bad Girls can now be found somewhere – but the idea of dropping new episodes of soap several times a week, every week, is a new one. Can Neighbours lead the charge on this?
Traditionally, soaps have always been appointment-to-view shows, where people rush to get in front of their TVs in time for each episode. But this sort of viewing has been on the decline for several years, with only sports, event TV such as Strictly Come Dancing and the odd hit series such as Happy Valley really bringing the TV nation together in the same way. People are now used to consuming the TV they want, when they want.
Meanwhile, a big part of the traditional success of soap is that it's a habit – episodes air at the same times on the same days, and soon people find themselves planning their routine around them.
But perhaps Neighbours can form its own kind of habit.
The BBC has recently been dropping EastEnders episodes at 6am, before that evening's screening, to great success.
They may have shied away from previewing key episodes – the revelation that Cindy Beale was still alive earlier this year, for example, was kept under wraps until the evening showing – but this has proved that people are happy to follow soaps more on their own terms.
Perhaps we'll see true fans who can't wait digging in first thing in the morning, while others enjoy their instalment each evening over dinner, and some save the whole lot up for the weekend for a binge watch.
The glory days of soaps saw millions tune into the Brookside and EastEnders omnibuses every Saturday and Sunday. Could those days be on their way back, but with a modern twist?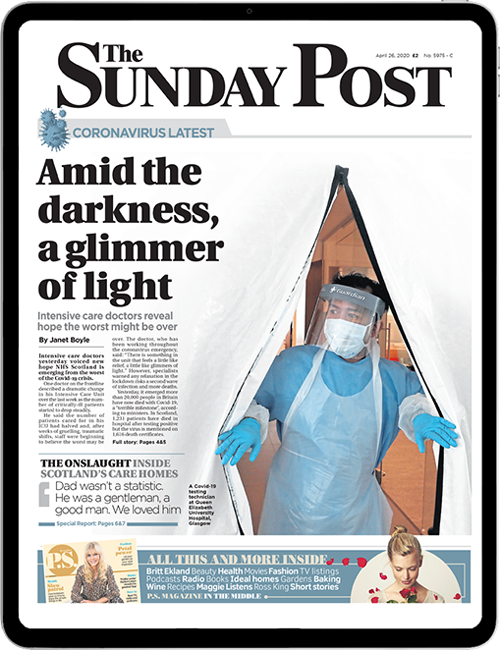 Enjoy the convenience of having The Sunday Post delivered as a digital ePaper straight to your smartphone, tablet or computer.
Subscribe for only £5.49 a month and enjoy all the benefits of the printed paper as a digital replica.
Subscribe