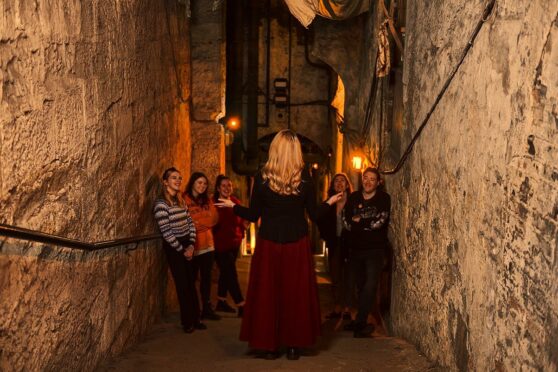 Ahead of International Women's Day on Tuesday, The Real Mary King's Close attraction has created a series of (Her)Story Tours in support of the Strut Safe charity.
Guest experience manager Katie Scott tells Ross Crae The Honest Truth about the women who shaped Edinburgh's history.
---
Who was Mary King and why is her story so important?
Mary King, the namesake of the Close, was a burgess born in Edinburgh in the 16th century. As is the case with so many women in history, we don't know a great deal about her, but what we do know provides us with a glimpse of a characterful woman who was a successful merchant and mother.
She married Thomas Nimmo in 1616 yet despite the tradition of taking a husband's name, Mary kept her surname as King. When her husband passed away in 1629, he left Mary a title naming her a Burgess. She gained a seat on the Edinburgh Council, granting her voting rights almost 300 years ahead of her time.
Mary King died in 1645 and the close was renamed after her in 1694. This is quite remarkable as only two closes in Edinburgh today are named after women.
What is the idea behind the new tours?
We have seen centuries controlled and retold by men, it can be hard to imagine the struggles that women faced. It tends to be that women are missing in our history books but by no means does that mean that they were not there nor that they didn't make significant changes. That's why we have decided to create our first-ever (Her)story Tours.
Mary King's Close's strong heritage makes it the ideal location for these social history tours. It was once "a haven for independent women", with 45 per cent of the properties having a female head of the household, which was very unusual for this time.
What can people expect when they come along?
Guests will follow a Jonnet Nymmo, Mary King's youngest daughter, underneath the streets of the bustling Royal Mile and embark on a journey through time. They will learn authentic truths about women who would have lived, worked and died on The Close. For the first time in one of our tours, visitors will even get to meet Mary King herself!
We talk about some of the women who lived on the closes in our regular tours, but it is challenging to get into more details during a 1-hour tour. Our new (Her)story Tours allow us to properly tell the stories of women who lived in Edinburgh and understand what their life would have been like.
Our special tours are running on Tuesday 8th, Friday 11th and Saturday 12th March.
What did the team learn when researching for the project?
When we first began exploring the idea of a tour dedicated purely to the women of the close, it was very clear to us that we wanted to share their achievements, truths, and impact on the world we know today.
We had already collated a great deal of research on the history of women in this time period; however, the interesting thing about this research is it is often (as is most history) written from a male perspective. It can be slightly more difficult to find a first-hand account from a woman herself.
This is where we started – we read and researched many different accounts of the same women and began to get a much clearer story. During the rehearsal period, the team spent time looking at the women they were portraying and continuing to research to accurately portray these women's truths.
The whole experience has been insightful, upsetting at times, but it has been a true pleasure to tell these women's stories. The team has started to take some of the research and script from these specialised tours and add it to their own tours!
Why do you think projects like these are so important?
Women are often missing in history books, and we don't know much about how life was for them. There are more statues of animals than women in Edinburgh, which shows how important it is to educate people about women's past and show they also played a big part in Scotland's history.
We are also thrilled to be able to raise awareness about Strut Safe's actions. We work as much as we can with local organisations, from charity to local companies.
On International Women's Day, Tuesday 8th March, the (Her)story Tour will be followed by an open discussion and drinks at Copper Still, located on The Royal Mile.
Our guides will be joined by Strut Safe's co-founders to discuss women's history and how each of us can continue to dismantle systemic violence against women.
Who are some of the women celebrated on the tours?
During our (Her)story Tour, guests will hear the real stories of some of the women who shaped Edinburgh's history between the 16th and 19th centuries. Visitors will discover what it was like to be a woman in the past and how they had to fight for their rights.
For the first time in one of our tours, visitors will get to meet Mary King herself, as she tells them more about her life on The Close.
Our guests will also get to learn more about another famous and powerful Mary, Mary Queen of Scots, and the Edinburgh Seven, women who fought to be able to study medicine at the University of Edinburgh.
They will also hear the story of Euphame MacCalzean, a prominent woman in Edinburgh who was put to death because of a false witchcraft accusation. So many stories that show how hard and unfair the life of women was back in the past.
The new tours support Strut Safe – how did they form and what services do they offer?
Strut Safe was founded in Edinburgh following the murder of Sarah Everard in March 2021. They operate a UK-Wide free and non-judgemental phone line for people to call while they journey home to offer support and reassurance. Strut Safe also operates a walking service here in Edinburgh and plan to expand this to the rest of the UK. We are thrilled to be able to raise awareness and support Strut Safe as it is such an important cause.
Users need to call a central dispatcher requesting either an escort home or for the dispatcher to remain on the phone with them while they are in transit. If the user needs a walk home, the dispatcher will assign a pair of volunteers to meet the user and escort them to their destination.
---
For more information and to book a tour visit https://bit.ly/HerStory_Tour_Book_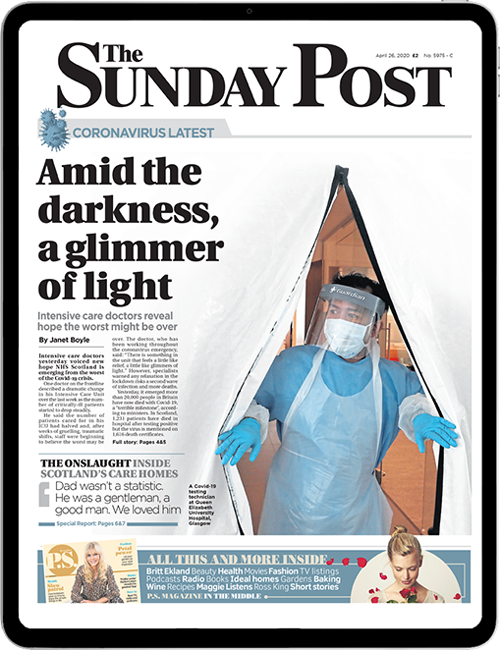 Enjoy the convenience of having The Sunday Post delivered as a digital ePaper straight to your smartphone, tablet or computer.
Subscribe for only £5.49 a month and enjoy all the benefits of the printed paper as a digital replica.
Subscribe