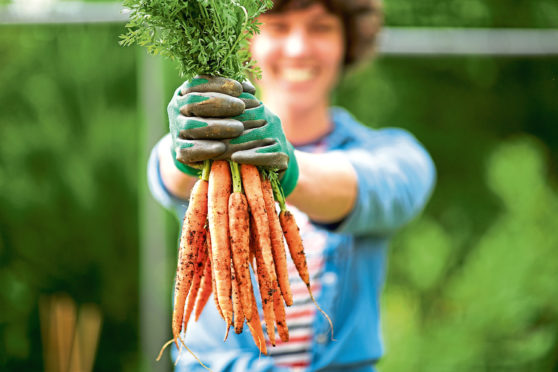 With waiting lists for allotments soaring since lockdown, many people are getting creative to hone their green thumb.
Mark Ridsdill-Smith, author of The Vertical Veg Guide To Container Gardening, tells Alice Hinds the Honest Truth about growing vegetables without a garden.
What sparked your passion for container gardening?
Living in a flat in London in 2008, I had a strong urge to grow food but no garden and the local allotment waiting list was 30 years! So, my only option was to grow in containers on my balcony and window sills. It started as an experiment with low expectations.
But I quickly became hooked when I discovered we could pick fresh, delicious food every day. There was also something quite miraculous about being able to create a meaningful garden on a small patch of concrete in the middle of the city.
In one year, you grew almost 84kg of vegetables in your small outdoor space – what are the secrets to maximising your output?
Learning to view a small space in three dimensions – as a cube – can help you make the most of every inch. Vertical spaces can be filled with hanging baskets, crop ladders, shelves and climbing crops like French beans.
Learning how to make top-quality worm compost, or "black gold", transformed my growing. It's full of the minerals and microbial life that plants love. The choice of crops is also important. Pea shoots are fast growing and high yielding.
Runner beans and tomatoes are among the most productive vegetables: 5kg-10kg runner beans is possible from one 50-litre container. Careful planning of what to sow when helps ensure something is ready to pick every month.
So, what is the composition of "black gold" compost?
It is hard to give a definitive answer as good compost can be made from coir (coconut fibre), composted bark or woodchip, or even bracken and sheep's wool. However, all compost is a natural and inherently inconsistent product so the quality can vary.
The best solution is to ask for advice at a good independent garden centre or nursery or from a gardening group. Ask for a "multipurpose compost" for vegetable growing. Double-check you are buying peat-free.
What is your favourite vegetable to grow and why?
It's a toss-up between tomatoes and chillies. I'm choosing tomatoes simply because they're easier to grow outside in the north. Fresh, home-grown tomatoes sing of summer and have so much more flavour than shop-bought.
At the end of the summer I make a large batch of tomato sauce and freeze it in bags for mid-winter treats. Small cherry tomatoes, like Gardener's Delight or black cherry, are the best choice for our cooler climate.
What is the most unusual crop you have managed to grow?
Growing unusual things has been part of the fun – Chilean guavas, fat baby achocha, tromboncino squash, Japanese wineberries and Vietnamese coriander are among the many crops that grow well in containers. I've also tried wasabi.
It's unusual in that it doesn't like sun and grows best in cooler weather. My plant never developed much of a root but the leaves and flowers are edible and they were fun to eat and quite tasty!
My supermarket-bought potted herbs always die – how can I stop them looking so sad?
The pots supermarket herbs come in are too small for the plant to flourish. The plant quickly uses up the available food and water. Simply moving them into larger pots (a small bucket size is ideal) can help them last much longer.
I have supermarket mint plants that are over 10 years old! Some supermarket herbs, like basil and parsley, come with multiple plants in one pot. Divide these up when repotting to give each plant more space.
What are the environmental benefits of growing at home?
You can cut food miles and packaging by picking leaves and beans on your doorstep instead of buying them in plastic bags imported from Spain or Kenya. You can recycle veg peelings and coffee grounds in a wormery, reducing both landfill and methane emissions.
Growing will also support pollinating insects and other precious wildlife – it's amazing what life appears as soon as plants do. Growing is also a rewarding and fulfilling hobby, and many people find that it reduces their need and desire for some of the other, less sustainable purchases!
The Vertical Veg Guide To Container Gardening, Chelsea Green, £25, is out now.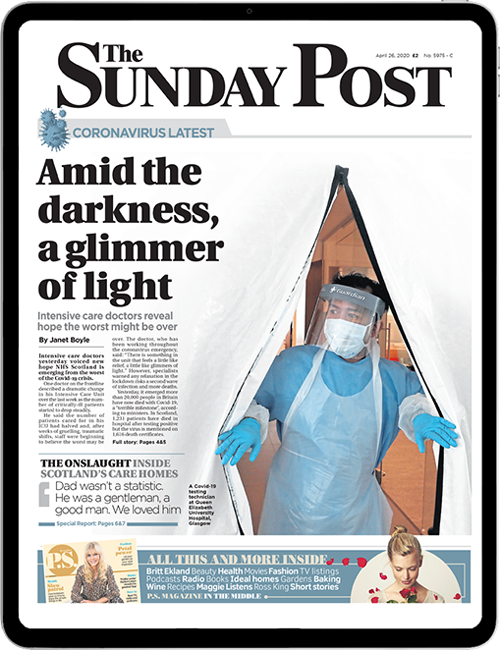 Enjoy the convenience of having The Sunday Post delivered as a digital ePaper straight to your smartphone, tablet or computer.
Subscribe for only £5.49 a month and enjoy all the benefits of the printed paper as a digital replica.
Subscribe