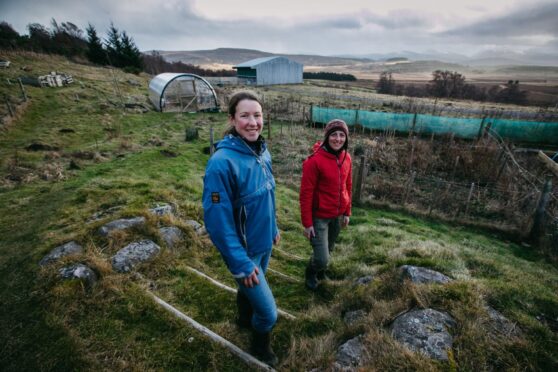 Preserving Scotland's crofting tradition will rest on greater inclusivity, innovation and encouraging a new generation of farmers on to the land, according to experts.
The Crofting Commission, which regulates and promotes the interests of crofting in Scotland, says there has been increased interest from people looking to develop crofts in the past few years, and encouraging new projects is essential in ensuring crofting remains at the heart of rural communities.
"Crofting is not just for remote communities that are set in their ways," said Kirsteen Currie, of the crofting body. "There's a young face of crofting, and a steady hand at the tiller. It is inclusive and ­exciting, ­especially for folks who are more climate conscious and conscious about where their food is coming from."
Launched last year by the Scottish Government, the National Development Plan for Crofting emphasised the unique contribution of crofting in terms of population retention, climate-change mitigation and increasing biodiversity within the Highlands.
"The contribution newcomers can bring, not only to the crofting community but to the community as a whole, can be life-changing," said Currie. "Part of what we do is encouraging, as sympathetically as possible, initiatives and new ways of doing things within very deep-rooted traditions. It can be done and it has been done successfully."
The Scottish Crofting Federation said one of the biggest issues facing the community was the rising cost of croft land tenure. Raising concerns it had become unaffordable for local and young people to take on crofting land, the federation said the problem of crofts being sold off at high prices had "escalated dramatically in the past few years" and urgent action was needed.
Russell Smith, federation chair, said: "It's about land being properly utilised. If you have vacant crofts, they should be made available to someone who will use it."
Currie said a new project to encourage owners to consider their land's future could help. "If a crofter is offered an awful lot of money for their piece of land, it's up to them whether they take it or not," she said. "That's not something the Crofting Commission can regulate.
"What we can do is promote crofting. Our development team is looking at things like making living wills, moving on pieces of land to the next generation."
The annual Crofting Census is under way and Currie said the data would provide a clearer picture. "We can see how many crofts are active, if that number is increasing or decreasing, and we can then look at trends to see if the commission's campaigns have been working.
"The data is used not just by policymakers but by us a regulatory body to help people realise there are different ways of doing things – new ways that complement deep-rooted tradition, but that work even better."
The new crofters
We have learned from other farmers but most of all we learn from the land
"For the first couple of years, the fact that we were here and we didn't have a clue what we were doing scared us. We knew what we wanted to achieve, we just didn't know how to do it."
Sandra Baer, looking out over 150 acres, with majestic Cairn Gorm as the backdrop and blue skies stretching overhead, admits it took a while to feel at home on Lynbreck Croft.
Along with partner Lynn Cassells, she had fallen in love with the place after, determined to turn a shared dream into reality, searching for months for the perfect place to put down roots.
The plan, initially, was to find a few acres where they could grow their own food, live alongside a flock of free-range chickens, and enjoy a slower pace of life away from the pressure, pollution and materialism of what they describe as "a thick screen of 21st Century smog".
On the first day they visited Lynbreck, however, the plan didn't just go out the window, it grew exponentially with the pair signing up to buy more than 150 rugged acres of fields and woodlands, hills and bogs within Cairngorms National Park.
"The plan was to move to somewhere where we would be living more in harmony with the land," explained Cassells, from Northern Ireland, who previously worked as a park ranger with the National Trust in England, where she met Baer.
"Then we found Lynbreck and we just fell in love. We were thinking about the land, the way of living, and that connection to a more natural rhythm. The farming came later."
Just six months after first touring the property, Cassells and Baer, having scraped together every penny they had, packed up all their belongings in two small cars and left to start their new life, arriving at Lynbreck just after 10am on March 18, 2016.
With absolutely no farming experience, it would have been easy to feel overwhelmed, even daunted, by the task of caring for acres of farmland that had been left largely untouched for decades. But, undeterred, the pair started slowly, first with the installation of a no-dig vegetable garden, then simple tasks such as fixing fences and cutting back overgrown vegetation.
Next, Baer pieced together a polycrub tunnel by hand for less hardy crops before the pair decided to tackle larger projects – including planting 17,400 trees down one edge of the croft by hand in four weeks.
Now, six years on, Lynbreck has been transformed into an organic, regenerative farm with more than 60 egg-laying hens, 12 pigs, six Highland cows and eight beehives, all of which have been carefully chosen to make the land as biodiverse, healthy and viable as possible.
Having originally set out to live closer to nature, the aim, Cassells and Baer explain during a windswept walk, was always to work with the land, for the land. And working to a larger scale wasn't going to curb their ambitions.
"What we tried to do was learn a lot from the people in our area – we did courses, we went to events – but also learn from the land itself," said Cassells. "That can sound quite idealistic but actually, for us, we really had to understand our landscape.
"What type of plants we had, what soils we were on, where the prevailing weather came from, our annual rainfall – all these things are really fundamental to running a business that relies on being outside. We learned from mainstream agricultural, commercial, however you want to describe it, farming and then kind of stumbled across this movement that people are calling regenerative agriculture."
The practice, as the name suggests, is about ensuring that farming also helps to regenerate the land, working with nature and animals to improve the soil, rather than degrade land, ultimately creating high-quality, nutrient-dense food.
Cassells continued with a smile: "For us, it was the right way to go because farming in harmony with nature also meant farming in a way that spent the least money. For example, the cattle and the hens work together to build soil to keep the fields healthy, and then they give us produce to sell.
"That process also keeps our infrastructure costs low, as we're not ploughing the fields, we're not reseeding, and we don't have annual fertiliser bills. We're trying to work with the animals and the land.
"Being new to running a business, too, we always came at it from the angle of how little can we spend, rather than how much money do we need to make? Farming this way hits the nail on the head."
When they woke up on their first day at Lynbreck, the couple had no idea what roles they would fill or whether it would all work out but life together on the croft has fitted into a natural rhythm, not unlike the seasons they work with every day.
Baer, 38, is head of land operations, so to speak, looking after livestock, the kitchen garden and polycrub, and doing bits of carpentry, including building the affectionately named Eggmobile which ferries their hens around the land. Cassells, on the other hand, does the accounts, social media, and leads monthly tours.
Speaking to the pair about grazing rotations, cattle feed and breeds of pigs, it would be easy to assume they had come from a long line of farmers. But being new to farming, they believe, is exactly what has allowed them to inherit passion and not just knowledge.
Baer, who grew up in Switzerland, said: "It took us quite a few years to look back and then realise that, actually, coming from the outside allowed us to think outside the box.
"Very simply, what we wanted, what we have now, was not a 9-5 job and life outside of that. We have 24/7 work but also have 24/7 life. They're so closely intertwined that everything about work is passionate, and everything about life is passionate, too. They're one and the same, so you just want to soak it up like a sponge."
In between feeding the animals, chopping wood and growing 95% of their own food, the couple have also written a book about their life at Lynbreck, sharing the ups and downs of their adventure so far. Published this week, Our Wild Farming Life provides an insight into the realities of making a living from the land, which Cassells admits is far from easy.
The 43-year-old explained: "We are really passionate about what we do, and we feel so lucky to live here. That's not to say that some days aren't really hard. Last winter, for example, the snow was to the top of the fence posts. It was stunning, it was beautiful, but there was a couple of days where it was wild!
"Sometimes it's hard to get out to the animals or everything breaks or you haven't got the money for something, and things just don't go the plan. In the book I describe farming as relentless. The bad times can be relentless but the good times can be relentless as well. It's about focusing on the good and just really running with it."
For Baer, there's another message, too – take that leap of faith when you have the chance.
She added: "How many people know what they really want, what would make them really happy in life but they're just a bit worried that if they make that big leap, something might go wrong? We really want to encourage people to do it, to take that leap. If you feel deep down it's the right thing, as we did, chances are it probably is."
---
Our Wild Farming Life: Adventures On A Scottish Highland Croft, is available now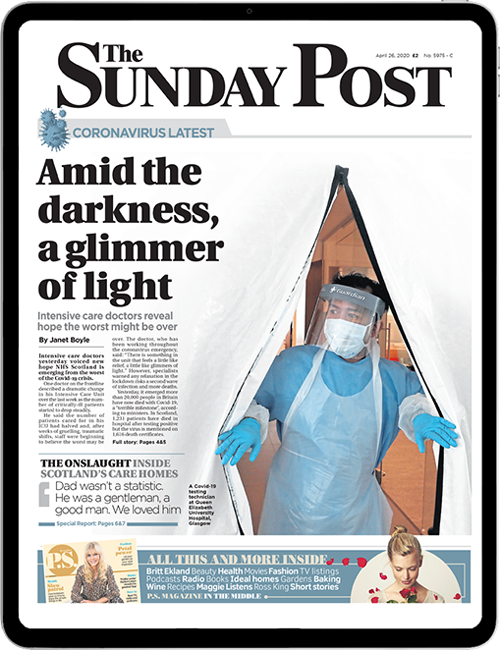 Enjoy the convenience of having The Sunday Post delivered as a digital ePaper straight to your smartphone, tablet or computer.
Subscribe for only £5.49 a month and enjoy all the benefits of the printed paper as a digital replica.
Subscribe