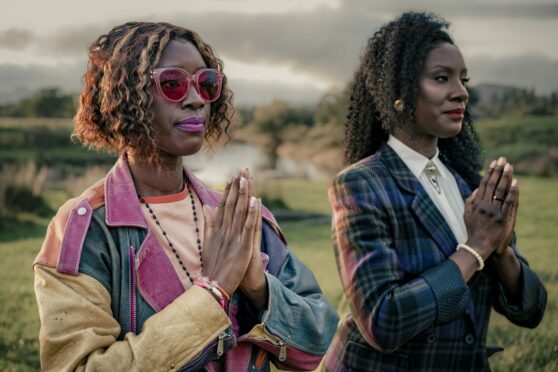 Moyo and Morayo Akande's shared passion for acting, entertaining and storytelling runs deep.
The sisters fondly recall a childhood filled with dancing, singing and putting on short plays around their home in Bearsden, Glasgow to entertain their family.
Fast-forward a few decades and the filmmakers are in the unique position of working together in a medium and industry they both love deeply.
"We both have this passion for film, and just the history of film itself so it's a dream to work together and so much fun," said Moyo.
"We were always performing, creating characters and being dramatic around the house as kids so it's nice we've come full circle."
The sisters recently pooled their talent for their new short film A.V. Van, which premieres at the Edinburgh International Film Festival next Sunday.
They co-star in the dark comedy, written by Morayo, which follows two film-obsessed sisters who create a pop-up adult video store to sell their deceased father's vintage porn collection.
The film is a homage to their love of the genre and focuses on the emerging bond between the on-screen siblings while also exploring dark humour as a coping mechanism for grief.
"It's about two sisters trying to reconnect with their estranged, deceased father and an alternative take on grief, as both characters use humour as a shield to avoid dealing with grief," said Morayo.
"It goes against the grain of how society thinks women should deal with grief. People deal with grief in their own way. While this has been seen in dark comedies before I think our approach is relatable and refreshing because we've never really seen characters like Abby and Vivian portrayed on screen this way."
Morayo says the film was partly inspired by her teenage years spent working at the video rental chain, Blockbuster.
"I worked at Blockbuster for four years from the age of 18. I never went to film school so I call that job my film school because it's where I started wanting to make my own movies from watching so many while working there.
"I was also always fascinated by watching customers and wanted to make something based around two people working in a video store."
She added that her research into grief inspired the adult themes in the film were inspired by.
"The vintage porn aspect of it was something discovered while researching people dealing with grief and the surprising things that happened," she said. "I'd read about people whose dad or grandad had died and they were left with their porn collection they obviously never knew about. I thought that was insane and wondered, what would these characters do in that situation."
Their four-day shoot last October brought the sisters home to Glasgow, where they enjoyed on-set visits from their mum bearing home-cooked meals. Having a sisterly bond was a bonus and made filming a joy, they said.
"Working on A.V. Van was just fun," said Morayo. "And because we're sisters we have this shorthand so its faster to communicate thoughts or ideas, we instantly get each other and can communicate with just a look."
Morayo also drew on her love of films that promoted female empowerment, displayed in her characters' sensational and fierce costumes created by costume designer Ali Mitchell.
"It's a visual celebration of female empowerment, all the fierce female characters, films or artists I grew up admiring, like Heathers, Clueless, Cruel Intentions, Breakfast At Tiffany's and Beyonce," she added.
"It pays homage to films that inspired me to be a filmmaker and resonated with me for having strong, empowered women on screen."
Moyo and Morayo were grateful they could inspire, support and encourage each other as they forged their own paths in the film industry.
"We're sisters but also best friends and lucky to share the same dream because we both work in the film industry. It's great to have someone who's rooting for you unconditionally," said Morayo.
Excited to announce @av_van_film has been officially selected for @EdFilmFest 2023!!🥳

📌Save the date for Aug 20th at 4.15pm Vue Cinema – Screen 10

🍿Join us for an unforgettable big-screen experience!

Full Cast & Crew: https://t.co/qw4KbxGpU0 pic.twitter.com/qocN3aYQeF

— A.V. Van (@av_van_film) July 6, 2023
"We're lucky to have each other to lean on and inspire," added Moyo, whose acting credits include the TV series Guilt and John S Baird's 2023 film Tetris.
"It makes filmmaking more fun and easier as we share the same dream and creative vision to create interesting work from a fresh perspective I couldn't imagine doing this on my own."
Teaming up for film projects has proved hugely successful for the sisters in the past, and has allowed them to shine a light on overlooked stories.
In 2017, they co-starred in the Bafta-nominated film 1745, also written by Morayo, which highlighted the untold story of slavery in 18th-Century Scotland. Moyo also penned the script for and directed her sister on an episode of BBC series The Wedding.
The sisters, whose parents are from Nigeria, have been pleased to see the growing Scottish industry become more diverse in recent years.
"We're seeing more diverse filmmakers being given opportunities coming out of Scotland and the rest of the UK, said Morayo, currently based in Glasgow.
"It's refreshing because there are so many untold stories that to be shared and it's important to see yourself reflected on screen."
Pursing that aim has been a long-term passion and often struggle for the Akande sisters, who are currently working on their debut feature film, Konbini Zombies, a zombie apocalypse film shot in Tokyo.
"We find inspiration in our heritage and seek to bring like our unique experiences to the forefront of our storytelling. It can be challenging to get your story out there and told in the way you want it to be," said Moyo, who co-produced A.V. Van with Helen Gladders.
"It's great we got funding and support from the BFI Network, Creative Scotland and Short Circuit,"Morayo added.
"It can be a challenge to get people on board with something that hasn't been done before. With A.V. Van, a dark comedy about these two sisters in Scotland being who they are and doing what they love regardless of race or gender, it's stories like that we don't see a lot of."
Sisters are telling it for themselves
Moyo and Morayo on each other, growing up and their own form of telepathy.
My sister's best talent is…
Moyo: "She gives the best advice, especially for big life decisions. She is very wise!"
Morayo: "She's a master of owning the stage and screen and radiates a powerful energy when she brings characters to life."
I admire my sister because…
Moyo: "She knows exactly who she is and doesn't like to fit in and conform. That inspires me to be comfortable in my own skin."
Morayo: "She has a fearless determination to chase her dreams which inspired me to do the same."
You can tell we're sisters because….
Moyo: "Apparently we sound exactly the same!"
Morayo: "We've mastered the art of communication via eye-rolling telepathy. We can convey a whole conversation with our eyes."
My favourite childhood memory of my sister is…
Moyo: "We didn't have pets growing up so one day Morayo brought home a pet snail and called him Giles. She was absolutely in love with him but mum wasn't best pleased."
Morayo: "Our spontaneous Spice Girls living room dance parties"
My sister's most annoying habit is…
Moyo: "Morayo has this superpower of predicting storylines so when we watch a film she always ruins the ending."
Morayo: "Moyo always orders sparkling water in restaurants, which I hate!"
I'm jealous of my sister's…
Moyo: "Glowing, flawless skin!"
Morayo: "Socialising skills. Moyo turns strangers into friends faster than you can swipe right on a dating app!"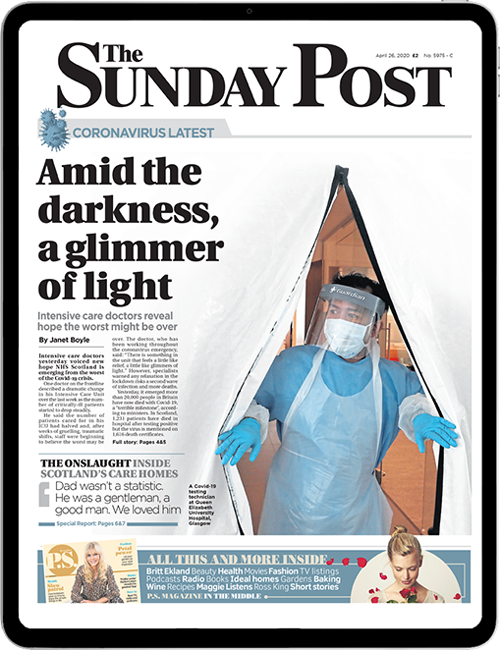 Enjoy the convenience of having The Sunday Post delivered as a digital ePaper straight to your smartphone, tablet or computer.
Subscribe for only £5.49 a month and enjoy all the benefits of the printed paper as a digital replica.
Subscribe