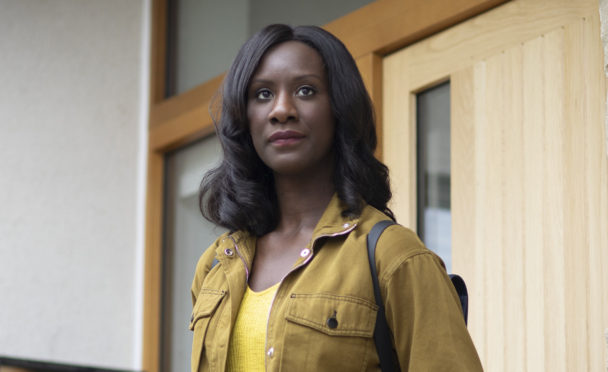 She is one of the rising stars of Scottish stage and screen. Now Moyo Akandé hopes she can be an inspiration to the next generation of actors.
The Glaswegian can currently be seen in the acclaimed BBC Scotland comedy-drama Guilt, following on from roles in The Cry, Still Game and Vera. She's also a regular performer at Shakespeare's Globe Theatre in London.
Her career has been on an upward trajectory ever since she graduated from the prestigious Arts Educational Schools in London 11 years ago.
"I hope there are girls who are young, women of colour, growing up thinking they want to do this as a career, who see me on their screens or on stage and say, 'Look, I can do that, too'," said Moyo.
"Because when I was growing up, there wasn't much of that available to me, so times have changed and it's nice to know people like me are being given opportunities that maybe weren't there 10 years ago.
"I hope that can inspire the next generation coming up now. Kids that are training at the moment wondering if this is what they want to do as a profession.
"My mum always raised me to believe in myself and not let the colour of my skin define who I am, to stop me doing what I set out to do or from following my dreams.
"I can see the industry is changing slowly but surely and that can only lead to more positive things. The barriers are coming down."
Moyo and her three siblings' parents came to Scotland from Nigeria and the family initially lived in the deprived Pollok area of Glasgow.
Her father, a chemical engineer, and her social worker mother were a tremendous support as she pursued her interest in acting, enrolling her in drama classes as a girl to help her "come out of her shell".
"We moved from Pollok to Bearsden when I was really young," Moyo continued. "They worked really hard for us to be there and I had a lovely upbringing, nothing but good memories.
"I was quite a quiet child growing up. My mum remembers dropping me off at nursery and noticing I wasn't getting on with the other kids, not talking much and keeping myself to myself.
"She thought I had to come out of my shell, because I wasn't like that at home. I used to sing and dance around the house and was always entertaining everyone, but when I was in public I became this really shy person. She knew there was something there, so she put me into a drama class and that was it – I realised I loved acting and dancing and I've had the bug ever since.
"When you're young, it's a hobby and it's fun, but there comes a time when you think it's something you can make a living from.
"At high school, you can take the creative route or the academic route and I chose the creative one because it's what made me happiest.
"I was very lucky, because traditionally in a Nigerian household they expect their children to be lawyers or doctors or dentists, to have big serious jobs, so when I told my parents what I wanted to do, they said 'OK, we will always support you and if this is what you truly love, we'll support that'.
"As the years went by, I think my mum and dad realised this was a big passion of mine and they put everything into helping me achieve my dream, and I just worked my butt off."
With her striking looks and standing at 6ft tall, Moyo was never going to blend into the background.
She began her professional training at the Dance School of Scotland and then moved to London at 17 to continue her studies.
Moyo has appeared in TV shows like Taggart, Bob Servant, Lip Service, Only An Excuse and Porridge, and on stage has worked with the National Theatre of Scotland, Birmingham Rep, Sheffield Crucible and Dundee Rep.
She also starred in the movie Hurricane Heist, which was directed by Rob Cohen, the creator of The Fast And Furious franchise.
But it's a short film she made with her sister, Morayo, two years ago which remains her most personal project.
The Bafta Scotland-nominated film, 1745, tells the story of two sisters on the run in the Highlands. It's a true story based on an 18th Century newspaper advert looking to track down two female slaves.
She said: "1745 has been a really special piece of work for Morayo and I. Never in our wildest dreams did we think it would live out the way it has, and we're thrilled people want to watch it and engage with it.
"It's shining a light on a story never really shown on screen before.
"It took us back to Nigeria, where we hadn't been in 14 years, which was amazing.
"We got to reconnect with our heritage and share this story with family and people who didn't know anything about this part of Scottish history.
"It also won best short film at the Africa International Film Festival, which was an unexpected bonus. We're now developing the feature film version."
Before that, though, 31-year-old Moyo is part of the intrinsic plot of Guilt.
The four-parter tells the story of two chalk-and-cheese Edinburgh brothers, Max and Jake, who accidentally run over and kill an old man.
Their attempts to cover it up trigger a chain reaction of consequences and their lives begin to fall apart as their actions catch up with them.
Moyo plays Tina, a new friend who Max's wife Claire meets at the gym. But as the series unfolds, Tina is not what she seems.
"When I read the script I couldn't put it down," continued Moyo.
"It was full of so many twists and turns, and I could feel the dark and witty comedy coming through in the script as well.
"I thought it was fantastic and I hadn't read anything like it in a very long time, especially something like this being produced in Scotland.
"When I read more about Tina I knew I would love to play the role, so when I got the call I was delighted.
"Tina's a bit of a mystery and what you see is not necessarily what she seems.
"She unfolds episode by episode, and I've never had the chance to play a role like that before. It intrigued me.
"It's amazing to be part of the first drama commission for the BBC Scotland channel, and the response and reviews so far have been extremely positive.
"It just goes to show that Scottish drama can be made and produced in Scotland by homegrown talent."
It's 10 years since Moyo's first professional acting job in Scotland, when she was part of the popular Edinburgh pantomime at the King's Theatre.
Life has been such a blur since then that she doesn't always take stock of what she's achieved so far.
"I'm terrible at taking a moment to look back," she admitted.
"As you get older, the years go by so quickly and the pace of the industry is so fast, moving from one job to the next, that it's always about looking forward and I like to be like that.
"But I also know I need to find moments to look at the things I've achieved, where I've started and where I've ended up.
"I think it's nice to remember where you come from and to be there when all these changes are happening, especially such positive changes to Scotland's film and TV industry.
"It's nice to be here at this moment in time and to be a part of it."
---
Golden era for Scottish film and TV
Despite living in London, Moyo says she is working in Scotland more often
and is excited about the country's growing film and TV industry.
"It's changed a lot in the last 10 years and I feel I'm working more than ever here," said Moyo.
"In the past two years I've filmed The Cry, Still Game, a few episodes of The Demon Headmaster and Guilt in Scotland.
"It's a constant hustle and bustle of creativity.
"There are amazing landscapes to film on, and you have big movies like Avengers and Fast And Furious coming here.
"I'm an advocate for building a film studio here, so more work can be made and produced in Scotland.
"It's exciting to be a part of the change and shift.
"A lot of it is down to Screen Scotland and the BBC, which has been taking note, saying all these shows are being successful and there's an audience for them, not just in Scotland and the UK but internationally, with people wanting to tune in and engage with the work that's made here."
One of Moyo's recent highlights was working on an episode in Still Game's final series.
"I was thrilled. To be working in Scotland on such an iconic Scottish show was a dream," she added.
"I've been watching it for years and they were a lovely bunch as well as being a total riot – I couldn't stop laughing on set.
"It was their last day when I was with them and they were so welcoming – it was a great experience."
---
Guilt, BBC Scotland, Thursday, 10pm, repeated on BBC2, Wednesday, 9pm