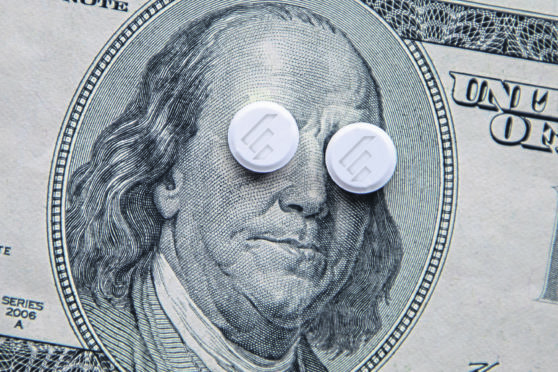 Scottish universities have been urged to cut ties with a billionaire family facing fresh accusations of fuelling a prescription drugs catastrophe in the US blamed for more than 400,000 deaths.
Student leaders, drugs campaigners and politicians say the Sackler family's name should be removed from research and treatment centres run by universities in partnership with the NHS after their firm, Purdue Pharma, was blamed for unleashing prescription painkiller OxyContin in America.
They say it is hypocritical for the NHS in Scotland, where the drug death toll is Europe's highest, to be supported by profits from a drug linked to the biggest addiction scandal in the United States.
The Sacklers made £8 billion from the drug, launched in the late-1990s and wrongly marketed as being safer than alternative painkillers. A new book by investigative journalist Patrick Radden Keefe exposes how the company – and the family – continued to profit from the powerful painkiller despite damning and conclusive evidence it was fuelling addiction and death.
Purdue went into bankruptcy in 2019, facing a mountain of lawsuits, before the family agreed to pay $225 million in damages last year while continuing to deny any wrongdoing. Members of the family gave evidence to Congress in December when congressman James Comer, co-chair of the House Committee on Oversight and Reform, told them: "We don't agree on a lot on this committee in a bipartisan way but I think our opinion of Purdue Pharma and the actions of your family we all agree are sickening."
The billionaire Sacklers donated millions of pounds to universities, museums and galleries around the world, including donations to fund medical research and treatment centres at NHS hospitals run by Glasgow University – where the Sackler brothers who founded Purdue studied medicine – and Edinburgh University.
Institutions elsewhere, including the Louvre in Paris, Tufts University in Massachusetts and New York University, have removed the Sackler name from buildings and research centres and campaigners in Scotland say it is inappropriate for money linked to the addiction crisis in the US to be helping fund NHS work in a country with the worst drugs death toll in Europe.
In 2019 the Tate gallery group said it would decline further donations from the Sackler family and a £1m donation to the National Portrait Gallery was withdrawn by the Sackler Trust over fears allegations against Purdue might deflect from the museum's work.
The Sackler brothers travelled from the US to the UK in the 1930s to study at Anderson's College of Medicine, an institution that became part of Glasgow University in 1947.
The university's website has a glowing ­tribute to Dr Mortimer Sackler, the former chairman and co-chief executive of Purdue Pharma, who died in 2010. However, the ­biography makes no mention OxyContin.
Money from the Sackler Trust was used by Glasgow University to develop the £32m Imaging Centre of Excellence at the Queen Elizabeth University Hospital. The Sackler name is displayed prominently on a sign at a university research facility in the Neurosciences Building at the hospital. Yesterday, NHS Greater Glasgow and Clyde said it had asked for the sign to be removed.
Liam Brady, president of the Students' Representative Council at Glasgow University, said: "This is something the ­university should address and aim to rectify out of respect to those impacted by the opioid epidemic."
Edinburgh University used ­contributions from the Sacklers to fund The Sackler Centre for Developmental Psychobiology.
Ellen MacRae, president of Edinburgh University Students' Association, said the university should lead discussions about renaming the centre. She said a precedent was set when the David Hume Tower was renamed over the philosopher's racist views.
MacRae said: "We believe the University of Edinburgh must acknowledge it has benefited from donations via the Sackler family and work to ensure justice is delivered for opioid victims."
Anti-drugs campaigner Annemarie Ward, chief executive of charity Faces and Voices of Recovery UK, also said the universities should rename their buildings. "The Sackler family have been forced to pay some of the highest amounts of criminal fines for the role they played in fuelling America's opioid crisis, so many people will find it entirely inappropriate that their name remains connected to anything involving the NHS or any university," she said.
"Unless it is made very clear exactly how the Sackler family made their name and their fortune, just as we are asking today to make clear those who profited in the past from human slavery, their names should of course be removed."
Jane Murray, whose son Jamie died at 40 last year, said: "The kind of drugs the Sacklers manufactured lead down the dark road of addiction and death. The thousands of families who have lost sons and daughters across Scotland will be appalled to learn money linked to the catastrophe that unfolded in America is being allowed to fund projects associated with a university and our NHS."
Conservative MSP Miles Briggs has called on Health Secretary Humza Yousaf to intervene to request the removal of the Sackler name. He said: "I'm deeply concerned Scottish institutions are being used in this way by a firm which is so synonymous with the deaths of so many people from opioids and the misery that addiction brings to communities. The new health secretary should be making sure health boards are made aware of this situation so it cannot happen again, and he should be ensuring that due diligence is carried out over every similar offer of funding in future.
"Scotland has seen more than its fair share of drug-related deaths and addiction, and the very least we should be doing is ensuring those who profit from such an industry are not given an air of respectability just because they offer to fund projects from the billions they make from industry profits."
The Scottish government said it was for the universities to comment. Glasgow University, which has received up to £5m from the family over the past two decades, said donations from the Sackler trusts had funded facilities and programmes that had changed and saved lives. In 2004, the university announced the ­opening of the Sackler Institute of Psychobiological Research in Glasgow by Mortimer Sackler: "This is a research unit into neuro-psychiatric disorders with the University of Edinburgh, which opened its Institute in March 2004."
Last week, a university spokesman said: "No building at the university is named after the Sackler family. In 2019 the Sackler grant-­giving programmes were suspended. We will not be applying for any further grants."
Edinburgh University said: "Major prospective donations to the university always undergo a rigorous due diligence process and go before our Ethical Fundraising Advisory Group, which considers and advises on whether donations and philanthropic fundraising are ethically acceptable.
"The last Sackler Trust ­donation received was for £150,000, in March 2019."
The Sacklers also donated £650,000 to the V&A design museum in Dundee whose funding is assessed to ensure it supports the charitable aims of the museum. It said: "V&A Dundee has received historic support from the Sackler Trust and the Dr Mortimer and Theresa Sackler Foundation for the creation of the museum, as have many other major cultural projects in the UK. There are no current applications, or plans to make applications in future."
At the congressional hearings in December, members of the Sackler family denied any wrongdoing and said Purdue had always acted responsibly and ethically. Dr Kathe Sackler, who sat on Purdue's board for two decades, said: "There's nothing I can find that I would have done differently."
NHS Greater Glasgow and Clyde said: "NHSGGC is not responsible for the sign erected at the Glasgow Clinical Research Facility but have asked for it to be removed."
---
The worst drugs crisis in the world? An extraordinary national shame

– Michael Marra MSP
Scottish Labour's Michael Marra made his first speech in Holyrood when the regional MSP for North East Scotland, powerfully addressed Scotland's drugs death toll and inequality. Here is an extract from his acclaimed speech.
As inequality has grown, our social fabric has weakened. We can now see that anew, not just as a moral affront but as a practical impediment to our shared lives – respiratory disease, obesity, unsafe workplaces without trade unions, poor housing, services that are less accessible to ethnic minorities, grotesque and growing health inequality that is proved by stagnant life expectancy, and the gap between the richest and the poorest growing ever greater.
One quarter of our children, and each day more and more, are living in grinding poverty. Our most impoverished communities, such as parts of my city of Dundee, are beset by the worst drugs crisis in the world. That is an extraordinary national shame. Let us not doubt that, if it was any middle-class epidemic, we would have locked down, legislated, incurred unlimited debt, educated widely and reformed indiscriminately. The great inconvenience of those dead Scots is that their passing cannot, by any conscious examination of the facts, be blamed on the demon "other". Drug laws are the same across the UK, yet the number of drug deaths in Scotland is four times that of England.
Those Scots died because they were poor and were somehow believed to be worth less. Well, they were my schoolmates. I stood with them on the terracing. Each of them was a son, daughter, parent, friend. That is inequality – not how it starts, but certainly how it ends – and no real recovery is possible unless we address the broader inequalities. We must find the ways and the will to deal with those things together.
During the election campaign, the first minister said – tellingly, I believe – that in the end politics is about picking sides. That is not how I see politics. I believe, in all honesty, that we do have common cause. Politics can be about building movements, starting and winning debates and creating common purpose in a workplace, a street, a town, a city and a country and around the world. That is the ethos that we need in our recovery.
Taking every road to what divides us rather than to what we have in common is an easy route, but it will lead, ultimately, inevitably, to despair.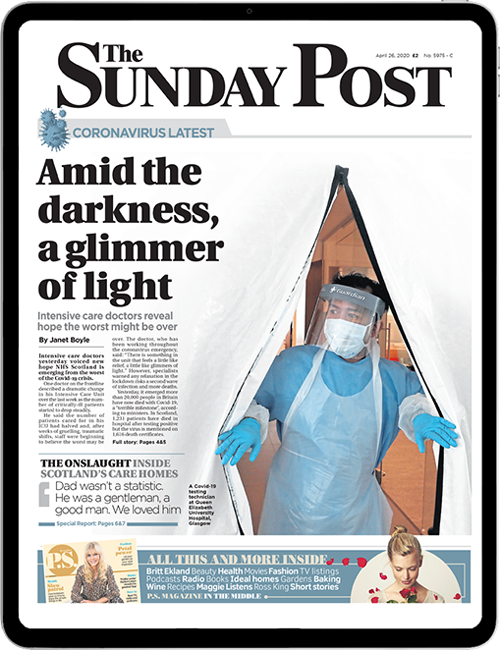 Enjoy the convenience of having The Sunday Post delivered as a digital ePaper straight to your smartphone, tablet or computer.
Subscribe for only £5.49 a month and enjoy all the benefits of the printed paper as a digital replica.
Subscribe