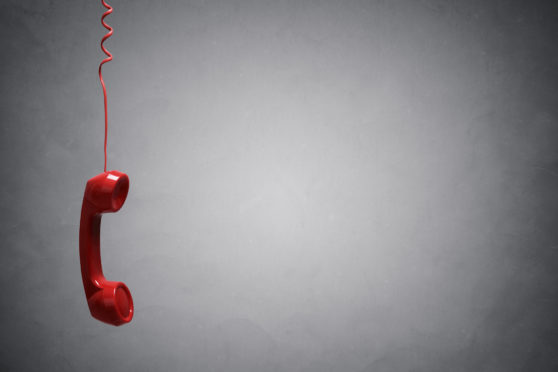 Islander Ruaraidh MacNeill nearly blew a fuse when told he was losing the phone number he had held for 50 years.
The former fisherman stays at Waternish, in north-western Skye, and the phone is his lifeline to the outside world.
When he decided to move his internet and landline account from BT to John Lewis Broadband in August, he thought it would be a simple process and couldn't have predicted it would end up causing so much hassle.
"I just wanted a cheaper service," said Ruaraidh, 66. "I was told it would be very straightforward. However, it has turned out to be anything but."
At first, the swap from BT looked like it was going smoothly. Then Ruaraidh experienced a number of delays and, at one point, he couldn't use his landline at all.
"I kept getting told that everything was in hand when clearly it wasn't."
The final straw came when Ruaraidh was informed he would have to change his existing phone number, which he has held for half a century, to a new one.
"When I signed up with John Lewis I had no idea that I might lose my old number," he said. "I have had it for almost 50 years and to change it would cause me all sorts of problems. Anyone who knows me knows how to get me on the phone.
"If the number was changed, I would have to call around so many people all over the country to try to let them know. It would be an incredible hassle.
"The phone is my only real link to all my family and friends and, as I live in a remote area, it is vital."
After weeks of toing and froing with BT and John Lewis but getting nowhere, Ruaraidh asked Raw Deal for help.
We contacted John Lewis on his behalf and asked the company to investigate – and to insist that he be allowed to keep his old phone number.
If you are staying in the same house, Ofcom, the telecoms regulator, says it's mandatory that your old provider must allow the number to be transferred to your new service.
A spokesperson for John Lewis said: "The reason for the delay has been due to securing the customer's old number and technical issues in the move across from BT.
"We will also be liaising with the customer regarding the next steps in terms of compensation due to the delay in service."
Further delays have since occurred with the changeover but Ruaraidh has his fingers crossed that it won't be long before his landline and broadband is back up and running normally – and that his old number is still valid.
He said: "Thank you Raw Deal for your help and support while trying to fix what has been a very stressful issue for me."
Advice
Thinking of switching your phone, TV or broadband services? Here's what Citizens Advice recommends…
Decide whether you want to get a bundle – a deal with one provider that combines broadband, phone and TV. They are sometimes cheaper, and will simplify your monthly bills.
Compare tariffs. Use an Ofcom-approved, unbiased price comparison site. You will usually find better deals online.
Understand the quote. Sometimes you will be offered 6 or 12 months free, but be careful – check how long you are signing up for, and how much the monthly fee will be after the free trial.
Decide how you will pay bills and monthly rental – direct debit is usually cheaper.