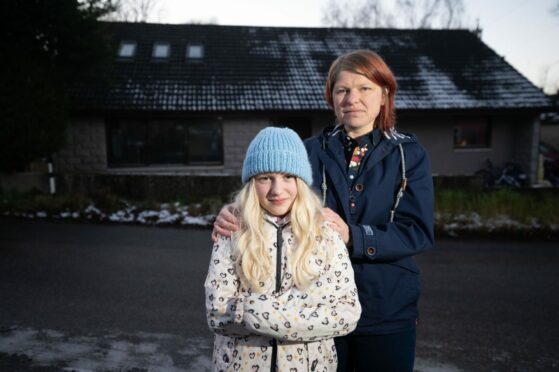 The emergency response to the power cuts that left almost 100,000 Scots in the cold and dark is under scrutiny as critics say much more should have been done much quicker.
Families affected, backed by ­ politicians, have accused energy firms of failing to admit the scale of the damage quickly enough and ministers of failing to demand a comprehensive and clear catalogue of damage and a firm estimate of how long repairs would take.
Many homes were without power for up to five days. And yesterday some were still in darkness – nine days after Storm Arwen battered the north-east and the Borders. Yesterday, power had been restored to most but not all of the 90,000 homes cut off after 90mph winds brought down trees and power lines.
It took five days for the Army to be called in to bolster the recovery and offer support to the most vulnerable and critics say the government response would have been far quicker and more impactful had the storm inflicted similar damage in the Central Belt.
Despite repeated assurances by power firms that electricity would be quickly restored, the crisis continued throughout the week. Yesterday, families in 560 homes across Aberdeenshire, Perthshire, Angus and Moray were still without power. Across the UK 9,200 homes remained cut off.
Troops were finally enlisted on Wednesday to help the recovery effort in Aberdeenshire by the Grampian Local Resilience Partnership, which is made up of councils, the police, fire and ambulance services, and other agencies. On Thursday, 146 military personnel were deployed, focusing on welfare checks in communities still badly affected.
But politicians in the affected regions questioned why it took so long. Scottish Borders Council leader Mark Rowley said: "The Army could have been of great use in the first couple of days.
"It would have been helpful for the Scottish Government to have recognised the national scale of the problem in those first days, and they didn't. As usual, it was left to local authorities to pick up the pieces.
"The Scottish Government showed ­little or no interest in appeals we made for additional support in the first few days.
"To be fair, later in the week that happened, and we were able to draw on the resources of roads maintenance company Bear Scotland. But from the start it should have been acknowledged the scale was absolutely huge."
He added: "If this had happened in the Central Belt, you wouldn't have been able to move for Scottish Government ministers visiting, doing photo ops and tweeting about it."
Deputy First Minister John Swinney visited the Aberdeenshire village of Monymusk on Wednesday where he apologised for the "hardship" people had experienced and said he wanted to "make sure we do everything we can in the short term to resolve those issues".
However, Liam Kerr, Conservative MSP for North East Scotland, said: "I just don't understand why the Scottish Government didn't say, 'Look, we've got a real problem here. Send in the troops'.
"The Grampian Local Resilience Partnership went direct to the Army and asked for assistance. It is quite something when the national government has abandoned the pitch and the local authority is saying we need help, please send in the Army.
"There is certainly a feeling among my constituents that had this happened in the Central Belt the SNP would have been more visible in their actions."
Michael Marra, Labour MSP for North East Scotland, said: "Clearly the power companies have failed to understand the scale of the challenge.
"Far too many times in the last week they have promised residents they were only hours away from being hooked back up to the power supply.
"It is now clear the Army should have been called in much earlier to provide assistance. The Scottish Government and the local resilience group have serious questions to answer about why it took so long. Local people are rightly appalled.
"Rural areas have a right to expect their infrastructure is sound and they will receive the same treatment as anywhere else. I do think there is a feeling among the population that too many people were forgotten in the last week."
Energy regulator Ofgem has warned it will take enforcement action over slow reconnections. Chief executive Jonathan Brearley yesterday told the BBC: "We are deeply concerned about customers who for over a week have been without power.
"We want to establish the facts and make sure we understand what has happened, whether the network companies have met their obligations. If they haven't, we will take enforcement action."
Colin Smyth, Labour MSP for South Scotland, said: "I hope one of the things Ofgem looks at is exactly how robust the network is.
"Although it was a severe storm, it strikes me that time and time again rural areas are hit the most. I fear there has been a lack of investment in some of the infrastructure, making it susceptible to storms like this.
"This wouldn't have happened in Glasgow or Edinburgh."
Police Scotland Chief Superintendent George Macdonald, of the Grampian Local Resilience Partnership, said: "Due to the challenges and uncertainty around when supplies would be fully restored, the partnership deemed it was proportionate and necessary to seek additional support from the military and we are grateful for their assistance.
"I want to reassure the community that a significant response has been provided since the beginning of Storm Arwen and will remain in place until all those affected have had full power restored."
Mark Rough, Scottish and Southern Electricity Networks' director of ­operations, said: "We have over 700 field staff carrying working with support from other network operators and contractors from across the UK and Ireland, and everyone is making a real effort to reconnect the final homes as quickly and safely as possible."
Scott Mathieson, planning and ­regulation director at ScottishPower, said: "Whilst we had boots on the ground quickly, access was significantly ­ hampered by the amounts of significant storm debris that had to be cleared from main roads and A and B roads."
The Scottish Government said: "Our Resilience Room, chaired by the Deputy First Minister John Swinney, has met on a number of occasions to oversee efforts and ensure every possible resource is deployed.
"In the aftermath of this incident, we will review the preparations for, and response to, Storm Arwen to ensure we learn from this exceptional storm."
---
The family
It was snowy, freezing but the worst part was the false hope
The days after Storm Arwen were cold and dark, according to Emma Hardman, 37, but it was the dashed hope that was most dismaying.
The mum, who lives in Kirkton of Tough, near Alford in Aberdeenshire, said mobile phones, internet and landlines were out of action because of the power cut and the storm damage. She said: "We had to drive five miles to get any kind of signal to see if there were any updates on the SSEN website.
"It said the power would be connected at 6pm, then it changed to 10pm the next night.
"You'd sit and wait for the promised switch-on that never came and drive out again only to discover that it was due to go on midnight the next night.
"It was false hope all the time; that was the worst part. In the end we gave up. We live in a tiny community with a maximum of 20 houses. We felt completely cut off. The Army should have been called in earlier."
Hardman, who with her oil worker husband George, 46, and children Ailsa, 10, and five-year-old Arran and Cocker Spaniel Oggie, camped for four nights and four days around a single log burner, said: "It was like something out of a disaster movie. It felt apocalyptic. We had no communication with the outside world and didn't know what was going on."
She had collected the children from school on Friday, which had closed early because of the storm, and returned home when soon after the power was cut.
Hardman, who runs Sew Unique, an online kids clothing company, said: "The power went off at 4.30pm on Friday last week and didn't come back on again until 3.30pm on Tuesday. We were all huddled around the log burner in the living room.
"It was a life-saver. I don't know what we would have done without it because it was freezing – it was snowing outside.
"We all slept together there on a sofa bed in the living room. But there wasn't much sleeping going on. We were up all night going out into the snow every half-hour to get logs to feed the burner and stay warm. We had tea lights and dug out Christmas lights that took batteries.
"We had water but it was cold so we had to heat what we could on top of the log burner. It was just enough to wash the children, and boil water for pasta. We lived on pasta for four days."
---
The hotelier
No room at the inn when storm killed off all of our cottages' power
A hotelier was left without power for seven days following the storm damage which wreaked havoc in the Borders.
Mark Hay spent a week cut off from an electricity supply at his farm cottage on the outskirts of Kelso, Roxburghshire. Despite running the Queenshead Hotel in Kelso he was unable to move in there as the premises were fully booked.
Engineers finally restored his electricity supply at noon on Friday – after being cut off from 8pm the previous Friday when the ferocious winds brought down power lines.
The 59-year-old admitted: "It has been hard going. It's a long time to go without electricity and it was frustrating when I kept getting calls from ScottishPower to say the supply will be reconnected at a certain time and it kept passing the deadline without anything happening.
"But I do understand it was the sheer volume of cases they had to deal with which resulted in the delay.
"They had to prioritise and I suppose if they have 200 homes elsewhere to reconnect and then there are our four farm cottages then they are going to go where they don't get as many complaints.
"An easy option would have been to move into the hotel but there was no room at the inn, so to speak, it was fully booked."
Hay explained that all four cottages at the Wallaceneuk farm steading are occupied by members of his family including his mother, son and daughter.
He said he had a small generator which was able to keep the water supply and toilets running in the four houses and to boil kettles to help keep them fed and watered. But after that they were virtually on their own.
He explained: "We have a log burner so all the family had a few nights around the fire which was nice in a way. It is amazing the amount of meals you can actually cook on a log burner.
"The engineers finally arrived on Friday morning and took three-and-a-half hours to fix the cables. They have been working flat out and we recognise that."
---
The shopkeeper 
Shopkeepers in Aberdeenshire turned Good Samaritans to help communities that were without power and, in some cases, water.
Despite being without power themselves last weekend, Kimmie's Convenience Store on Alford's main street remained open and served customers by candlelight.
Meanwhile, The Corner Shop at the heart of the tiny village of Rhynie, near Huntly, run by mum-of-two Anne Lyne, 50, rallied volunteers who, with the help of a generator and barbecues, turned the kirk's community hub into a food kitchen.
And despite a sudden dump of snow, they provided hot water for residents to take home in thermos flasks and delivered food and drinks to those who were elderly, infirm or just not able to leave their homes.
Lyne said: "A few of us got together. I took some supplies from my shop, opened the church community hub, got a generator and got heating going. We heated soup, made sandwiches and got hot water so people could come with their flasks and get boiling water.
"We got a group of people to go and knock on everyone's doors and see if they were OK and invited them to come to the hall.
"We didn't have water for two days, so a local farmer came and left a big tank of water with pails for people to flush their toilets. A lot of people donated drinking water.
"There were people not able to come out of their homes, like the elderly and those who are ill, so we took plastic containers of soup and sandwiches to them as well.
"It was amazing how people came together to help. We ran the community hub for two days and then the power came back on on Tuesday."
---
The farmers
Power firm did what it could after but had got it wrong before
Farmer Peter Jaffrey, 56, endured six days without power to his home and farm at Drumoak near Banchory. His wife Rona, 59, and their daughter Tegan, 17, lasted four days in freezing conditions before decamping to a hotel. Peter remained at home with their dog, an Irish Wheaten Terrier, Dexter, nine, to tend his livestock.
Rona said: "I kept thinking the power would be back but it didn't happen, the power cut just went on and on. Tegan was so cold. I was cold, even the dog was cold. After four days we booked into a hotel."
Peter said: "It was less hassle for me to stay on the farm so I could keep an eye on the animals than go to the hotel. I cooked my food on an Aga, had candlelight, and took a hot water bottle to bed. Dexter and me struggled through it and got on OK.
"It brought back memories of my youth when there were power cuts. In the last 10 to 15 years there has not really been anything like this, and we have all become used to our central heating and being warm."
Peter believes the power providers have done what they could in the aftermath of the storm, but questions their management in the lead up to it.
He said: "The network have been cutting down small trees underneath power lines along tracks and roads, but the big trees next to lines that could cause damage have been left.
"You can easily see that if there was wind they could come over and cause problems.
"The network decimated the small trees that are good habitats and good for the environment. We have known that this was kind of weather was coming. They could have been more proactive to lessen the damage caused."
---
Brian Wilson: Of course Arwen was exceptional but questions still need answered
Brian Wilson is a former Labour MP and Energy Minister from 2001 to 2003
The prolonged power cuts suffered by tens of thousands of households have raised again the question of whether the energy companies spend enough on "resilience" to prevent this scale of damage and hardship.
Nobody doubts that Storm Arwen was exceptional and a lot of slack must be cut for that reality. Equally, there is nothing but praise for workers at the sharp end, toiling around the clock in terrible conditions to restore power.
However, we cannot ignore the fact there are still people without electricity a week after the storm struck. Neither should we avoid hard numbers.
According to the energy regulator, Ofgem, in 2019-20 investment was 19% below the regulatory target on replacement and refurbishment of equipment.
The cumulative effect is to risk more and longer power cuts than would otherwise occur when a big storm strikes. Ofgem has undertaken to review the resilience of the network in the light of the past week's events.
Whether they have much appetite for calling the companies to account is another question.
During my own time as Energy Minister, storms of equal severity swept across the south of England with similar effects. To the considerable irritation of Ofgem and the companies, I insisted on an independent report and the results proved interesting.
The biggest factor had been failure to manage trees close to power lines. Most cuts were not caused directly by the storm but by branches and falling trees bringing down lines.
The power companies were supposed to pre-empt this with regular tree cutting. Conditions vary around the country.
In some places there are no trees to be a factor. But what about potential for undergrounding lines or the routine maintenance of poles or the many other factors most of us do not think about until the lights go out?
Another area in which Ofgem must seek answers involves customer communications. If people know what is happening, they can plan accordingly but if they are fobbed off with a recorded message giving generalised or inaccurate updates, their plight becomes worse.
This really does come down to whether or not the companies are prepared to spend money on employing human beings with a bit of local knowledge to communicate with customers. At the best of times, recorded messages and multiple choices of the button to press are pretty frustrating.
In a crisis, they are complete unacceptable.
SSE and Scottish Hydro hold highly privileged positions in Scottish society.
At the time of privatisation, their predecessors were popular so Tory ministers argued successfully to retain them as "vertically integrated" businesses – generators, distributors and retailers of electricity – unlike in England and Wales.
It means virtually nothing can happen in Scottish energy without going through these two companies in one shape or form. That is reflected in their massive profitability.
The least we should expect in return is the highest possible standards in services – including "resilience" – and Ofgem has a duty to question whether that has been delivered in the light of Storm Arwen.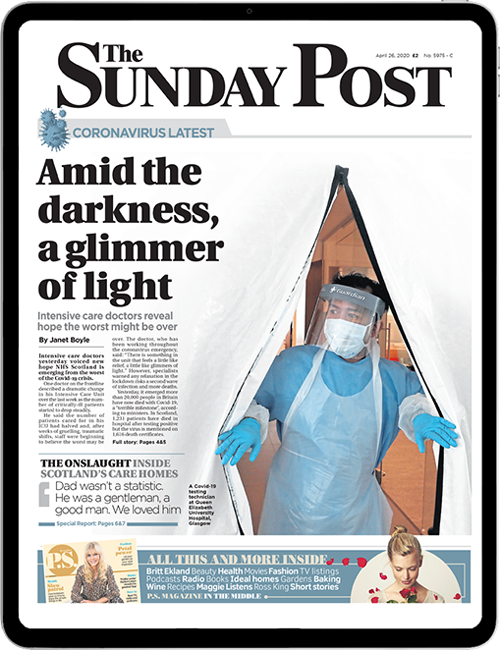 Enjoy the convenience of having The Sunday Post delivered as a digital ePaper straight to your smartphone, tablet or computer.
Subscribe for only £5.49 a month and enjoy all the benefits of the printed paper as a digital replica.
Subscribe