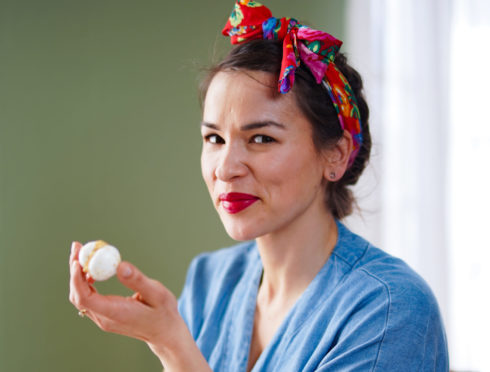 When life gives you lemons, make lemonade. Although, in Rachel Khoo's hands, she would likely come up with something much more interesting.
The celebrity chef – who has previously made cookery shows in France, Australia and Malaysia – was in pre-production for her next TV series, which was due to be filmed abroad, when the world was placed on lockdown.
So Londoner Rachel pitched another show instead, which was filmed during the pandemic, teaching viewers simple but striking recipes using predominantly store cupboard ingredients.
And with people spending more time in the kitchen since the pandemic began, Rachel Khoo's Simple Pleasures is coming at the ideal time.
"We were about to film a new TV show that involved travelling when lockdown happened," explained Rachel from her family home in Sweden.
"While I was trying to get my head round that, the commissioning editor asked if I had any ideas to pitch her that could see me film a series in lockdown.
"I brainstormed over the weekend and, from pitching to filming, there were only four weeks. It was absolutely nuts.
"We filmed in the middle of nowhere in my husband's family home – just me, a cameraman, a local cook and a runner. We had the director watching the monitor through Skype, giving instructions.
"The premise of the show was to share that joy I have of cooking, making magic from a few ingredients. It doesn't need to be exotic or expensive – it can be ingredients you find in the back of the cupboard and transform with a few tips and tricks."
While mum-of-two Rachel, who moved to Scandinavia after marrying her Swedish husband Robert, can whip up an impressive meal from little, her creative talents were tested when it came to making her in-laws' kitchen look TV-ready.
"It's a white kitchen, which is really bad for the camera, so I was trying to sew curtains to cover the dishwasher, and I can't sew," she laughed. "I was trying to hang them with sticky tape, and my hemming skills are so terrible I was using safety pins. I also tried to cover up some of the white tiles with sticky coloured tiles – I won't be doing a makeover show, that's for sure!
"We had to be innovative when making this series because we couldn't do it in the traditional way, but I'm always up for a challenge and coming up with solutions.
"It was the same with my first TV show, The Little Paris Kitchen, which was in such a tiny space we had to be clever with camera angles. The two-metre distancing wouldn't have worked in there."
That first series, and the accompanying book, were released eight years ago. Rachel had already released two French language cookery books by that point, having moved to the French capital in 2006 to do a three-month patisserie course after quitting her job in public relations in London.
But her love of food stretches back to her childhood, when there was always a focus on home cooking.
"My dad's from Malaysia and over there they don't ask how you are, they ask if you've eaten," she explained. "That's a polite way of finding out your finances, and if they know you aren't doing too well, they invite you round for a meal.
"And on the Austrian side of my family, I remember sitting at my grandma's table as she made chicken dumpling soup, apple strudel – all these very hearty home-cooked meals. She loved to cook for people, it was her way of showing love.
"It sounds cheesy, but that's what I grew up with.
"My mum stayed at home until my teens, so we always enjoyed home-cooked food. I also did a lot of baking with her and always helped in the kitchen.
"So my love of food stems from family life and sharing time together. That's so valuable nowadays, because everyone used to be so stressed running from A to B.
"Hopefully, after all of this is over, people retain that idea of sitting down for a meal together and sharing time in the day without having to rush off somewhere."
Rachel Khoo's Simple Pleasures, Thursdays, 9pm and 9.30pm, on Food Network.
---
Spinach and yellow pea dal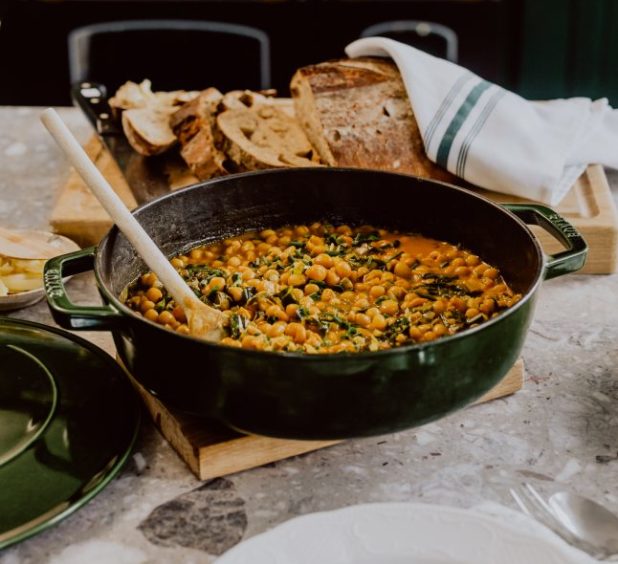 Cooking time: 35 minutes. Serves: 4-6.
You'll need:
4 tbsp vegetable oil
1 brown onion, peeled and chopped
1-2 tbsp curry powder
½ tsp salt
250g pre-cooked yellow peas (or tinned chickpeas)
1 litre hot vegetable stock
1 tsp sugar
240g spinach, washed and roughly chopped
To serve
4-6 heaped tablespoons of plain yoghurt (dairy or plant-based)
A handful of coriander leaves (optional)
Thick slices of sourdough or flatbreads
Method
Heat the oil and sweat the onion over a medium to low heat for 10 minutes, until soft. Add the curry powder and toast for two minutes, followed by the yellow peas, salt, sugar and stock. Stir until the salt and sugar has dissolved.
Bring the stock to the boil, then reduce the heat, and cook uncovered for 20 minutes, or until most of the stock has evaporated to make a thick sauce.
Add the spinach and cover for another two minutes or until the spinach has wilted. Stir and taste for seasoning. Add more salt if required.
The dal can be kept in the fridge for a couple of days or, alternatively, frozen.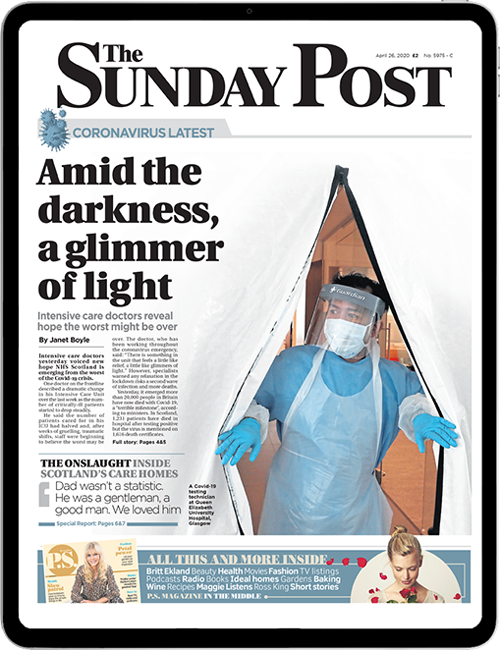 Enjoy the convenience of having The Sunday Post delivered as a digital ePaper straight to your smartphone, tablet or computer.
Subscribe for only £5.49 a month and enjoy all the benefits of the printed paper as a digital replica.
Subscribe