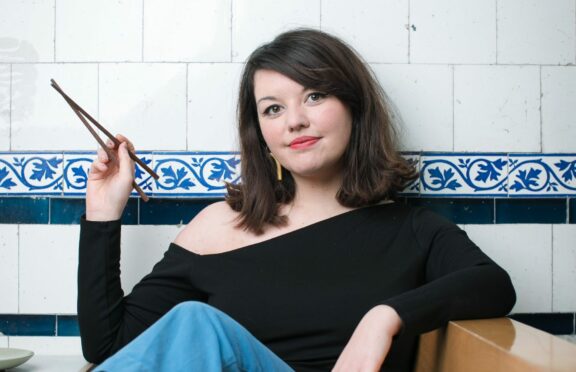 Between the long hours, physical demands, mounting orders and stress of maintaining standards, working in a professional kitchen is something of a pressure cooker – and it's not uncommon for the lid to blow off in a steam cloud of anger and aggression, shouting and swearing.
From Gordon Ramsay's outbursts on Hell's Kitchen to the anxiety-riddled service shown in FX's The Bear, and Stephen Graham's 2021 film Boiling Point, the angry, bullying head chef has become synonymous with high-quality dining.
Yet, for Julie Lin and the staff at her popular Glasgow eatery, screams from the kitchen are as uncommon as plating up a ready meal.
"If you asked anyone at what point they felt most inspired, I can guarantee no one would turn around and say, 'It was when I was being screamed at and felt intimidated'," said Lin, 31, one of Scotland's most popular TV chefs, and co-owner of Malaysian-fusion restaurant Ga Ga in the city's west end.
Having cut her teeth in welcoming, progressive and friendly kitchens, often headed up by female chefs, Lin has sought to ensure her own establishments follow suit, shunning outdated kitchen machismo in favour of an environment that allows everyone to flourish, regardless of experience or rank.
"Quite a lot of the chef industry in the past was taken from an army-type set-up," she told The Sunday Post, while nestled in a booth at Ga Ga, sharing a plate of freshly baked banana bread.
"You have the ranks of head chef, chef de partie, sous chef, blah blah… and it's almost so structured that it doesn't allow for, say, a commis chef to try to do what a chef de partie does because everyone has to stay in their role. That just doesn't work for me.
"Sometimes, if you've had a bad working environment, you learn what you don't want to take from that experience. There's loads of amazing women in Scotland within the food and drinks industry that are re-paving that way, making it an inclusive place that doesn't need to be aggressive, doesn't need to be shouty. It can actually be really encouraging."
While most chefs begin their career with culinary school and then a gig peeling potatoes in the dark recesses of any professional kitchen that will have them, Lin threw herself in at the deep end. She inherited a passion for cooking from her mum – who moved to Scotland from Malaysia aged 18 – and discovered she had a talent for recipe creation after hosting dinner parties for friends.
In 2014, hoping to turn her hobby into a career, she applied to compete on BBC1's MasterChef – and made it all the way through to the quarter-finals. "I was only 24 but, at the time, I thought I was really mature and wise," she laughed.
"Of course, I look back now and I was just a baby. We all have these expectations for ourselves and, for me, I was working in retail and not happy with where I was in life. I was trying to find something I love, and that's how it all started. From dinner parties with friends, I got to where I am now, and I often think about that. It's quite crazy that something I liked doing on the weekend has led to this career."
Post-MasterChef, Lin started working with Laurie MacMillan, chef-patron of Café Strange Brew in Glasgow, before moving on to Rachna Dheer's Babu Kitchen, where she learned to cater for the masses, sometimes preparing and serving up to 40 kilos of chicken during busy street food festivals.
Her first solo venture was a street food stall (housed, she likes to recall, in a former bin lane) and by 2017 Lin was ready to open her first permanent bricks-and-mortar shop front, Julie's Kopitiam, where her Malaysian-inspired menu (a love letter to her mum) quickly drew praise from diners, critics and even the likes of the Hairy Bikers Si King and Dave Myers.
Her unexpected and perhaps unconventional route into cooking, Lin admits, wouldn't have happened without the guidance and support of her first bosses, and she is now repaying the favour by filling her own kitchen with cooks who have little experience in professional settings.
"I'll quite often hear my chefs say, 'Oh we just need to hire more chefs' and, while I understand that, that's not a mentality that's going to help the industry as a whole," she said. "Quite often I'll hire people that have never been chefs before.
"Taking a bit of a chance on people is good because if we just say we're only hiring chefs that have previously had work, it's going to perpetuate an industry standard that's been there for a long time. I've been living in my own echo bubble of work for a while, so it's only when I hear something through my chefs that I'm like, 'Oh is that what the industry is still like?'
"They'll say things like, 'Oh, it's been really nice to be able to put my special menu' and I'm like, 'Wait, you've not been able to do that? Really?'
"I hear these little nuggets and realise there's still so much that needs to develop within the industry. Our chefs support each other, support me, and they are allowed to have their own expression. If I wasn't allowed my own expression, I wouldn't be where I am now."
Outside of the kitchen, aided by her infectious smile, Lin has landed a range of television jobs, first with Julie and Jimmy's Hot Woks, an STV series co-hosted with fellow Glasgow chef Jimmy Lee, and more recently presenting the BBC's Coast To Coast Food Festival series. Last month she even made her debut on BBC One's Saturday Kitchen, a show she has been watching since she was a little girl.
"I said yes straight away," she says, recalling the email she got from the show's production company. "It was the Saturday after International Women's Day and I just kept thinking to myself, 'Can this be happening? I'm a part of the female panel for Saturday Kitchen. This is crazy!'
"It was such an honour. I've been watching it since I was wee. It's the most calming celebration of food. My mum called me straight away to ask what I was cooking – I did Sambal Lala, a spicy clam dish, and she was like, 'Are you sure everyone will like clams?' and I could only say, 'Well, Sara Cox likes clams!'"
With TV gigs now taking up more of her time, and Ga Ga growing in popularity week by week, Lin made the difficult decision to close Julie's Kopitiam earlier this year, and hopes to use her extra time to do more work in the local community, hosting workshops with local schools and helping with charity events.
However, she admits, home will always be behind the pass in the kitchen, cooking great food, laughing with colleagues, and keeping in touch with what made her become a chef in the first place – love.
"I do miss being in the kitchen sometimes, I really do," she said. "Even though I talk about food all day every day, I still love to go home and cook or go into the kitchen and develop a new recipe with the team or run the pass one night to see how everyone is going and get a bit of a laugh.
"I got into food for the love of cooking for other people, so I always try to stay connected with that. It makes it a nicer place to be if you love cooking and it's not just part of a conveyor belt."
Want to save cash and the planet? Buy a tin opener
With the cost of living rising at record rates, and food waste one of the leading contributors to carbon emissions, Julie Lin is urging more households to use tinned foods to help save money and the planet.
An estimated 70% of the total food waste in Scotland comes from households, with Scots throwing away 600,000 tonnes of produce every year, totalling £1.1 billion in unnecessary purchases.
Lin, who has teamed up with Zero Waste Scotland to debunk myths around tinned food, says adding long-life ingredients to weekday meals can not only reduce supermarket bills, but enhance flavour, save time and give home cooks more versatility and choice.
"People often look down on canned food, but you don't need to – so many people use them, even in restaurants," explained the chef, who recently went on tour with a new pop-up Can-Teen restaurant, where all the dishes were made with canned ingredients. "As someone who cooks professionally, I really want to be the voice that talks about the fact we have a lot of snobbery around foods – and it is at the wrong time. We're at a time where people are struggling, and climate change is happening, so seeing that we waste 600,000 tonnes of food is absolutely insane to me."
Research from Zero Waste Scotland found 41% of household food wasted occurs because people simply haven't used fresh ingredients, and Lin says using tinned foods, including sweetcorn, mackerel and spinach, is beneficial for all.
She continued: "Why should there be snobbery around food? Why should you have to have a fresh item every single night, especially when there's so much fresh waste? We're all guilty of looking at a wilted bag of spinach in the back of the fridge when we're just about to order a takeaway – if that spinach was canned or frozen, it would be absolutely fine.
"When you talk about how high the cost of living has gone up, with how high food wastage is at the moment, there is obviously money just going into the bin – and that's where tinned food can come in. We have to look at dry goods, like tinned food, a bit more because it just makes cooking so much more economical. It's not going to go off, you can keep it in the cupboard for ages, and it will still taste great."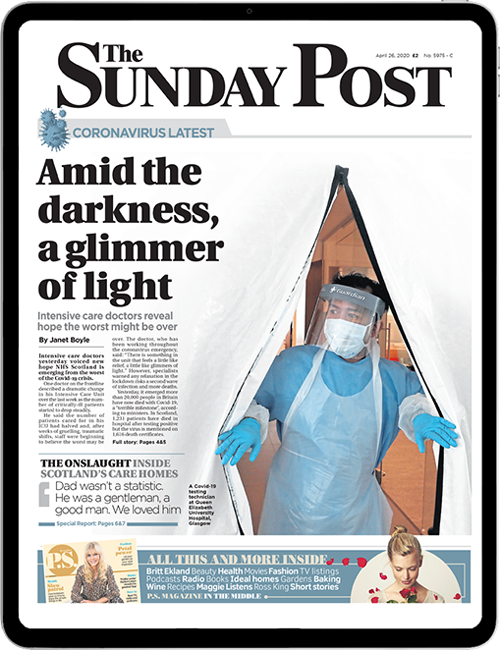 Enjoy the convenience of having The Sunday Post delivered as a digital ePaper straight to your smartphone, tablet or computer.
Subscribe for only £5.49 a month and enjoy all the benefits of the printed paper as a digital replica.
Subscribe