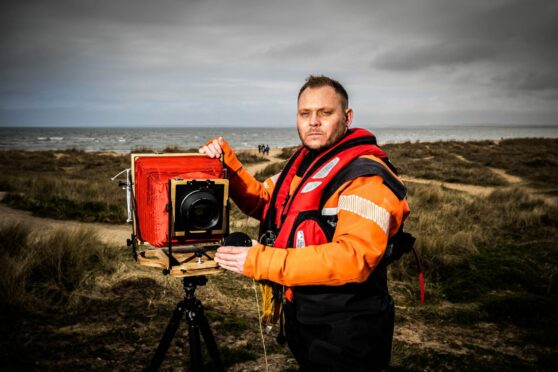 On the slopes of Sgùrr na Strì, one of the smaller peaks that form the Cuillin mountains on Skye, Simon Riddell swirls a photo plate in a makeshift chemical bath. An extraordinary shot of the brutal yet beautiful surrounding landscape slowly appears before his eyes.
The black and white photo created using wet plate collodion, a complex photographic process invented in 1851, depicts the jagged black Cuillin in the distance. In the forefront, a stone cairn stands in isolation, built in memory of a Captain A J Maryon, who lost his life in these mountains 75 years ago.
Simon's feelings about capturing this particular photo go far beyond professional pride.
It marks the end of a difficult three-year mental health journey overcoming PTSD that he survived thanks, in part, due to his fascination with wet plate collodion photography.
"Captain Maryon went missing from Sligachan hotel in 1946 and his remains were found two years later," said Simon, who lives near Uig on Skye with his wife, Sonya.
"Nobody knows what happened. I always wondered about his state of mind. Did he intend to never come back?
"I'd finished EMDR (Eye Movement Desensitisation and Reprocessing) therapy for my PTSD a few months before and felt lifted, recovered. Shooting Captain Maryon's cairn, I felt like I'd come full circle and I could leave my own trauma up there in the mountains."
Extreme environments
The photo of Maryon's cairn and several others of the Cuillin mountain range taken in May is the latest stage of Simon's Peak Perseverance project, which saw him set out to master the hardest photographic discipline in the most isolated and adverse environments.
Despite facing snow, extreme heat or strong winds, Simon has managed to capture the intricacies and beauty of the Cuillin mountains, with every stream, waterfall, crevice and rocky ridge detailed in beautiful, ethereal and haunting pictures.
"There's only about 1,000 people in the world that regularly shoot wet plate collodion because it's notoriously difficult, volatile and potentially dangerous as it uses potentially explosive chemicals," said Simon.
"I think there might be a handful of people who have attempted this in extreme mountain conditions like I'm doing but I do it completely unaided. I'm certainly the first to attempt it in the Cuillins in large format."
The wet plate collodion process is complex, immersive and even involves a bit of alchemy. For one image, a photographic plate, usually made of glass or aluminium, is coated in collodion, sensitised in a bath of silver nitrate, exposed and then developed in a dark room in a chemical bath before being rinsed, fixed, washed, dried and varnished.
Simon uses a blackout tent in the mountains.
To capture his latest photos of the majestic Cuillins, Simon hauled all of his equipment in a 35kg pack on a 12-hour round trip up and down Sgùrr na Strì, unaided, in 20 degree heat, windy conditions and across steep scree slopes and rough, uneven terrain.
He continually pushes himself outside his comfort zone to shine a spotlight on mental health, including his own battle with PTSD.
"It really has saved my life," said Simon of the collodion process he discovered just three years ago during the coronavirus pandemic. It has helped him cope with trauma triggered by PTSD from witnessing the death of his dad, Keith Riddell, in 2016.
"I was really close to my dad, he was my best mate," said Simon. "He collapsed while preaching at his church in Nigg, Ross-shire. At the time, I was an emergency responder and lived across the road. When I got to him, he wasn't breathing and had no pulse. I performed CPR for about 15 minutes before the ambulance crew arrived but we couldn't save him.
"I didn't think it had affected me that much until I suddenly started feeling anxious about everything. If I heard a loud noise, I'd hit the floor. I experienced severe flashbacks and acute anxiety and depression. My relationship with my fiancee at the time broke down.
"When I finally realised it was PTSD years later, I struggled to get therapy during lockdown. The two things that got me through were my son, Isaac, now 12, and when my chemicals for the collodion photography arrived in the post.
"Learning the technique gave me something to immerse myself in, as it first took up to eight hours to get one plate, and I found doing self-portraits cathartic."
Processing trauma
Intensive sessions of EMDR therapy, which uses side-to-side eye movements combined with talk therapy, has helped Simon process his trauma. He has also found peace in trekking and shooting amid the rugged, wild beauty of Skye's most inaccessible peaks.
Becoming a self-taught expert in the unpredictable art of collodion wet plate photography has been an ongoing exercise in mindfulness and resilience.
He said: "I called the project Peak Perseverance because with this process you have to realise that you will most likely fail, especially if you're up in the mountains, but accept that failure is a part of progress."
Following his final EMDR sessions, Simon was able to resume his work as a first responder by joining his local coastguard in January. He is now a deputy station officer at Duntulm and plans to progress in the coastguard while continuing shooting wet plate collodion in less remote locations.
"I hope my work will inspire people to reach out and open up about their own mental health struggles," added Simon, whose portraits of his fellow Lifeboat crew members taken in 2022 will have a permanent exhibition in Inverness Castle when it reopens in 2025.
"I want people to know you can overcome PTSD if you can find a therapy that works for you. I feel privileged to have made it through because a lot of people don't."
---
Mental health can improve after photo workshops
Photography in any form can have a positive impact on mental health and wellbeing, says Dr Neil Gibson, who leads Robert Gordon University's new Therapeutic Photography course.
Aside from being an enjoyable and creative hobby, photography can act as a catalyst to help people identify, voice and process difficult emotions.
"Photography can be powerful as a supplementary therapeutic tool that empowers people to learn and understand more about themselves," said Dr Gibson, who has also led therapeutic photography workshops with young people and those struggling with their mental health.
"I've found that photography can be a catalyst to help open up conversations about subjects certain people might struggle to voice, like emotions, relationships or mental health.
"If you ask someone to take photos that show a positive aspect of their personality or represent a certain emotion it can prompt people to talk about what they've captured.
"Photography is personal and subjective and can be empowering when used as a tool for self-exploration to help people better understand themselves, which impacts on wellbeing."
Dr Gibson, associate dean at Robert Gordon University's School of Applied Social Studies, says photography can also be a cathartic experience that can help people build self-esteem, resilience and self-reliance.
"Photography also leads to mindfulness as it allows you to get outside, slow down, notice and explore your environment," he added.
Dr Gibson's research in the area inspired RGU's Therapeutic Photography postgraduate course which launched last year online. "It offers an academic qualification that can gives people confidence to incorporate these techniques into their own work," he said.
"So far, we've had teachers, occupational therapists, counsellors and photographers from all over the world take part."
---
For more, visit srfilmphotography.co.uk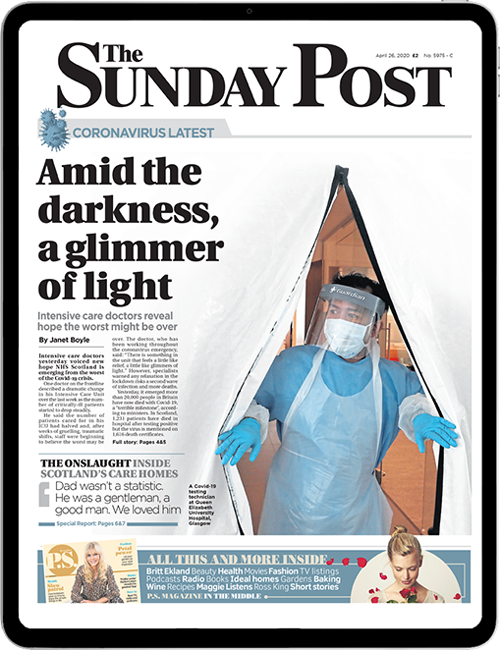 Enjoy the convenience of having The Sunday Post delivered as a digital ePaper straight to your smartphone, tablet or computer.
Subscribe for only £5.49 a month and enjoy all the benefits of the printed paper as a digital replica.
Subscribe