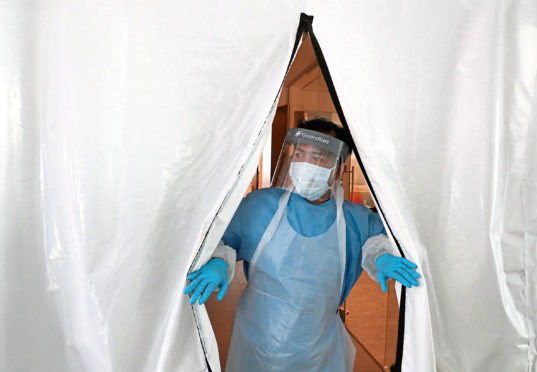 Scotland's nurses have joined calls for an urgent public inquiry into the Scottish Government's response to the Covid-19 pandemic after an official report revealed central stocks of some types of PPE came within hours of running out.
A report by Audit Scotland last week revealed how, last April, PPE supplies hit a critical low, with stockpiles of some items coming within eight hours of running out. At the same time, ministers were publicly insisting there was "adequate stock of all forms of PPE supplies for the current level of demand".
Health board clears itself after independent review of highly vulnerable NHS worker's death from Covid
The Royal College of Nursing is now calling for the Scottish Government to hold a public inquiry as soon as possible, echoing calls by a growing number of organisations and experts across Scotland, including charities working with some of the most vulnerable Scots, care home operators and families of residents who lost their lives.
The Scottish Parliament voted last year for an immediate judge-led inquiry and the SNP's manifesto promised to trigger the investigation. However, First Minister Nicola Sturgeon says she will not call a Scotland-specific inquiry until the remit of UK-wide inquiry is known. That is not expected to start until next spring at the earliest and may take years to report.
Pressure on FM as experts say Scots inquiry could run alongside UK version
RCN Scotland, which represents more than 40,000 nurse and nursing support workers from health and social care services, said: "We want to see a public inquiry as soon as possible and without delay. Our members worked on the frontline and sadly some of them died after contracting the virus.
"We cannot see a repeat of that ever, and lessons must be learned."
Last week Scottish Labour leader Anas Sarwar revealed that 21 healthcare staff and 28 social workers had died with ­coronavirus since the pandemic began.
In April last year an RCN survey found medical staff, including nurses working in high-risk areas, were being required to reuse single-use PPE.
The Audit Scotland report said the Scottish Government had failed to learn the lessons from two pandemic preparedness exercises, held in the years before the outbreak.
It said: "The Scottish Government ­conducted two pandemic preparedness exercises. Exercise Silver Swan was held in 2015 and Exercise Iris in 2018. Both exercises identified access to, and training in, the use of PPE as areas for improvement.
"As we highlighted in our NHS in Scotland 2020 report, the Scottish Government did not fully implement the ­recommendations from these preparedness exercises and so could have been better prepared to respond to the Covid-19 pandemic."
It said in April 2020, during the early days of the pandemic, centrally-held stocks of long-sleeved gowns fell to just eight hours' supply, while there was one day's supply of high-­protection FFFP3 masks used in intensive care units and two days' worth of visors.
Study finds political decisions during pandemic's first wave threatened basic human right to life of the most vulnerable Scots
It noted: "Centrally-held PPE stocks were very low at points during April 2020 as stock was rapidly distributed to NHS boards."
The report also noted that 78 contracts worth £340 million were awarded to companies providing PPE between March 2020 and June 2021 – and that 29 of these contracts, worth £98m, were awarded to new suppliers with no competition.
Commenting on the Audit Scotland report, RCN Scotland Chair Julie Lamberth said: "There is much to learn to ensure we don't face the same challenges in the future.
"The report notes the concerns of RCN members at the beginning of the pandemic, particularly around a lack of PPE and the reuse of single use items.
"We need a long-term sustainable ­solution to ensuring those working in community services and care homes have access to the same resources as colleagues in acute hospitals."
The Scottish Government said: "Following the UK Government's decision to follow us in committing to take forward a four-nations full public inquiry, detailed work will be done on the terms of reference and the timescale. When we have a greater sense of that remit, we will make a judgment as to whether the UK-wide inquiry covers all of the issues that need to be covered for Scotland or whether there is a need to have a part of the process that looks at other issues.
"We are also clear that we expect it to begin its work by the end of this year. If the UK Government does not take this forward swiftly, we will determine if a distinct Scottish inquiry is required to meet the needs of families who have been impacted by the pandemic."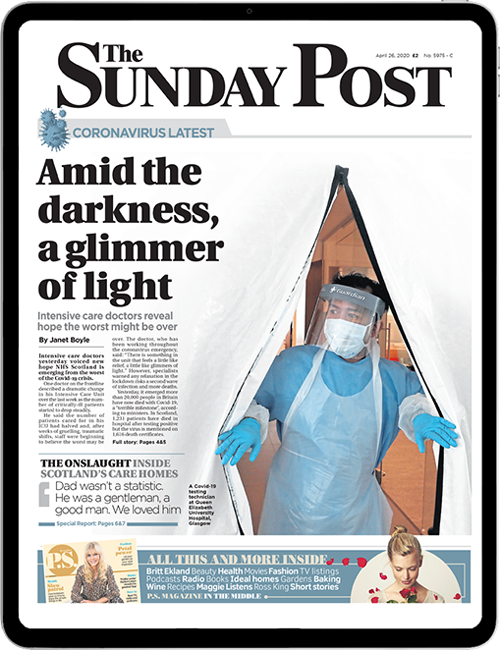 Enjoy the convenience of having The Sunday Post delivered as a digital ePaper straight to your smartphone, tablet or computer.
Subscribe for only £5.49 a month and enjoy all the benefits of the printed paper as a digital replica.
Subscribe