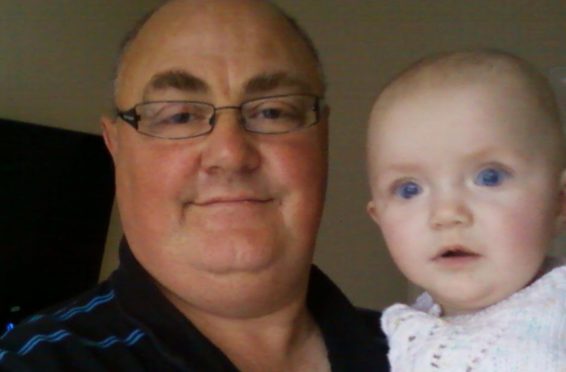 A health board faces calls for an independent inquiry after clearing itself of blame over the deaths of a nursing assistant and a patient during a Covid outbreak on a psychiatric ward.
Neil Alexander, 64, from Ayrshire, died in February along with a male patient from the Woodland View unit in Irvine after Covid-19 swept through a ward, infecting 20 staff and patients.
NHS Ayrshire and Arran has now carried out its own review of the circumstances surrounding the outbreak, concluding managers took correct precautions, stopped new admissions and used partitions to separate the area of the ward where infected patients were isolated. It notes that all infected patients remained in single-person rooms, with en-suite facilities.
But staff have criticised the findings and said the partitions were simply portable room dividers, which did not reach the ceiling. The report reveals two staff members showed Covid symptoms on January 7 to 8, with positive test results by January 11.
It said: "The ward was split on January 12 into Covid and non-Covid zones with all positive patients cohorted to six single rooms with a temporary partition separating the areas put in place and clear signage to prevent unauthorised access."
Eddie Barnes: Scotland's small public sector can be beautiful but can also create a cosy kind of corruption
Under "recommendations", the report said: "There are no recommendations required to be implemented as all appropriate processes and procedures were in place in line with national guidance and the infection control manual."
However, Labour Shadow Health Secretary Jackie Baillie questioned the internal inquiry, adding: "NHS Ayrshire & Arran seem incapable of investigating itself. The cabinet secretary needs to intervene and have this matter independently investigated so the families get the answers they deserve."
The report has now been shared with staff last week. One told The Sunday Post: "A bedside cabinet was initially used to supposedly segregate the ward when the first patient tested positive for Covid.
"The partitions weren't brought in for several days by which time the virus had spread like wildfire and everyone was terrified they were going to be next to catch it.
"Quite what good a partition would be to stop Covid in its tracks is unclear. It would be laughable if it wasn't so tragic."
'He asked again and again to be moved but had no choice… and it killed him': Family to sue NHS over Ayrshire nursing auxiliary's death from Covid
The staff member said it had been impossible to keep patients in their rooms at all times.
"Despite management claiming we were given full PPE, at the start of the outbreak we only had flimsy masks, gloves and the cheapest disposable aprons because as a psychiatric unit we had not been designated as an infection risk."
Public health expert professor Andrew Watterson, of Stirling University, also questioned the board's findings. He said: "There's no evidence from NHS Ayrshire & Arran to show that portable partitions are an effective way to split a ward safely and prevent even droplet Covid transmission occurring in some cases never mind aerosols that might travel up to eight metres.
"The board has not provided any great detail or even any detail in some cases on its monitoring of the wards for effective ventilation. This is not good enough."
Campaigner Rab Wilson, of A Safe & Accountable People's NHS, echoed calls for an independent inquiry, saying it was "deeply disturbing" the health authority thought it had nothing to learn.
Neil's partner Barbara Anne Rae, from Minishant, Ayrshire, said: "The NHS had a duty of care to him and all the other staff and patients.
"As far as I'm concerned they did not fulfil their obligations to Neil when he was alive, and they're still not doing so now he's dead."
Nurses demand urgent public inquiry into Scottish Government's handling of Covid-19
Industrial injury specialist Bruce Shields, of Thompsons Solicitors, said: "To suggest partition panels provided adequate infection control and protection is ludicrous.
"Nowhere in their report do they even attempt to explain how this infection got hold in the first place. None of this should have happened if they had been following correct practices."
NHS Ayrshire and Arran said it was extremely saddened by Neil's death but that it would be inappropriate to comment on its circumstances due to staff confidentiality.
It said: "However, we can offer reassurance again that NHS Ayrshire & Arran have robust processes to manage cases of Covid amongst patients and staff to reduce the risk of outbreaks developing in accordance with NHS Scotland guidance."
Brushed off 
Neil Alexander's partner was told to go to the Citizens' Advice Bureau after she copied her formal complaint about the NHS to the Scottish Government.
Barbara Ann Rae wanted ministers to be aware of the deaths at the Woodland View unit in Irvine but was dismayed after she received an official brush-off.
The government letter, from its Directorate for Covid Public Health, acknowledged that Neil had worked in a hospital, but confusingly, then went on to talk about hospital patients and care home residents, before adding: "If you have not already done so, you may wish to contact your local Citizens Advice Bureau."
Barbara Ann said: "I wrote that letter because the government needed to know two people had been killed and 20 were left fighting for their lives and NHS officials failed to report it. To be told to go and see someone at a Citizens Advice Bureau seems crass and a dereliction of government duty. It seems to me a gross insult to Neil when he had put his life on the line."
Yesterday, Health Secretary Humza Yousaf said: "My deepest condolences to the family of Mr Alexander, as well as his friends and colleagues he worked with tirelessly on the front line of this pandemic.
"I am concerned to hear of the circumstances of this situation, and will be seeking further details from the board to understand the exact circumstances."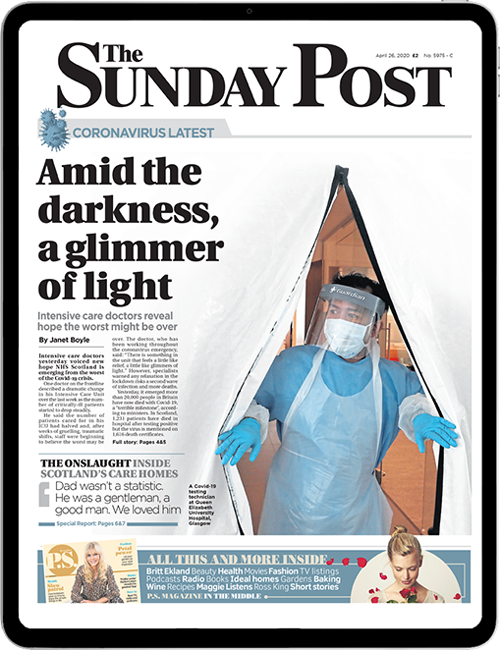 Enjoy the convenience of having The Sunday Post delivered as a digital ePaper straight to your smartphone, tablet or computer.
Subscribe for only £5.49 a month and enjoy all the benefits of the printed paper as a digital replica.
Subscribe