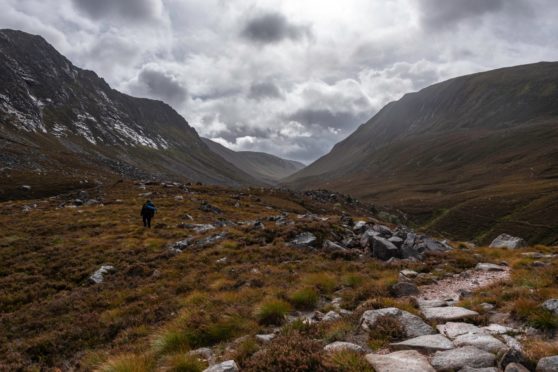 The first 20 miles of the Scottish mountain pass of the Lairig Ghru runs from the south through an increasingly rugged and inhospitable terrain.
As we reach a crescendo of boulders, rocks, bogs and rough vegetation close to the highest point on the famous route of 2,740ft, the weather suddenly unleashes its worst of the day.
I hastily pull up the hood of my waterproof jacket, before reaching into my pack for warmer gloves and waterproof over-trousers.
Despite the inclement conditions, I relish the rewards of my surroundings. It has taken hours to run and walk to this place and wherever I look, I am awed by the grandeur and wilderness of the central Cairngorms arena.
The journey, with a group of friends before lockdown, through the Lairig Ghru began hours before near Braemar – and we have hours left before we reach Aviemore.
Now considered a classic walking route, it was created many centuries ago as a vital trade path for drovers taking cattle from Aviemore or Nethybridge to Braemar.
These days, most traffic travels on the A9 over the Pass of Drumochter or on the A939 via The Lecht, while the Lairig Ghru is left to the adventure enthusiasts.
There is an annual running race from police station to police station in Braemar and Aviemore. It is this extended and more challenging route of almost 31 miles that has attracted my friends for our big outing.
At first, running west from Braemar, the going is easy on the smooth tarmac of the Linn of Dee Road, which winds through a wide glen between round, heather-clad hills.
At the National Trust for Scotland's Mar Lodge Estate, we cross the River Dee on a bridge to join a path through woodland and then over another bridge across Lui Water amid a mix of newer trees and ancient Caledonian pine forest.
From here, the route of the Lairig Ghru heads generally north west and, at first, through Glen Lui. Leaving behind narrow forest paths, we join a wide track that contours the base of the glen. It rises to where Lui Water is formed by the meeting of the Derry Burn and the Luibeg Burn.
An impressive but disused Victorian shooting lodge sits among more beautiful pine woods. As we cross a wooden bridge over Derry Burn, the vistas begin to widen with the promise of high mountain views to come.
The path narrows again and is much more rugged. We must be careful to lift our feet over rocks and stones. Several times, we trip, some of us landing awkwardly and banging knees and elbows, but thankfully without suffering greater injury.
The weather, which had started bright, is closing in and we chat among ourselves about the spare clothing we've packed in our lightweight packs.
There is always a balance on a long run between carrying a rucksack that is too heavy to make progress efficient, yet too light in the way of essential kit. Scotland's weather can quickly turn from fair to treacherous.
A junction in the path at another patch of woodland makes us stop. Should we continue west or take what looks like a detour north?
We go west, where we are forced to cross Luibeg Burn on slippery boulders strewn across the wide and fast-flowing water. Poles and a steadying shoulder of a friend give a, mostly, dry crossing.
By now, we are at a height of 1,500ft – having travelled some 11 miles. Slowing to a walk as we push up a steeper section, we round a corner to be presented with the breathtaking view of the high pass of the Lairig Ghru.
On either side of the path are the vast slopes of some of Scotland's tallest mountains. To the west is Devil's Point, a huge, triangular hulk rising to 3,294ft, from where, spreading north-west, a long ridge includes several summits of more than 4,000ft, including Cairn Toul, Sgòr an Lochain Uaine and Braeriach.
Forming a tremendous U-shape on the other side is another mountain giant, the second highest summit in Britain, Ben Macdui at 4,294ft. As we run, we alternate between looking ahead at the path in front of us to prevent a fall, and stopping to gaze at the landscape. We spot the Corrour Bothy at the foot of the Devil's Point and stop for lunch.
With the air temperature quickly dropping, we hurry our food and set off again for the most challenging section of the Lairg Ghru. Our pace is a mix of slow running and walking as we climb another 1,000ft on mud-and-stone paths. For a mile or so, we're slowed by large boulder fields.
As is common with groups of runners, we have formed a long line that ribbons along the glen. A few of us wait at a high point, close to series of beautiful small pools. It's here that a squall rages through and we all pull on extra layers of clothing. We mutter among ourselves about "not far now" and "all downhill". Except, we still have almost 10 miles to run and we are all tiring. There is noticeably less chat between us and we concentrate on the running as we enter the ancient woodland of Rothiemurchus Forest.
The final five miles seem to take much longer than we all hoped and it is because we have slowed to a walk-run-plod as our energy peters out.
It is not difficult to understand why most people reserve two days for the full Lairig Ghru.
Yet this has long been on my bucket list of big adventures and I'm thrilled, when we finally reach Aviemore's police station, to have been fit enough to make it in just a day.
Travel north to south, from Coylumbridge, near Aviemore, to the Linn of Dee car park.
Alternative start and finish points for the route include Blair Atholl through Glen Tilt and, in the north, from Glen More through the Chalamain Gap.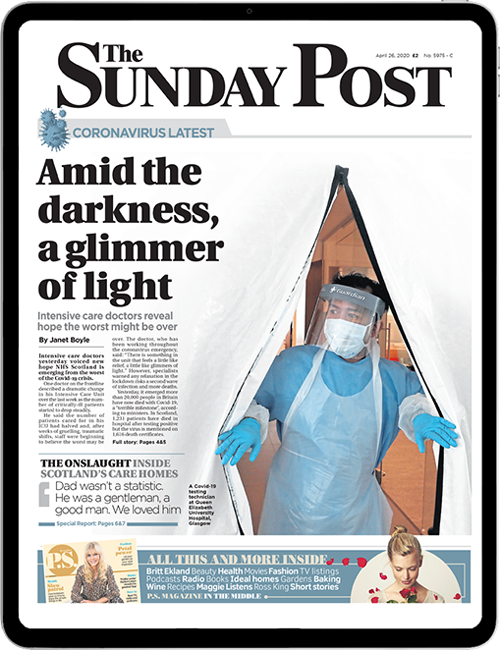 Enjoy the convenience of having The Sunday Post delivered as a digital ePaper straight to your smartphone, tablet or computer.
Subscribe for only £5.49 a month and enjoy all the benefits of the printed paper as a digital replica.
Subscribe