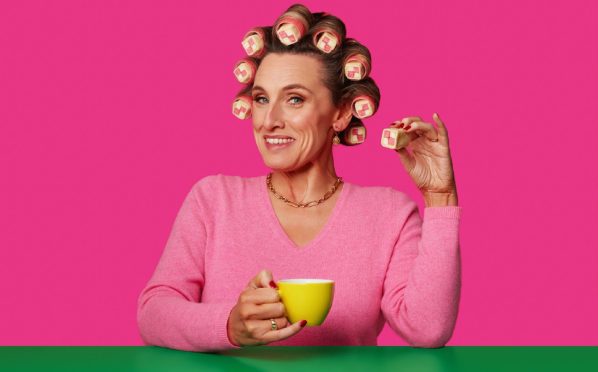 For Grace Dent, MasterChef judge and restaurant critic, food is more than just her living. It is also a form of time travel.
"I love tinned spaghetti, because every time I open a small tin and eat it with a spoon after a hard day I think about a 1979 static caravan holiday that my mother took us to on the Solway Firth," she explains. "It whisks you back in time."
These days Grace is associated with high-end food, but part of her will always be partial to McCain's oven chips, Wotsits or cheese on toast. Her new book, Comfort Eating – and the podcast she hosts of the same name – is about the things we eat when no one else is looking, when we want something, yes, comforting, consoling, something that reminds us of other, maybe better, times.
"Why does cheese feel like a cuddle?" Grace asks in her book. After reading Comfort Eating, I tell her, I went out and bought a big bag of cheese and onion crisps and a slab of Dairy Milk Wholenut and crammed both chocolate and crisps into my mouth at the same time.
"I am completely delighted that you did the full Siobhan McSweeney from Derry Girls," she says when I tell her as much. McSweeney (aka Sister Michael) brought up the crisp and chocolate combination when she appeared on the podcast, though she added a swig of Guinness as well.
Comfort eating
The McSweeney "recipe" is the perfect example of comfort eating, Grace suggests.
"Yes, it's just sticking some Dairy Milk in your mouth and some crisps. But it whisks her back to being a little girl and being snuck into the pub by her dad and being given chocolate and crisps and sitting there and that moment of togetherness, that moment of conspiratorial sitting in the pub together," Grace explains.
"It is such a good example of how these tastes of often ultra-processed foods – things that come in packets with numbers on the back that are certainly not healthy for us – take us back to these moments in time. That's why we keep on eating them."
In other words, food is a form of time travel for all of us.
It's first thing on a Friday morning and Grace is sitting at home in London surrounded by cats and talking to me over Zoom about food and time and love and loss and the fact we both once lived in the same student halls – the now demolished Geddes Court – at Stirling University (albeit in different decades).
Born in 1973, Grace grew up in a working-class family in Carlisle. She came to Stirling when she was a teenager where she survived on frozen pizzas, Findus burgers and cheese. Lots of cheese.
"The taste of university was me finally getting away from my parents in Carlisle.
Desperate to be away from their clutches. Until you get to Stirling University and you realise my parents' wonderful fridge, which was always full to the brim with reduced sticker Asda stuff, is no longer there. My mother's cooking, my mother's care, my mother's love is no longer there.
"So, I call those the 'cheese years' because I would go to Iceland in Stirling where they used to sell gargantuan blocks of Cathedral City; at least a kilo. You would come back with your kilo for 30p and then live off it for weeks and weeks.
"The reason I had to live off it was due to budgeting issues because I had inevitably got my student loan, topped it up with some kind of loan from the bank, and then spent it all on £1 bottles of Rolling Rock so I could dance in the Macrobert disco."
Grief and gifts
Grace's cackling joy in life is infused all the way through our conversation. But there's an ache in all of this, too. A melancholy flavour in this desire to find a way back into our past through the food we once ate. The truth is Comfort Eating, as well as being laugh-out-loud funny and full of foodstuffs that are strange and delicious and sometimes frankly honking, is also a deeply sad book.
No surprise. It has been written from a place of grief. Grace has lost both her parents in recent years and her love and loss is writ large in the pages of Comfort Eating. And what comes across is that food is one of the last gifts we can give those we love at the end of life. As such, it's an act of love.
Grace nods in agreement. "There's definitely a moment with anybody you are losing that all you have left is feeding," she says.
"When I wrote the book I wanted to be very honest about the role of food in caring. I don't think I'm the first person who has lost their parents. It's not a misery memoir.
What I think is that our generation, we're all losing our parents at the moment. And we don't really talk about it very much. There's an idea that we're grown-ups now. So I wanted to be very honest about the last few weeks and months of caring for my parents.
"My mother had cancer and my father had dementia and both of them lived until their eighties. But the last few years were really tricky. And all you have left is scones and jam in a garden centre and rounds of toast in front of home improvement programmes on Channel 4 in the middle of the day.
"They don't need handbags or driving shoes. They don't need anything. But what you can do is you can walk around a supermarket with a little basket and put in the things that you know will make them smile. And just as they babied you, you baby them.
"And the last bits of my mum's life were her opening her eyes and having cake, and it was happy. It was horrible, but it was happy."
We all have a complex attitude towards food. It can be both a source of pleasure and of pain. For many women the joy of food can't be savoured because of the fear that comes with it.
"My earliest memories are sitting down in front of Miss World and hearing '36-24-36' read out," Grace recalls. "For my mother, always, the diet began on Monday.
"Because of that, I know the calories of everything. I see all these younger women talking about body positivity. Within my lifetime I will never have body positivity. I will always be keeping an eye on what goes down my throat, and it's ridiculous."
And maybe, she worries, the same can be said increasingly for men. Fat is no longer just a female issue.
"I think that one of the bad bits of equality in the sexes is we seem to have given that to the young men now. There's an idea that high status in men doesn't just come from being able to earn and to provide for your family; those old things that people associated with men. It seems now you need to have the six pack, you need to have the abs, you need to be able to be beach-body ready to go to Marbs at any point."
'My father only had three recipes'
What, I ask finally, is the one thing that will immediately take her back to her Carlisle childhood? What for Grace Dent is the ultimate example of comfort eating?
"It would be a piece of white bread, the most plasticky white bread, put into a frying pan with lots and lots of hot oil.
"What I'm recreating here is one of my father's three recipes. He only had three. If he ever did childcare we would get fried bread with beans. My mother never made it. Even she drew the line at fried bread. It's so bad for you.
"But fried bread and beans to me is standing beside one of those 1970s hobs, trying to pull a chair up to be able to be up with my dad. I can see him swatting me away with one arm. I almost can't eat that because it takes me back to a time when everything was possible and I never thought that would ever be over.
"What I find fascinating about this part of my life is an immense freedom but a realisation that it is all gone. The house is gone, the living room is gone, all the furniture is gone, the ornaments have gone to charity shops, they've gone. It's gone."
But the taste of it, well, we can still find that. Another time in a slice of bread. That's the gift food can give us.
---
Little and often key to judging
When it comes to judging MasterChef, Grace Dent says you have to pace yourself.
"If you have four or six people cooking in the kitchen, and they all make two courses, that is an awful lot of food. And once the food begins to arrive it never stops coming. The trick is to eat a few mouthfuls so they can see you eat. And you're tasting, not eating."
Not that she always sticks to this, Grace admits. "Jay Rayner says to me sometimes, 'Grace, stop eating. Do you never learn? Spaniels learn quicker than you'."
What she won't be accompanying it with these days is alcohol. She has given it up and doesn't miss it.
"I feel a thousand times better than I did when I was drinking alcohol every day. I started drinking when I was 14 because I'm from Carlisle. And then I went to London. Being a restaurant critic is like being given the golden key to every bar and restaurant in Britain.
"And then I lost my parents and every night I was having a glass of wine and feeling terrible the next day. I think a lot of people who drink feel trapped. They go, 'I don't want to feel crap on Mondays, Tuesdays and Wednesdays anymore, but I've got a Christening coming up in three weeks so I've got to drink'. Or, 'well, I can't not drink at a wedding'.
"So we are trapped in booze. I stopped and I absolutely don't miss it at all. But I find it hard to talk about it without sounding as if I've got some new religion."
---
Comfort Eating by Grace Dent is published by Faber, £20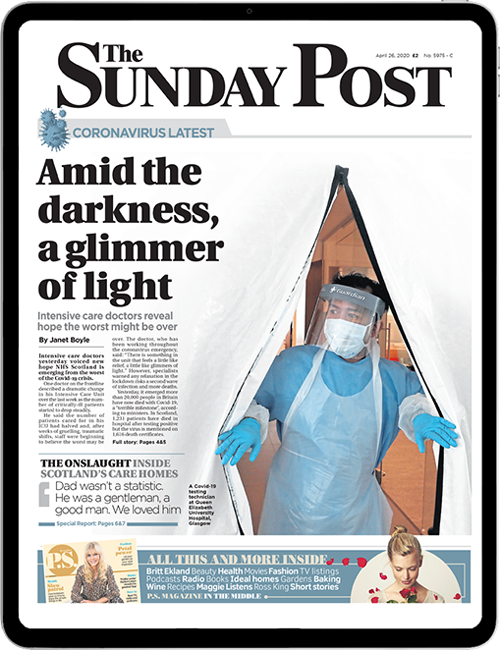 Enjoy the convenience of having The Sunday Post delivered as a digital ePaper straight to your smartphone, tablet or computer.
Subscribe for only £5.49 a month and enjoy all the benefits of the printed paper as a digital replica.
Subscribe