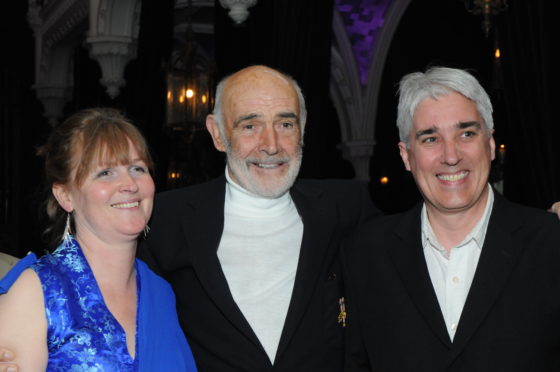 It's the moment every performer dreads.
Standing on stage, in front of a packed crowd, and forgetting the words.
It happened to Mairi Campbell, and it did so at the world famous Kennedy Center for Performing Arts in Washington DC, before an audience including Bill Clinton, Sean Connery and Sarah Jessica Parker.
The folk singer was performing Auld Lang Syne with her musician husband, David Francis, when her mind went blank.
Mairi not only recovered from the potential disaster, but was so impressive that her version of the song was used in the hit Sex And The City movie, starring Sarah, nine years later.
"We recorded the song on our first album, it was the opening track, and it seemed to catch people's attention," Mairi, from Edinburgh, explained.
"One of the producers of the Kennedy Center show had the tape in her car and put our name forward for the Sean Connery tribute.
"It was between us and Shirley Bassey. They didn't know whether to go with the 007 angle or the Scottish angle, but they went with us.
"It was a mixture of excitement and being scared.
"As I was singing it, I forgot the words. There had been a lot going on in my life – I had not long had a baby, my mum died a few weeks before, so I wasn't in a good space.
"I realised the people probably didn't understand the words anyway, so I just had to make up the lyrics and hope no one noticed. I got away with it.
"I heard a wee voice say to me, 'Feel your feet and fling out your arms'. I did that and found the words again.
"Sarah must have remembered the performance, because nearly 10 years later she wanted our version for the film.
"We were told we were on the list for possible inclusion on the soundtrack, but we didn't hear any more about it.
"I saw a segment on the TV for the premiere, so I called the record company and asked if we'd made it, and they said, 'Actually, you have'.
"I went to the cinema the next day and it was such a thrill when I heard Dave's guitar ringing out.
"I've never met Sarah, but she has a special place in my heart. It was nice for two freelance musicians with two kids to have some cash for a while!"
Mairi and David did, however, get to meet Sir Sean – eventually.
"There was a ball after the concert, where we heard some amazing music – Stevie Wonder played the piano! But our baby needed attention, so we couldn't wait.
"But we were playing a ceilidh at the Edinburgh Film Festival six or seven years ago and Sean was in attendance.
"He leaned over to me and said in that distinctive voice of his: 'I see you're still singing'.
"I was quite surprised he remembered."
Those stories make up just a small part of Mairi's show all about Auld Lang Syne, which she has been touring around rural communities, similar to Robert Burns' 1787 tour.
"I realised when I first recorded it how little I and most Scots really knew about its meaning, yet it means so much to us," Mairi continued.
"I wanted to find out where it came from, what it's about, deconstruct the five verses and give meaning to it."
Mairi says the song increased in popularity thanks, in part, to Canadian bandleader Guy Lombardo's recording of it.
His 1930s version became an important part of the festive celebrations in America, where it is played just before the ball drops to mark the New Year in New York's Times Square.
"I sing the old tune," Mairi continued. "It has a different feel to it and is more contemplative, I think."
The show blends storytelling, dance and new music and is the second part of a trilogy of shows Mairi has planned.
"The first show was called Pulse, about a magician trying to gain time, and I'm currently working on the third, which will be an old family story connected to the land, which should be ready for 2021.
"It's been great travelling around the rural parts of Scotland.
"There is something about these places that I find really fun to be in. I always get a really strong feeling of community and it's been lovely to visit some new places."
Mairi Campbell: Auld Lang Syne, Byre Theatre, St Andrews, Scottish Storytelling Centre, Edinburgh, Fri 22 -Sat 23 March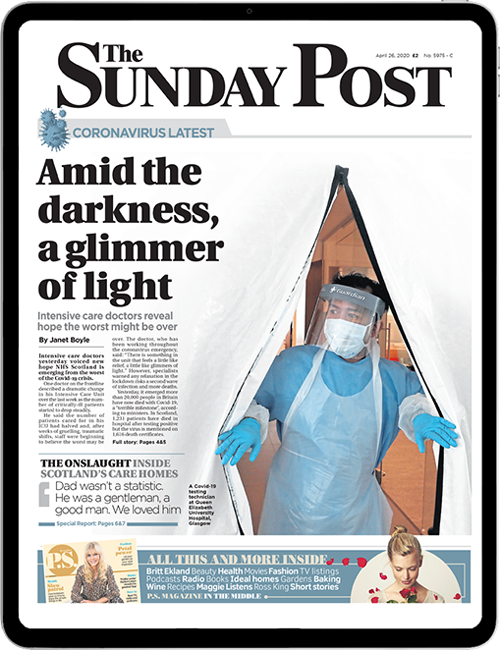 Enjoy the convenience of having The Sunday Post delivered as a digital ePaper straight to your smartphone, tablet or computer.
Subscribe for only £5.49 a month and enjoy all the benefits of the printed paper as a digital replica.
Subscribe