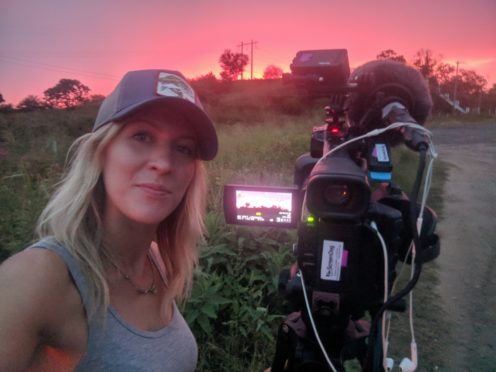 It was supposed to be the safest spot in the most dangerous place on earth.
But, as the reinforced concrete wall started to bend and buckle, Caroline Menzies realised the deadly risks she faced.
Filmmaker Caroline, who grew up in Glasgow, was with Florida firefighters in a reinforced HQ as the 155mph winds of Hurricane Michael, the fourth most-powerful ever to strike America, hit.
"The whole wall was wobbling and the firefighters said they'd never seen anything like it," said Caroline, 33.
"I went into another room where the roof had been ripped clean off and I was looking up at the sky. Then the deputy chief came in and said we had to evacuate and get into an interior room.
"You know then that things are really kicking off. Moments after we left, the entire exterior wall blew away and I realised that it had been a really close call."
Hurricane Michael was responsible for at least 72 deaths, 57 in the US and 15 in Central America, leaving thousands homeless and causing $25 billion in damages.
Caroline went to school in Glasgow while her dad Nick worked at a hotel and cabin crew mum Wendy operated out of the city's airport.
When the family moved south she got into television and is now an acclaimed series producer/director.
Brighton Police, The Nick, Secret Millionaire and Junior Doctors are just a few of her series, and working with emergency services and in hazardous circumstances saw her asked to make Hurricane Man, a documentary series starting on Sunday.
It features the work of storm chaser Josh Morgerman, who has been on the ground in more hurricanes than anyone else.
"He's a weather nerd who has made this hobby into his life obsession," said Caroline, who is now based in London.
"His mission is to get into the eye wall, the most violent part of the hurricane where the winds are at the strongest.
"He goes in with equipment to gather data to pass on to scientists to help them get a better understanding.
"He does it all over the world and calls it the missing part of the jigsaw. He takes great pride in what he does – but he's also completely crazy and quite a daredevil adrenaline junkie."
The eight-part series hops from country to country, chasing some of the deadliest storms on the planet.
It filmed Hurricane Lane in Hawaii, typhoons Jebi, Soulik and Cimaron in Japan, hurricanes Michael and Florence in mainland America, typhoons Mangkhut and Yutu in the Philippines and hurricane Willa in Mexico.
As well as following Josh, the series also filmed extensively with emergency services and with those who weren't able to escape and had to hunker down and hope they'd survive the battering.
"Often these things hit very quickly and families either don't have the time to evacuate or just can't afford to," said Caroline.
"At first some didn't want the responsibility of having us in their homes when they knew there was a chance they might not survive it. But having us there to film and interview them was a good distraction in some ways, especially for the kids who were really scared."
Caroline and the rest of the production crew were put through specialist training beforehand on how to crawl out of collapsed buildings and get through debris.
They also had the insider knowledge and sixth sense of veteran storm chaser Josh.
But she was very aware that no risk assessment can ever mitigate all the potential perils of a hurricane and that she was putting her life at risk.
"Hurricanes are completely unpredictable, so you can be hit by flying debris. A piece of shrapnel or a tile could decapitate you," she said.
"And when you go outside in winds of 130mph, it's ridiculously powerful. Imagine sticking your head out of a car sunroof when you're going down a motorway.
"When the rain hits your face it feels like glass shooting into your skin. Everything becomes a massive risk, with windows smashing and doors flying off.
"And when you're close to the coast, storm surges are a danger as the winds create what's almost like a tsunami. It can happen so fast you can't get out of the way."
As well as the firestation close escape in Florida, Caroline was right in harm's way with hurricane Willa in Mexico when Josh decided the best way to get to the right spot was to drive into the eye wall.
"He felt there was time to do it as there was a slight lull but there were trees and pylons coming down and we had a few hairy moments," she said.
Caroline was with rescuers confronted with the aftermath of hurricane Florence in North Carolina.
"We went to a family trapped in a house by a 30-tonne oak tree," said Caroline. "It had gone through the ceiling of a bedroom where the father, mother and eight-month-old baby son were sleeping.
"It is the most harrowing thing I've ever seen. I've filmed people dying on camera before but this was just awful.
"After four hours they pronounced the mum and the baby dead. They managed to get dad out but the whole rescue was the most heartbreaking thing I'd ever filmed."
And it was very much the human toll that stayed with Caroline after filming finished.
"Hurricanes are a spectacle and there is something impressive about seeing Mother Nature wreaking so much havoc," she added. "But the humanitarian impact is the hardest thing to walk away from. We could fly home or go to our next hurricane, but people's lives would never be the same."
---
Hurricane Man, Dave, Sunday, 7pm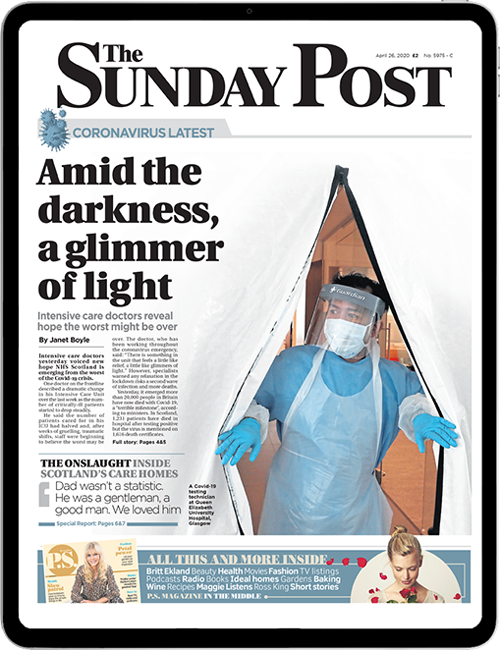 Enjoy the convenience of having The Sunday Post delivered as a digital ePaper straight to your smartphone, tablet or computer.
Subscribe for only £5.49 a month and enjoy all the benefits of the printed paper as a digital replica.
Subscribe