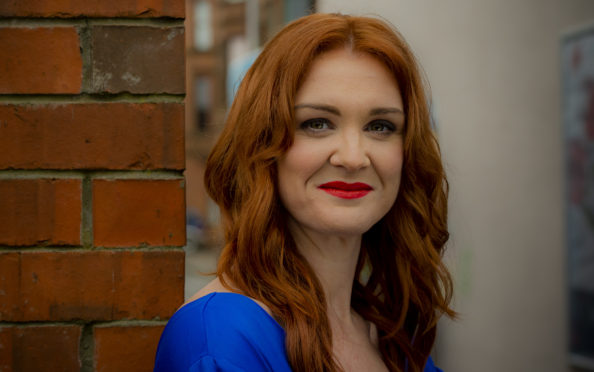 River City star Gayle Telfer Stevens is naturally bubbly and full of life, but she admits her latest storyline took her to some "deep and dark places".
The popular soap star, who has played Caitlin McLean in Shieldinch for nearly five years, has been part of a grooming plot that left her shaken.
After a months-long story in which Caitlin's boyfriend, Joe, manipulated and slept with her 15-year-old daughter, who is now pregnant, the story comes to a dramatic conclusion this week when the McLean family seek vengeance.
As mum to a daughter, Stevie, it was all too easy for Gayle to put herself in Caitlin's shoes.
"You go to places you don't want to go or shouldn't need to go in order to give it everything," said Gayle.
"You put yourself in that position and I have a seven-year-old daughter, so that's who I see. In reality, you think, what would you do, and people say I'd kill him, but would you really? You would feel powerless.
"I try hard to envisage the positions and then try to use what I really need, so you go to some deep and dark places. That's where the intensity on screen comes from.
"There's not much opportunity for relaxation during filming, but I live in Balloch and I'll go for walks by the loch on Sundays. It's beautiful there and that's my way of de-stressing after a long, tiring week. But it also gives me the chance to reflect on what an amazing opportunity it's been to be involved in something like this."
As part of the in-depth research for the storyline, producers worked with children's charities such as the NSPCC.
"I went along to their centre after the first grooming episode aired and I was shown around and talked to some of the volunteers," Gayle continued."I initially thought I might like to volunteer, but as they told me about the type of phone calls they received I knew I wouldn't have been able to do it.
"I'd be happy to help in other ways, because the work they do is so special, but I knew I wouldn't be cut out for that. It must go home with them, what they do on a day-to-day basis. I also had the chance to speak at the NSPCC ladies' lunch a couple of months ago to talk about the storyline and that was a real honour.
"Our producers were so clued up before we started – they had case studies, research, and the storylines are based on real events. This week's episode was written like a movie and it's a biggie for River City. It's been such a massive storyline and it's been in the balance for so long, so it's great to be able to round it off."
Engulfing herself in such a disturbing and reality-based storyline has made Gayle extra-cautious with her own daughter.
"I hate to sound old when I say 'when we were younger', but it's a different world now. We didn't have smartphones growing up.
"We treat kids like they know the old world, but all they know is social media platforms. I've been warning her for such a long time that she won't be getting a phone until high school. They start wanting one so young, but she's only seven.
"I say to other mums at the school that we should make a pact to have no phones until primary seven or first year, but I think some have broken it already."
Filming of River City shut down for its winter break in November and has yet to restart, so Gayle has no idea of what will happen next for her character.
But she is well aware of what it has given her in the time since she joined the soap in 2015. "It's changed my life for the better," she continued. "I was struggling for work before River City."
Gayle knew she wanted to be an actor ever since she watched The Steamie on TV when she was seven years old, so it was a dream come true to be part of the cast for the biggest version of Tony Roper's classic play.
She performed to crowds of 10,000 at the SSE Hydro in Glasgow, and she still can't quite believe it.
"It was such a joy to play something that's been in my bones for a long time," Gayle smiled.
"I feel I was a Dolly from the start and always wanted to play her, so to give the audiences my version of her was great. It was so far away from Caitlin, and that is a dream for an actor, to do something so far removed from what you are known for.
"To go out in front of that crowd was phenomenal. I didn't want to even think of the big screens at the side of the stage that had my big face on them.
"Tony has said it will be his last time directing the play, so to get to work with and watch the guy behind it all was magnificent. It was one of those big moments in my life."
As we enter a new decade, Gayle has taken the time to look back on the past 10 years both personally and professionally, and is happy at what she's achieved.
"I had gone over to New York to do the Uta Hagen acting course and I had a vision of getting a visa and maybe not coming back," explained Gayle.
"I'd said to my partner, if this works out I might try to give it a go. But then I found out I was pregnant while I was over there and my daughter's been the best thing that's ever happened to me.
"Ten years ago I would never have imagined I would have a family.
"Along with all the other beautiful things that have happened in my life in the past decade, certainly having a family has been the best of them all.
"For the next decade, I want to enjoy my family time a wee bit more, and that's something I need to work on.
"As an actor you're always chasing something but it's time to enjoy things and be chilled out. That's where I am now."
---
Dolls are talk of The Steamie
There was a familiar face starring alongside Gayle in The Steamie last month.
Louise McCarthy, her partner in The Dolls, the comedy double act that's been a huge success on the live circuit, was also part of Tony Roper's washhouse classic.
It was a special moment for the pair, who had each been inspired to become actors after watching the Hogmanay favourite when they were little.
"The Dolls started in 2013, when Louise and I met each other," explained Gayle, talking about the genesis of the show about two Glasgow women putting the world to rights.
"We were just two girls, trying to make money and find our way. It was so life-affirming for both of us to go out and do these gigs as The Dolls. And we're still at it, still working hard on putting out new shows and selling them out.
"We took a year off to do different things but we have a new Dolls show coming in the autumn, which we'll be announcing the dates for soon.
"To do The Steamie was such a pinnacle moment. To finish the decade off like that, performing The Steamie on Hogmanay and singing Auld Lang Syne, well, I was dead emotional, a wreck by the end of it."
---
River City, BBC Scotland, Mon, 10pm, and BBC1 Scotland, Tue, 8pm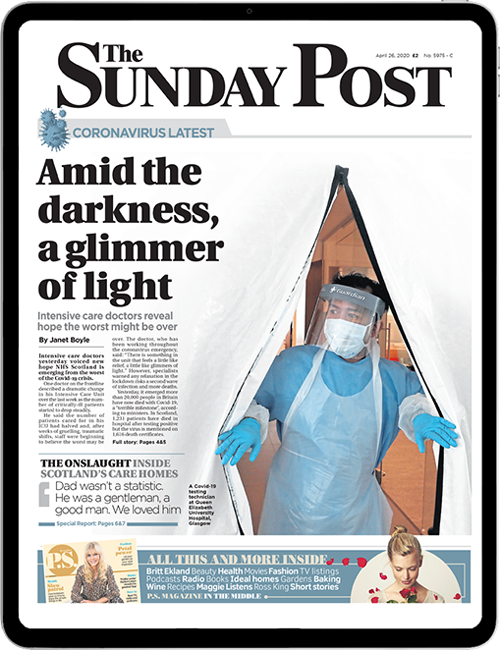 Enjoy the convenience of having The Sunday Post delivered as a digital ePaper straight to your smartphone, tablet or computer.
Subscribe for only £5.49 a month and enjoy all the benefits of the printed paper as a digital replica.
Subscribe