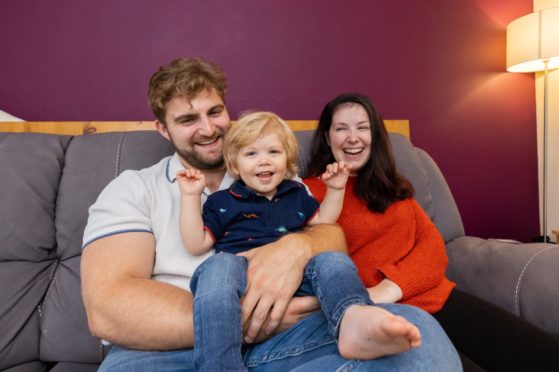 Scotland's youngest motor neurone disease sufferer is no stranger to defying the odds. Lucy Lintott was 19 when doctors told her she had the terminal illness with a life expectancy of just 14 months. That was almost eight years ago.
Determined to live life to the full, Lucy, 27, two years ago announced she was pregnant, giving birth in February to the baby boy she was told she could never have and becoming one of only five women to do so.
Now, we can reveal, the courageous young mum and fiance Tommy Smith are looking forward to another baby becoming what doctors believe is the only motor neurone disease (MND) sufferer in the world to conceive twice post-diagnosis.
Lucy, mum to 18-month-old LJ, said: "We are having a girl. The baby is due on New Year's Eve. I found out I was pregnant in April. I was scared, but happy and excited. We didn't want to tell anyone but our parents until after the 20-week scan. They are thrilled and we couldn't be happier."
Tommy – a second year apprentice plumber and heating engineer – said: "Lucy will be the only person post-diagnosis with MND to become pregnant twice."
'You had to be No.1'
Lucy revealed: "My obstetrician said that after LJ she didn't think she'd see me back and when she discharged me, my case file showed I was one in five women in the world with MND to become pregnant. When I became pregnant with this baby and went back to her she joked, 'You just had to be No. 1 didn't you?'"
Speaking to us last year, Lucy – dubbed The MND Warrior after she raised £200,000 towards finding a cure for the condition, despite knowing any breakthrough may not come in time to save her own life – said: "I always felt selfish because I wanted to be a mum. I felt like, am I being greedy because there are other people out there with terminal illnesses and it is not even an option for them.
"And I feel selfish, because at the moment this is a terminal illness and I may not be around as my baby boy gets older. I'd be leaving Tommy as a widower.
"But then I remember our son is already getting a better start to life as he has parents who love him and love each other, and he has four amazing grandparents."
The young mum – who relies on a wheelchair and with LJ has to live apart from Tommy in supported accommodation in Elgin while they face a two-year wait for specially adapted rental home – said of her new baby:"I wanted LJ to have a buddy. If I pass away he would always have a best friend, and I wanted to give Tommy a little girl. They would all be able to look after one another."
Risk
The couple thought hard about the slight risk of the disease affecting their children but believe it is worth taking. There are two types of MND, familial and one-off or sporadic. About one in 15 people with the disease will know of another close family member who also has it. So far, the faulty genes that cause the illness have not triggered in any other member of the Lintott family.
Studies of people with sporadic MND suggest that the overall risk for their children is only very slightly increased. Since the absolute lifetime risk of any individual developing MND is roughly 0.3%, a small increase in that figure still means the chance of developing the disease for anyone with a relative with sporadic MND is very low.
Lucy said: "Had my mum and dad known in advance there was a risk of me having MND, would it have been right not to have me? No. I would still have wanted my life. And knowing I have MND I have lived it to the full. I want my children to know the risks and to do the same. But there is great hope that new research will deliver a cure and I will continue to do everything in my power to raise awareness and money to help find it."
Tommy, 25, said the couple planned to try for a baby after LJ's first birthday. He said: "We started trying at the beginning of March and Lucy was pregnant in the middle of April."
He immediately suspected she had conceived when she was hit with crippling morning sickness that lasted 14 weeks into her pregnancy, causing severe dehydration, and requiring her to be admitted to the maternity unit at Dr Gray's Hospital in Elgin.
But she rallied and is now planning the second birth which will once again be at Aberdeen Maternity Hospital. She laughed: "I learned a lot from having LJ, this time I'll be saying straight away, 'Where's my epidural?'"
Meanwhile Tommy is getting to grips with becoming a dad for a second time. He said: "Most people take a while to fall pregnant but with Lucy and me it was only a month. We did the pregnancy test in the bathroom at Lucy's place and she left me to check the result. When it was positive, she started laughing.
"Everything went through my head; a new baby, all the responsibility that comes with it. Flashing forward, I wondered if we would still be living apart in 2023 and will we need a car? Every time Lucy sees a nice house, she wishes we could live there together. I've been saving up to buy a house which I could adapt myself, but I the property prices have risen by insane amounts.
"We need to have a home where we can live together as a family but we are just taking things one day at a time. We are grateful that we still have Lucy, that LJ is thriving, and that I can work, and that we now have a beautiful new baby on the way."
---
---
The condition
MND is an incurable condition that affects the brain and nerves. It causes nerve cells – neurones – controlling the muscles to degenerate and die.
Earlier this year, scientists at the Euan MacDonald Centre for MND Research at Edinburgh University, proved that axons – the long nerve fibres which connect and send electrical impulses from the nerve cells to the muscles – are shorter in cells affected by MND. They also discovered the movement of the mitochondria, the tiny energy cells which move up and down the axons, is impaired.
But they found that the damage to the nerve cells caused by MND can be repaired by boosting the energy levels in these mitochondria. Once this was done, the axon reverted back to normal length. The effect was achieved in the lab using motor neurons grown from stem cells collected from people with a genetic mutation known to cause MND. These lab-grown neurons were then exposed to a virus which supercharged a key molecule vital to the healthy functioning of mitochondria.
The research team believe they will be able to produce the same result in patients – not with a virus, but by re-purposing an existing drug.
Work is underway to identify drugs that can boost the mitochondria and repair the motor neurons. This will then pave the way for clinical trials. Researchers Researches said: "We believe that this technique of rescuing the axon through boosting energy will not only slow and stop but could reverse the degeneration, so it could potentially be very powerful."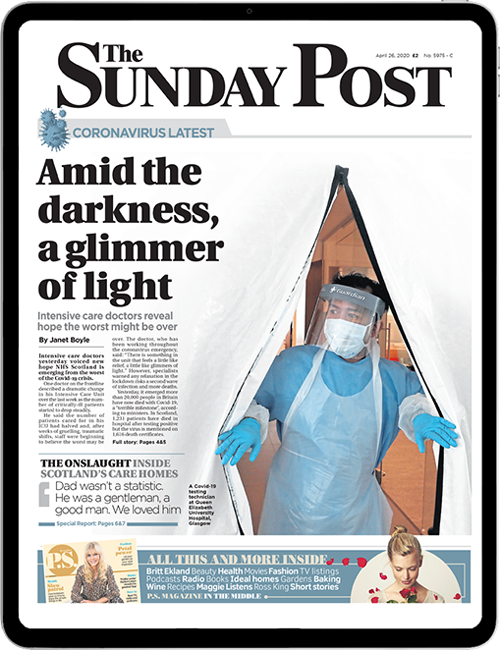 Enjoy the convenience of having The Sunday Post delivered as a digital ePaper straight to your smartphone, tablet or computer.
Subscribe for only £5.49 a month and enjoy all the benefits of the printed paper as a digital replica.
Subscribe