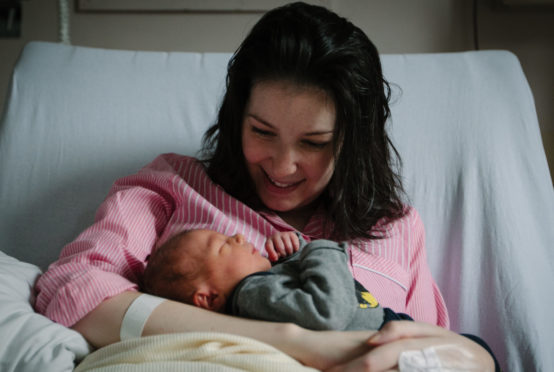 Cuddling her new baby, a little son she was told she could never have, Lucy Lintott yesterday told of her joy at keeping a very special promise.
Elated but exhausted after 15 hours in labour, Lucy, the youngest Scot to battle motor neurone disease and the first to become pregnant after being diagnosed, revealed the pledge she had made to her partner Tommy Smith.
"I promised Tommy that I could do this, that we'd both make it – the baby and me," she said. "He's told me how lucky we are and how proud he is that I kept my promise."
Lucy, 25, beaming as she held her son, little LJ, who arrived at Aberdeen Maternity Hospital at 7am on Thursday, described the emotional moment she cuddled her baby for the first time.
She said: "When he came and they put him on my chest I just started bawling my eyes out. They were such happy tears. He is pretty perfect.
"It is still very surreal. Now I understand what people say about the love you feel for your baby. I can't really describe it. I just want to do everything for him. I'd do anything for him."
Weighing 7lb 3.5oz at birth, little LJ is, according to Lucy, "doing amazing" and the couple hope to take him home in the next few days.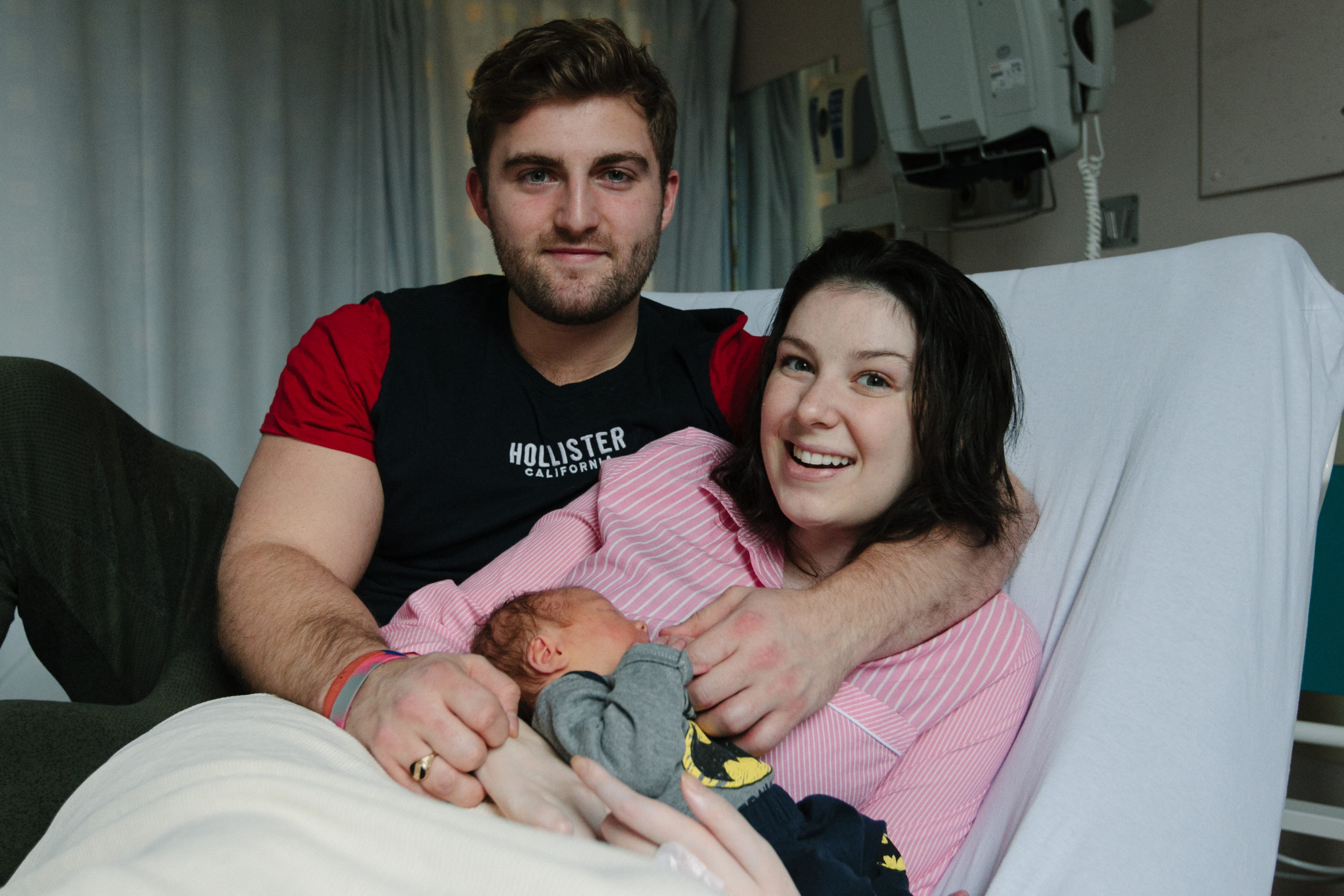 Lucy, who now relies on a wheelchair after being diagnosed with MND six years ago, said: "Tommy and I are a team. I would not have come through the pregnancy or the labour without him. There are not a lot of people who, after their partner has given birth, have to look after her and the baby and go into that knowing that they are going to have to do that.
"He is always protective when he needs to be. God knows what he is going to be like with our son. I feel sorry for the kid!"
Courageous campaigner Lucy – who has been dubbed The MND Warrior – has raised nearly £200,000 towards finding a cure for the ­shattering condition, despite knowing any breakthrough may not come in time to save her own life.
She said: "I always felt selfish because I wanted to be a mum. I felt like, am I being greedy because there are other people out there with terminal illnesses and it is not even an option for them?
"And I feel selfish, too, because at the moment this is a terminal ­illness and I may not be around as my baby boy gets older. I'd be ­leaving Tommy as a widower.
"But then I remember that our son is already getting a better start to life because he has parents who love him and love each other, and he has four amazing grandparents."
Lucy was diagnosed with MND – a progressively disabling, untreatable and incurable disease – when she was just 19 and studying business at the City of Glasgow College. She had plans to work in hotel events.
She and Tommy met in their teens as pupils of Milne's High School in Fochabers, in Moray – they later fell in love.
They have been a ­couple for 14 months and knew early on they wanted to be parents.
Lucy revealed: "Our baby was planned. In January last year, I went to see my doctor to find out if I could have kids.
"That was because when I was first diagnosed my sister asked the neurologist, and he said that my body wouldn't be able to cope with it.
"That destroyed me a little bit, just because ever since I can remember I have wanted kids and wanted to be a mum, which is one of the most natural things.
"So I kind of knew it was more of a 'no'. But with me being five years on at the time, with my MND not progressing, and getting into a serious relationship with Tommy, I wanted to know where I stood, and I wanted Tommy to know where he stood as well. It was better to find out."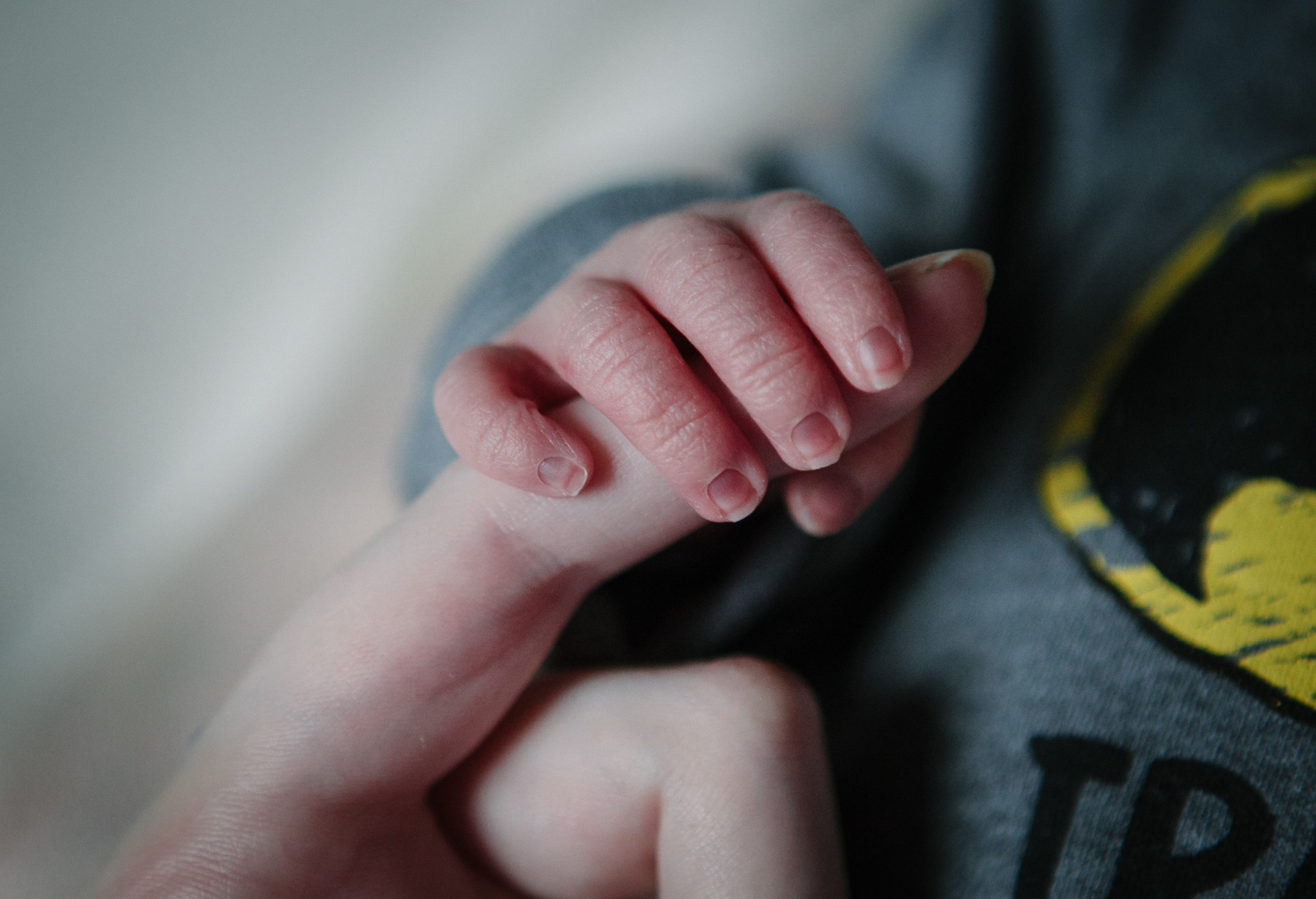 Lucy initially spoke about the prospect of pregnancy with her neurologist after diagnosis, before then being referred for an appointment with an obstetrician on May 23 last year.
"She gave me the go-ahead," Lucy said. "I was so happy. I messaged Tommy straight away. The obstetrician was amazing. She had to research other cases to see where my MND was. There have been only five or six cases in the world of women with MND, who have either given birth or had a Caesarean section. Some of them had already been pregnant, and then they were diagnosed and had the baby.
"Tommy and I had to discuss potential complications, but between January and May we had talked about it every week. It wasn't a rushed decision.
"What I didn't know when I went to see the obstetrician was that I was already pregnant. We had got engaged on the Friday, May 17, last year and it looks like we conceived the following week. Although we were trying, I didn't expect it to happen that quickly.
"We did a pregnancy test one morning before Tommy went to work and it lit up straight away. Our parents were the first to know but we put it on social media three months later when I was 18 weeks' pregnant. Everyone was really chuffed.
"My mum and dad, like any parents, were scared. Tommy was scared as well. What worried them was that they could lose me. The doctors did not know what the outcome would be with my MND. So they took precautions. They did their research and put plans in place. I was scanned every four weeks.
"I wasn't scared about the labour because it was out of my control and I have great doctors who have put in the work. But I was scared that, as a result of it, Tommy might lose me and I could lose him. I do not want to leave him.
"We are positive people, but we are also both realistic. It's not as big a risk for me as it for Tommy. He can lose me. He is the one who has to deal with the aftermath if it had gone badly. I hope for the best, and I hope that the research being done will bring results. It is a race against time for me, but it's not so much about that. I know that 5% of cases are inherited, so if my son gets it, I want there to be a cure for him, and for others.
"Since Tommy has come into my life my outlook is a lot different. Before I was scared of the future, whereas now, with him, I am stronger. Some people go a whole lifetime and never find this love with someone."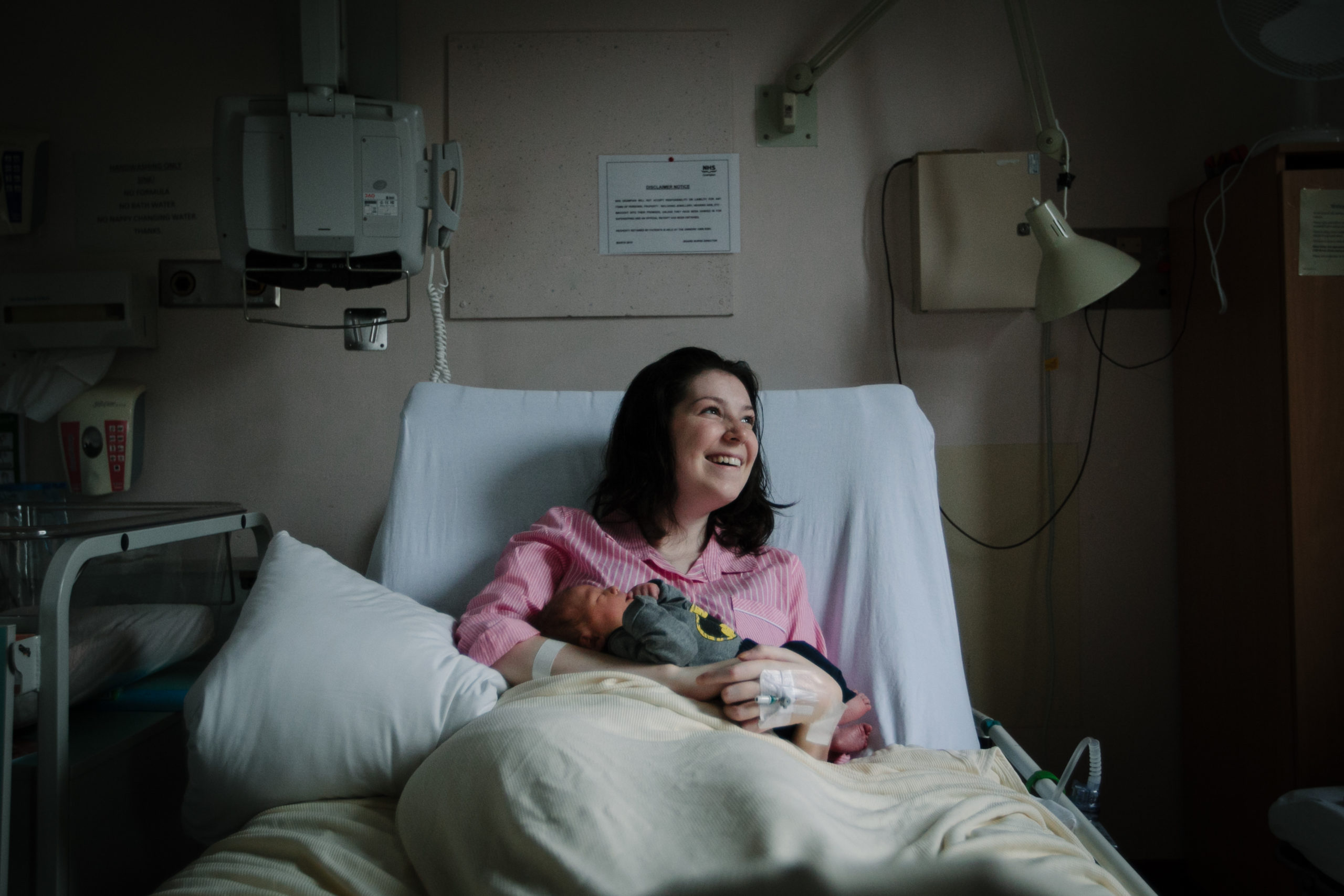 Relieved and proud, Tommy said: "Lucy has had a rough time and endured a 15-hour labour and a bad bleed but she was ­incredibly brave. There are no words to describe the relief of ­seeing her safe – that's the most important thing.
"I will feel more relaxed when all of the medical checks are complete and she is home. I am incredibly proud of Lucy and so happy to finally be a family."
Now Lucy has her sights set on the future and her wedding later this year. She said: "I have the dress, a white dress, it's an amazing dress. My dad is going to walk me down the aisle."
Looking at her wheelchair, which she hopes to ditch at the church, she said: "Will I walk down the aisle? Hell yeah!"
"Tommy is trying to save for a house. He stays at home with his parents. I am staying in supported accommodation until we have our own place. We can't afford it just yet. The only thing I have asked for is a garden for the baby and my dog Zeus. It would be a dream come true to have a home together with our son."
Support Lucy's fundraising at lucysfight.com
---
I don't see MND, I just see Lucy, the girl I love. She's amazing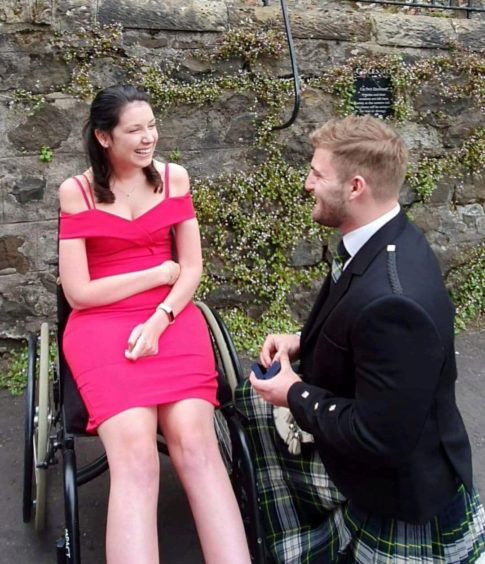 Lucy's partner, Tommy Smith, has spoken of his overwhelming relief that she and baby son LJ are safe and doing well.
The welder from Fochabers, whose proposal last year was captured in a moving video when Lucy was surprised with a ring while posing for photographs at a charity function, said the couple's happy arrival only encourages them to appreciate every moment together.
He said: "When we became serious about one another Lucy had already had MND for four-and-a-half years. When you love somebody, it's unconditional, whether they have an illness or not.
"The MND is not at the forefront of my mind or the forefront of the relationship. If we based the whole relationship around MND it would be a pretty doom-and-gloom scenario.
"I don't see Lucy as the award-winning fundraiser with MND. I just see Lucy the way she is – the girl I love. She is amazing.
"A lot of people, especially at the start of our relationship, came away with, 'You know she's got MND and she's not going to be around for ever.'
"But we both knew something was missing in our lives. We have found that thing everyone looks for in somebody else. We completely adore each other. And we found it at a young age – some people go their whole lives without that.
"So if I was to get five years with Lucy, I would rather have five years of the absolute best, than to have found it and walk away and wonder what I could have had.
"And now with the baby, it shows that what we have found is right. Her legacy will carry on through him. He is part of Lucy and me together.
"We would rather focus on the time we do have than be negative about the time we don't have."
---
Fundraisers fight to find a cure for awful condition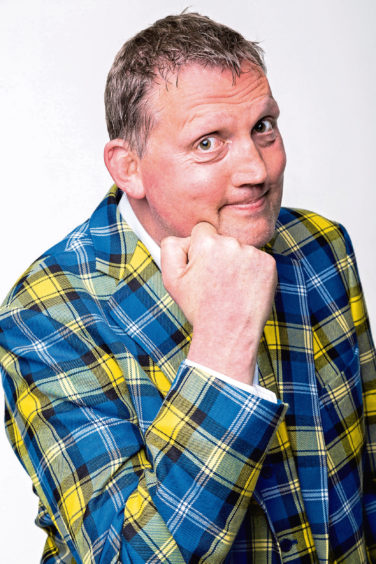 Motor neurone disease is an incurable, life-shortening condition that affects the brain and nerves.
Messages from the motor neurones – brain cells which control muscle activity – gradually stop reaching the muscles.
This means muscles weaken, stiffen and waste, which can affect how sufferers walk, talk, eat, drink and even breathe.
Sufferers include Scottish rugby legend Doddie Weir, who started a foundation to raise funds for research into the disease after he was diagnosed three years ago.
Scientist Stephen Hawking, footballer Fernando Ricksen and campaigner Gordon Aikman also had MND.
Early symptoms of MND can include slurred speech, a weak grip, muscle cramps and twitches and weight loss.
It's an uncommon condition which affects up to 5,000 adults in the UK at any one time.
It can affect people of all ages, but it mainly affects those in their 60s and 70s.
The disease will progress over time but symptoms can be managed to help achieve the best possible quality of life.
There are four types of MND. The most common form is amyotrophic lateral sclerosis (ALS), which is characterised by weakness and wasting in the limbs and muscle.
Bulbar onset MND affects a smaller number of people than typical ALS, and mainly affects the muscles of the face, throat and tongue.
Progressive muscular atrophy affects only a small proportion of people and early symptoms may show as weakness or clumsiness of the hands.
Primary lateral sclerosis is a rare form of MND, mainly causing weakness in the lower limbs.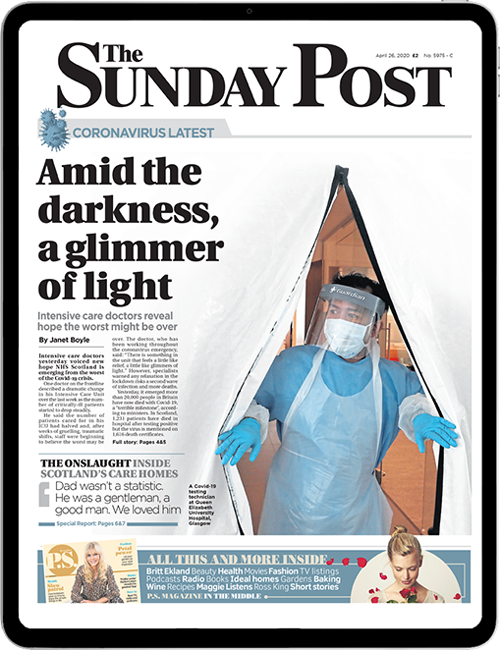 Enjoy the convenience of having The Sunday Post delivered as a digital ePaper straight to your smartphone, tablet or computer.
Subscribe for only £5.49 a month and enjoy all the benefits of the printed paper as a digital replica.
Subscribe