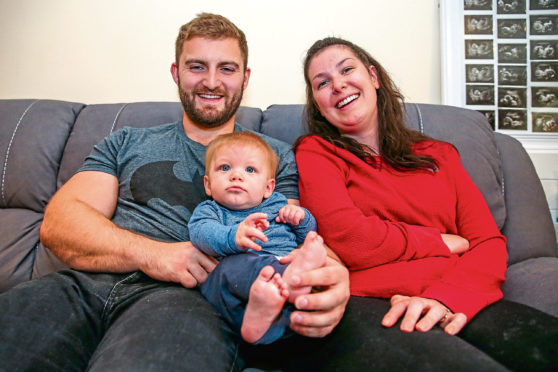 New mum Lucy Lintott gazes in awe as her baby son crawls to her. It is nearly seven months since little LJ arrived and every smile, every second, feels as miraculous to Lucy as the moment he was born.
The 25-year-old is the ­youngest Scot to battle motor neurone disease and the first to become pregnant after being diagnosed. Lucy, who had always dreamed of becoming a mum, was told her body would not cope with pregnancy and it was likely neither she nor her child would survive.
Yet in February, after a 15-hour labour, she delivered a healthy 7lb 3.5oz infant into the world, fulfilling her pledge to fiancé Tommy Smith that both she and their son LJ would live.
Now Lucy, who can't stand or walk unaided and who is in a wheelchair, is with Tommy celebrating their baby's landmark moments – his first smile, the first time he crawled, and the arrival of his tiny first teeth. Cradling LJ in her arms at her Moray home, Lucy told The Sunday Post: "Motherhood is way more than what I dreamed it would be. It is still surreal.
"I can't believe LJ is there and he is OK and I am OK. He is the best gift I could ever have had. I knew there was a risk but it was worth it. There have been so many precious moments, like LJ's first smile. Tommy was playing with him and got him to laugh. It melted my heart.
"He has two teeth coming through at the bottom, I felt them when he bit me! He started crawling four weeks ago and then he sat up for the first time.
"Everyone is saying he will be walking by Christmas. I won't be able to stand with him, not on my own, but I'll be whizzing him around in my wheelchair!"
Lucy lives in supported accommodation where she has carers to help her with the demands of motherhood.
Her fiancé Tommy said: "Lucy's carers help her to live the life she wants. She wanted to be a mother and they are helping her supporting her with things like bathing and feeding. They are marvellous."
Lucy added: "I have carers to help me but I do everything I can so they don't really get a look-in. I am breast-feeding, but he gets supplementary bottles. I never want to hand him back to the carers. If he drifts off after feeding I tell them, 'Oh no, he's fallen asleep on me, oh well!' It's so relaxing. When I watch Tommy playing with LJ it is everything I have ever wanted."
Lucy was diagnosed with MND – a progressively disabling, untreatable and incurable disease – when she was just 19 and studying business at the City of Glasgow College.
She and Tommy met in their teens as pupils of Milne's High School in Fochabers and became a couple four-and-a-half years after Lucy's diagnosis. She said: "Ever since I can remember I've wanted to be a mum. The neurologist said my body wouldn't be able to cope. That destroyed me a little bit.
"But with my MND not ­progressing, and getting into a serious relationship with Tommy, I wanted to know where I stood, and I wanted Tommy to know where he stood. I was referred to obstetrics and they were really supportive. Strangely, though, I became pregnant while still ­taking the contraceptive pill. LJ was just meant to be."
Throughout her ­pregnancy, Lucy was plagued by miscarriage fears. Tommy was her comfort in the tough times.
Reliving the moment their baby arrived at Aberdeen Maternity Hospital, Lucy said: "When they put him on my chest I started bawling my eyes out. They were such happy tears. Now I understand what people say about the love you feel for your baby. I'd do anything for him." Tommy spoke of his relief that, despite the risks of the birth and the Covid-19 pandemic, his family is doing well.
The pandemic put Lucy at serious risk. It also cost Tommy his welding job and meant the couple had to postpone their wedding plans and put on hold hopes of buying a first home together, allowing Lucy to leave supported accommodation.
Tommy said: "The most important thing is Lucy and LJ are both safe and LJ is thriving. Lucy has had no setbacks. Her symptoms haven't progressed, she is doing well.
"I am so proud of her. I don't see Lucy as the award-winning fundraiser with MND. I just see Lucy the way she is – the girl I love.
"We have found that thing everyone looks for in somebody else. We completely adore each other. And we found it at a young age – some people go their whole lives without that. So if I was to get five years with Lucy, I would rather have five years of the absolute best, than to have found it and walk away and wonder what I could have had.
"And now, with the baby, it shows what we have found is right. Her legacy will carry on through LJ. He is part of Lucy and me together. We would rather focus on the time we do have than be negative about the time we don't have."
The couple are now ­looking forward. Tommy has found a job as an apprentice plumber and heating engineer and is saving for a wedding next year as well a deposit for a house. He said: "We don't know what the long-term future is for Lucy. Every second lockdown gave us was precious. It gave me time to be with my family that I will never get again.
"Everyone was always going on about money, but no amount of money has ever bought one second of time.
"We still need to get a house of our own. It would be a dream come true for Lucy to have a big garden for LJ to run around in. I just have to work hard to make it happen. There will always be a worry for Lucy's safety. But you can't stop your life and focus on all the negatives."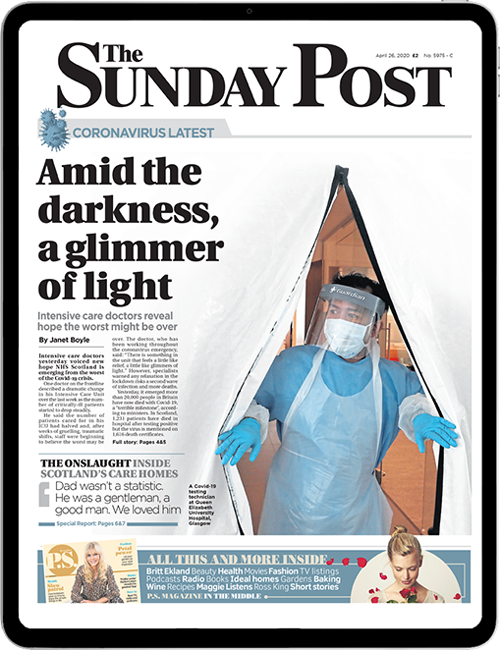 Enjoy the convenience of having The Sunday Post delivered as a digital ePaper straight to your smartphone, tablet or computer.
Subscribe for only £5.49 a month and enjoy all the benefits of the printed paper as a digital replica.
Subscribe