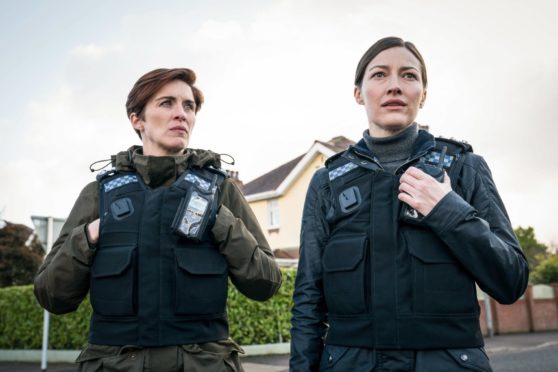 The twists and turns have left us on the edge of our sofa while the blizzard of acronyms, forgotten plot lines, and red herrings has left us scratching our heads.
But, for one fan with a particular interest, the new series of Line of Duty is a especially jaw-dropping development.
Actor Brian McCardie played gangster Tommy Hunter in series one before being murdered in series two but has just made a surprise reappearance in the new series after DNA analysis reveals he was a close relative of shifty DI Jo Davidson, played by another Scot, Kelly Macdonald.
And the actor, whose roles have spanned stage and screen, only found out at the same time as the rest of us. While some viewers have been left bemused by old storylines woven through the new series, McCardie hails writer Jed Mercurio's handling of the fictional anti-corruption unit AC-12.
He said: "I had no idea about the twist last week. I'm not kept up to date because it was a two-week job nine years ago.
"He's such a clever writer. It's like a good novel. There are these twists and the turns that continually undermine your expectations, surprise and shock you and make you understand that you've been led up the garden path again, even though we're all on our guard. It's so smart.
"I enjoy Line of Duty as much as any other viewer. I guess there's a bit of pride that I must have made a fair impact on things that they keep bringing Tommy Hunter back and making reference to him and the viewers don't wonder who it is."
Although he was seemingly killed off in the second series in an execution, McCardie left the door open for yet another classic Mercurio twist.
"The OCG tried to execute Tommy when he became a grass," he adds. "The police officer next to him was killed but Tommy was injured and badly burned but he did not die. Someone presumed to be Tommy Hunter, whose face was covered in bandages, then got a lethal injection. Somebody said is Tommy dead?
"It's Jed Mercurio. He's smarter than you and me combined. I wouldn't second guess Jed."
However, McCardie's relationship with the show became more fraught after the first series in 2012 when his character was exposed as a paedophile after his death.
He said: "Five years after I did the show, retrospectively Jed decided to make my character the ringleader of a paedophile ring.
"I didn't know it had happened because it was one of the times I hadn't watched it. I had no idea.
"When I played the part I was kind of a mastermind villain, a boss behind the scenes. If I'd known he was going to be a paedophile I would have said no.
"I was very much more than annoyed, I was utterly furious. It's retrospective. Five years after I finished doing the job. I am not your personal property. I'm a human being."
McCardie even moved from Glasgow to a cottage in rural Ireland for several months following the plot development.
"You just have to adjust to things," says McCardie. "What else could I do? Go to a brilliant writer like Jed Mercurio and say, 'I'm a bit sensitive Jed!'. You just have to let the man get on with it.
"I had to grow a moustache and long hair. I also moved to a cottage in the middle of Ireland.
"I was doing a one-man play about James Connolly and I wanted to do some research but it was handy to get out of the country.
"There was a guy standing reading the paper and there's a Line of Duty story in it with my picture and a caption saying 'Paedophile Tommy Hunter'.
"It made me a little paranoid. People might have been looking at me and thinking they liked my shoes but I was worried they were getting me confused with my character."
Later this year McCardie will star in glossy Sky drama Domain, where he will play Roman senator and orator Civero. Then he'll appear alongside another former Line of Duty star Stephen Graham in gritty prison drama Time, written by Jimmy McGovern.
The two didn't share scenes in the police thriller series but did work together in 2008 on Brian Clough biopic The Damned United.
McCardie relished the chance to work with Graham again.
"Stephen's a class act. He's very serious about his work. In The Damned United I played Dave McKay and he was Billy Bremner.
"I did him a favour and recorded his lines in my accent and he was incredibly grateful. He couldn't thank me enough.
"Then a few weeks later he came back to me and said, 'Thanks for the tape, Brian, but you're from Carluke and Billy Bremner was from Stirling'.
"He was that serious about getting things right. He's just so committed and intelligent."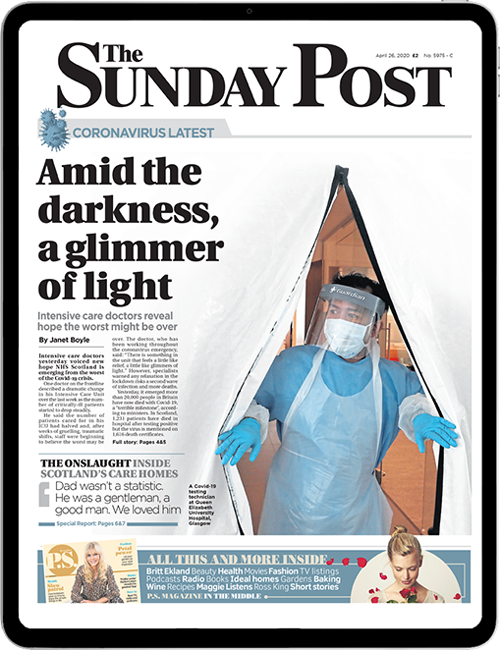 Enjoy the convenience of having The Sunday Post delivered as a digital ePaper straight to your smartphone, tablet or computer.
Subscribe for only £5.49 a month and enjoy all the benefits of the printed paper as a digital replica.
Subscribe