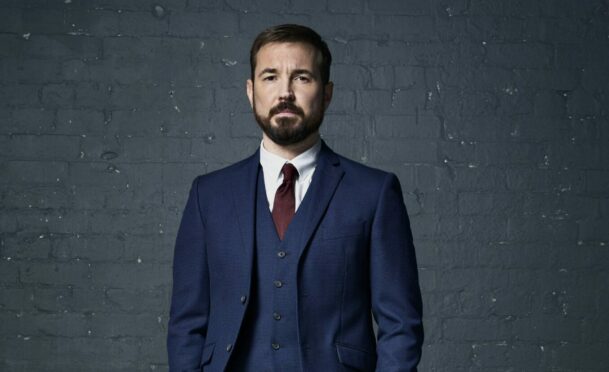 When the topic of Martin Compston's WhatsApp football chat turned from Celtic to energy bills, his decision to bring Line Of Duty to Port Glasgow made even more sense than he'd intended.
"I'm in a group chat with my mates, and they were talking a few weeks ago about how to switch energy providers because of the size of their bills," said the actor, ahead of his charity Q&A with the cast of the hit police drama this week. "I couldn't get my head around that. And the hospice is going through the same thing. Their energy bills have tripled."
The hospice is Ardgowan, the palliative care facility in his home town of Greenock, and the beneficiary of several star-studded fund-raising nights the actor has brought to Inverclyde in recent years, with Frankie Boyle and rockers The View among previous names to have done a turn, helping raise £100,000.
On Saturday, the actor will be joined by co-stars Vicky McClure and Adrian Dunbar and creator Jed Mercurio for a live Q&A event being held in Inverclyde. The event was conceived during lockdown but only came together in recent weeks, just as the looming hike in gas and electricity prices formed on the horizon.
Having spent the whole of 2022 so far in the US, the reality of the UK energy rise was brought home by his Greenock pals' chat. And it only strengthened the actor's resolve that staging a night to raise funds for a place close to his heart was the right thing to do.
Like many in the area, his family have found themselves utilising Ardgowan Hospice, with relatives being nursed through end-of-life care.
Despite living half of his life in the sun-drenched idyll of Las Vegas, where his wife Tianna and her family are from, Compston has never forgotten the impact the place had on his own connections. He said: "My uncle Joe passed away at the hospice. What I remember so much about the place is that when people are in the hospice it can be a protracted death.
"It's inevitable and it's not always quick and that can really affect the family around them. I can remember the toll it took on my mum, my aunt, my grandfather. And I'll never forget the care the staff gave to them. That's a similar story I hear again and again. I've had other friends whose family members have passed away there too."
Tickets for the event, being held on Saturday, sold out in under a minute, leading to an arrangement for it to be filmed and streamed online, boosting the charity's funds further.
"We're a close team and we help each other whenever we can," he said of his AC-12 cohorts, who'll be sampling the delights of a Saturday night in the Port. "The response has been incredible and I'm genuinely sorry for folk who didn't get a ticket."
The fact that Greenockian Compston is in a position to pull the cast of the most popular British drama in recent history to his neck of the woods is testament to a career built, he says, on moments of good fortune.
The first of those will be celebrated tonight with the 20th anniversary of Sweet Sixteen, the Ken Loach film that proved to be Compston's golden ticket at 17. He was famously picked from an audition in his old school's PE hall and given the part of Liam in the tragic tale of family ties, community and crime.He will join other cast members for a reunion tonight at Glasgow Film Theatre as part of the city's film festival.
Compston said: "I've been very lucky with people being willing to take a chance on me, starting with Ken Loach who believed in me back then for Sweet Sixteen. It's the same with Jed Mercurio. I never thought anyone would let me lead a BBC show like Line Of Duty."
He played the lead in acclaimed ITV drama Our House, broadcast last week, alongside Tuppence Middleton and Rupert Penry Jones, and will also feature in forthcoming big-budget Amazon Prime series The Rig, set on a Scottish oil rig, with Iain Glen and Emily Hampshire later this year.
He said: "I don't think anything will have been seen like this before. It was amazing to film something which had such ambition."
Compston is now an established leading man, with roles in dramas The Nest and Traces in recent years but, while his CV contains acclaimed productions such as A Guide To Recognising Your Saints, with Robert Downey Jr, and The Disappearance Of Alice Creed, starring Gemma Arterton and Eddie Marsan, there are some roles he looks back on through his fingers.
"I did some terrible jobs when I was younger," he said. "But I thought, well, I'm a working-class boy, an actor, paid to act, and I'd rather be on a job getting paid, paying my rent and getting something in the bank, and trying to make something that's rubbish than sitting on my backside.
"Titles like Strippers Versus Werewolves stay on your CV forever. But being a young actor, someone was paying me to act so why wouldn't I do it?
"I think there is a snobbery with some actors. If you're in a hole financially and someone's asking you to do something then you'll bite their hands off.
"There was a point before Line Of Duty when the phone wasn't really ringing, and definitely not for the stuff I wanted to do.
"So I've been there – sometimes as an actor it's hard to be present with your family because you're constantly thinking about the next thing you're doing, or you're worried that there isn't a next thing. But I'm in a really fortunate position right now. I don't need to jump into the next one. And, given that people are very aware of what you're in and your name will be above the title, you need to be careful about what you pick."
And that's not all someone in his position needs to be careful about – as a young dad, whose life is split between two sides of an ocean.
Compston said: "When I finished shooting Our House in October last year, playing a character in a really tough depressive spiral and filming some really tough scenes, it was hard. You have to be aware of sensing burnout.
"I don't want to sound, 'poor me – actor getting jobs complains about burnout'. I'm very aware of how lucky I am. But you have to be aware of your work-life balance. Things kicked up a level with Line Of Duty last year in terms of people taking an interest in my personal life."
Things reached full-tilt for the former Morton youth footballer when one of his former drinking dens, The Old Bank Bar, unveiled him as a mural in the beer garden.
"To have your face on a wall in a pub you used to drink in is unbelievable," he said. "I really don't take that stuff for granted.
"I'm grateful that people are kind to me when I come home, although when it gets to the point that you have to start planning your journey to Tesco at quiet points, it can get a bit much. But I'll probably be back on selfies before too long."
Compston, 37, still has a home in Scotland, on the outskirts of his home town where he is looking forward to showing his mates from AC-12 the sights next weekend.
The newly installed statues of Clyde shipbuilders – colloquially dubbed "the Skelpies" – feature among his roll-call of attractions to show off to McClure, Dunbar and Mercurio, as well as the simpler pleasures of looking out on the spectacular view of the lower Clyde.
"Getting up to that view every morning is fantastic," said Martin. "I love just finding a quiet spot on the beach there. It's so peaceful. And that's when I know I'm home."
---
An Audience with AC-12, in support of Ardgowan Hospice, is at Port Glasgow Town Hall on Saturday
Sweet Sixteen's 20th anniversary is at GFT tonight. Our House is streaming on STV Player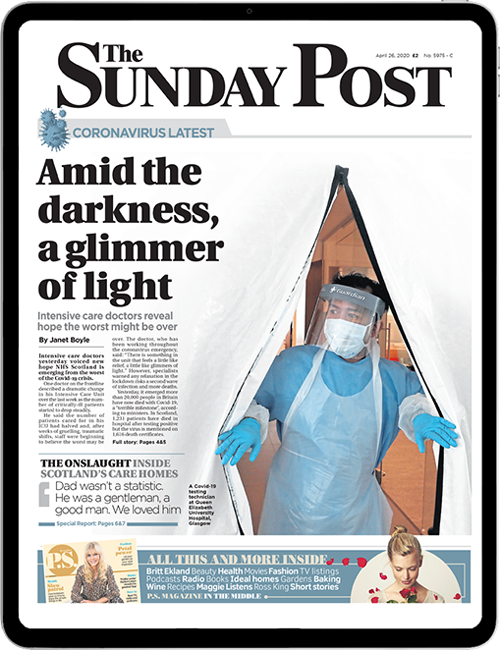 Enjoy the convenience of having The Sunday Post delivered as a digital ePaper straight to your smartphone, tablet or computer.
Subscribe for only £5.49 a month and enjoy all the benefits of the printed paper as a digital replica.
Subscribe