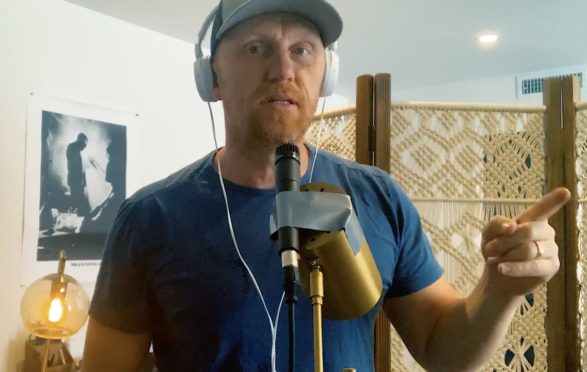 I once heard someone during a minor medical emergency in a Hollywood restaurant say: "I'm not a doctor, but I have played one on TV".
If only they'd needed a telly presenter – I've been pretending to be one of those for years!
I've been thinking of that incident over the past couple of days after someone from home asked me how Hollywood could help during this crisis.
On the face of it, not much – although I'm sure there are plenty of coronavirus movies and TV shows being written as we speak.
But Hollywood has been helping, though.
Shows out here such as Grey's Anatomy, The Good Doctor and Chicago Med have been contributing during the pandemic – luckily not on the frontline.
I'm not sure even the best actor could manage a shift in a busy emergency room.
No, the shows have been helping out with props!
I'd never really thought about it before, but the surgical gloves, masks and gowns they use on the show are real – they were, after all, cheap and readily available.
They're of course not so readily available now, so these shows have handed essentials over to help out during the crisis.
Grey's Anatomy star Kevin McKidd is also pitching in to help.
The Trainspotting star has quietly become a well known face here in the US thanks to his appearances on the long-running medical drama which is entering its 16th series.
Kevin has recorded a charity single called Leave A Light On, a beautiful celtic ballad, written and performed by his Speyside Sessions band.
Money raised from the song will go to the Trussell Trust, a charity that works to end poverty – Kevin decided to do the project after hearing how under pressure food banks have been.
He duets on the single with Northern Irish singer Mairead Carlin.
"When we got Mairead on board, she suggested we also help raise money for Help Musicians UK," said Kevin.
"It was another brilliant idea. She has been amazing to collaborate with and is so talented. We are so lucky to have her on this single.
"If ever there was a time that we need music, it's now.
"I am very proud of the track and it has been a real honour to sing with Mairead and all of the old Speyside bunch again."
Well done, Kevin!
One man not widely known for his generosity – well, not on the TV show he stars in as himself, anyway – is Larry David.
The man behind Seinfeld and the equally brilliant Curb Your Enthusiasm has set up a GoFundMe page for the caddies at Riviera Country Club here in LA where he's a member.
The caddies' wages stopped when the course was shut down, and now people can donate to help them out.
David himself put in not "fore" but five thousand dollars.
Pretty, pretty, pretty good!