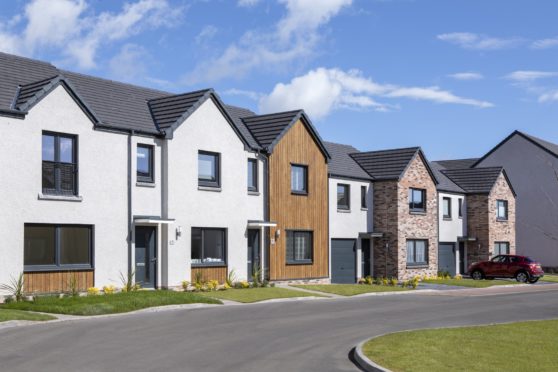 Two joiners are involved in a dispute with a building contractor over £5,000 outstanding in wages they claim they are due between them.
Friends Danny Willox and Ewan Forbes have been working as a team for the past five years. Between May and July this year, both men were hired by Huntly-based sub-contractors Glenmoir Construction as self-employed carpenters on the new Charleston housing development in Cove, Aberdeenshire.
The duo said that, during this time, things went well and Glenmoir always paid on time.
This changed after they left the job to work in London.
Danny, 26, from Arbroath, said: "I was still due to be paid about £2,873 and Ewan was owed £2,159 because he had taken a week's holiday."
Despite a number of calls and letters to Glenmoir, however, no money was forthcoming. "We couldn't understand this because our timesheets and work had been rubber-stamped by the site manager for the developer, Stewart Milne Homes," dad Ewan, 52, from Montrose, said.
In September, the fed-up workmates contacted the Tayside In-Court Advice Project, based at Dundee Sheriff Court, about the matter.
As a result, an adviser wrote to Glenmoir boss Blair Moir asking for payment for both men. In both cases, the contractor was told: "It is clear that our client worked the hours invoiced for, from the completed day sheets.
"Therefore, we do not believe such failure to make payment can be founded upon that basis. The standard of work completed by our client cannot be disputed as a Stewart Milne site manager signed off our client's work on a regular basis. We cannot see any reasonable justification for our client not receiving the amount owed."
Glenmoir was given 14 days to come up with proposals for payment, or both men would then be advised to take legal action to recover the money.
After follow-up letters did not result in payment, Danny and Ewan wrote to Raw Deal.
We contacted Glenmoir boss Blair Moir on their behalf last month and within a few days he texted Ewan to say a cheque would be in the post. When the money never materialised, Raw Deal phoned Mr Moir about the issue.
This time he claimed that he now questioned the sums owed to the joiners, despite this having already been confirmed to him by the in-court service adviser.
He claimed the matter was now with his solicitor and again indicated he would pay the joiners by cheque – but it would be unlikely to be for the full amount. "I had no issues, their work was spot-on," he said. "But this has got nothing to do with Raw Deal. I do owe them money but I dispute the amount."
On Friday night, Mr Moir again messaged Ewan to say: "Cheque was posted today. Apologies for the delay."
However, yesterday, there was no sign of it in the mail at either of the joiner's addresses.
Meanwhile, Danny and Ewan are now considering full legal action to recover their money. "As we are now employed in London, appearing in court in Scotland would mean us taking a few days off from work," Danny said, "and once the court fees are also paid it would be an expensive outlay.
"But we simply can't afford to lose this amount of cash, especially with Christmas just around the corner.
"We can't understand what the problem has been with Glenmoir."
Neither does Raw Deal.