LIKE thousands of other parents, Karen Rodger will be at the gates this week for the milestone first day of school.
The difference is she'll be doing it at the double – for the third time.
Karen, 47, is mum to three sets of twins with daughters Isla and Rowan following Lewis and Kyle, 19, and Finn and Jude, 17.
Dance lecturer Karen, from Langbank, Renfrewshire, beat odds of half-a-million-to-one for the happy hat-trick.
And after The Sunday Post exclusively broke the news of Isla and Rowan's birth, she found herself on TV from America to Australia.
Now, after they turned five on May 29, Karen is preparing to see them off on their latest big adventure.
"The past five years have been the quickest of my life," said Karen, whose husband Colin is events boss for DF Concerts.
"It will be sad in a way to hand them over, as someone else becomes the parent, as it were, for a third of their day.
"But they are certainly ready for it, more so than any of the boys were at that age. I can remember dreading the start of school with all of them, wondering if they'd be okay.
"But the girls seem so grown up."
Lewis and Kyle are both in further education, Lewis at Glasgow Caledonian University and Kyle at Kelvin College, and Finn and Jude are in sixth year at school.
Karen is well used to the pricey business of doubling up on school uniforms for the past 15 years.
"Everyone has gone to Langbank Primary and I had one of the boys' primary one blazers that fitted the girls, but I didn't know who to give it to so I bought new uniforms for both."
All the twins are non-identical and while they are really close, Karen says Isla and Rowan are polar opposites in looks and character. "They couldn't be more different," said Karen. "Isla has long dark hair and Rowan has short blonde hair.
"Isla is the one who's confident when we're out and will speak to people first. But while Rowan is a bit shyer in public, when she's comfortable in her surroundings she's as mischievous as can be."
With all six children now at school or university Karen said: "I'm looking forward to having a little bit of 'me' time."
Scots supermum with three sets of twins has words of encouragement for George Clooney and Beyonce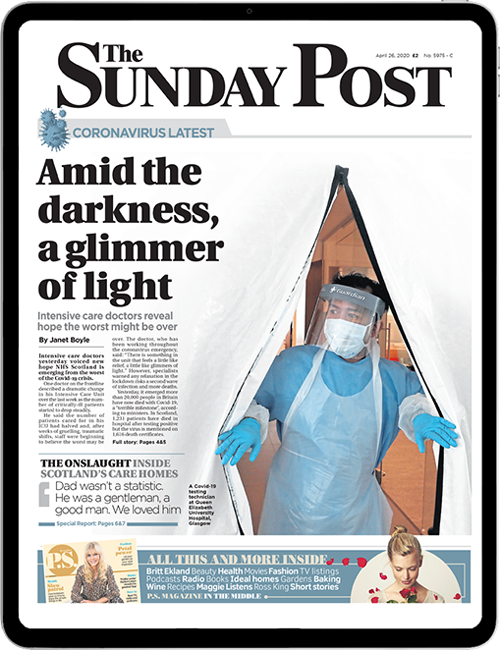 Enjoy the convenience of having The Sunday Post delivered as a digital ePaper straight to your smartphone, tablet or computer.
Subscribe for only £5.49 a month and enjoy all the benefits of the printed paper as a digital replica.
Subscribe