In pictures: Getting to grips with The Atomic Saloon Show's wrestling gang was a knockout for our man Alan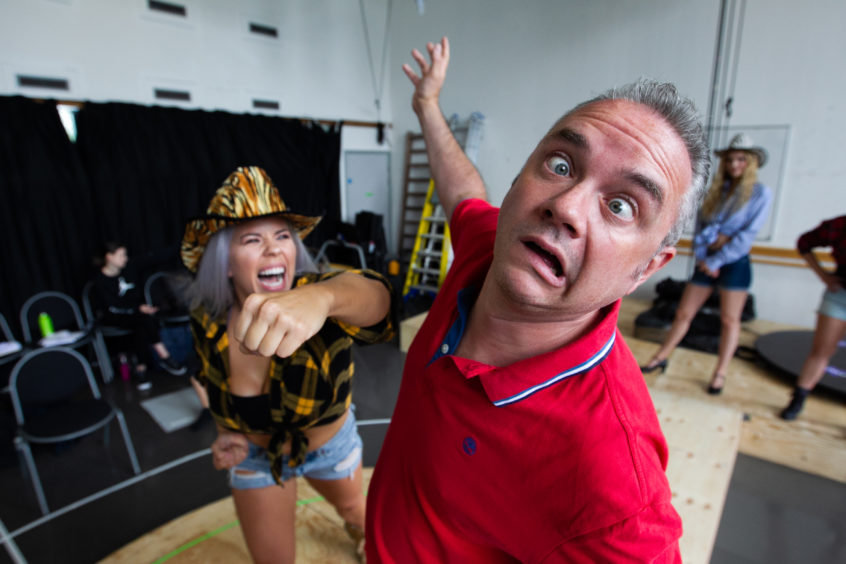 Billed as the wildest watering hole in town, The Atomic Saloon Show has a bit of everything.
From dancing to wrestling and acrobats to pole dancers, this spectacular is on show at the Edinburgh Fringe ahead of taking permanent residence in Las Vegas.
Our sister title The Weekly News sent their man Alan Shaw along to meet the performers… 
---
What happens in Vegas, stays in Vegas.
Unless a little bit of Sin City happens to be in the less than Las Vegas-like Edinburgh suburb of Granton, that is.
Which is a pity because if Mrs S ever sees these pictures, I'm a dead man.
Especially since my reply to the usual "How was your day?" question wasn't "Brilliant, I got my butt kicked by several female wrestlers and thoroughly enjoyed it. How was yours?"
Edinburgh College's Performing Arts Studio was where I found the Atomic Saloon Show rehearsing for their run at the Edinburgh Fringe.
Created by Spiegelworld, one of Vegas's biggest producers, this is the $4.5 million show's world premiere before it takes up residency in a purpose-built theatre in a new casino at the Venetian on the desert city's infamous strip.
The fact the US carried out its earliest nuclear testing near Las Vegas gives the show its name, and it's a Wild West-themed cabaret-variety spectacular set in the wildest watering hole in town featuring music, acrobats, clowning, pole dancing, wrestling and the like.
Like all good Westerns, the show climaxes with a bar-room brawl and I had visions of the girls hurling me over the saloon's bar into a mirrored gantry lined with whisky bottles, or sliding me along said bar knocking shot glasses out of the way before being thrown through a set of swing doors into a dusty street.
Too many Clint Eastwood movies as a lad?
To be fair, Mrs S did say at least I was able to indulge my dream of being Clint for a day but I don't recall the Man With No Name ever sporting a tiger-print Stetson.
Or getting beaten up by a trio of grappling showgals.
That's selling the ladies short as they are all pro wrestlers and Callee Wilkerson was the youngest WOW (Women Of Wrestling) world champion at just 23.
She was joined by 6ft 2in Icelandic blonde Maria Birta and feisty Sarah Rodriguez in teaching this Scottish varmint a lesson.
The Atomic Saloon Show is billed as "Blazing Saddles meets America's Got Talent meets Westworld", and Maria says: "Absolutely. We have something for everyone – hot women, hot men, maybe leave the kids at home! We all play different roles in the show, I'm a nun," she reveals, unexpectedly.
"You know, Maria, Sound Of Music, nun – complete typecasting! But it all culminates in a big fight at the end and everybody gets to see us do our thing."
Callee adds: "We all love the finale because it's such a different thing for the stage, for the audience to see fighting and brawling.
"It's cool for us because we're bringing the rough reality of wrestling to these beautiful aerial and stage acts, they're so angelic and beautiful in their movements and we're over here trying to knock each other's teeth out!"
"It's been a lot of learning," laughs LA-based Sarah. "Because in wrestling we really hit each other and we're not allowed to hit the people in this show because it's not in their contract!"
The girls had differing routes to Vegas, with Callee explaining: "I'm from Texas and I'm with WOW, which is the modern-day version of GLOW – the Gorgeous Ladies Of Wrestling – from the 1980s which is now the basis of a hit TV show.
"I've been wrestling for 10 years and I've always loved the acting element of wrestling, that's my forte, and I think that's why this works so well for me. An agent contacted me and said, 'You look like a cartoon character, you'd be perfect for the stage!'."
Maria, meanwhile, started out as an actress in her native Iceland and explains: "I was hired by one of the producers of the original GLOW for another TV show about wrestling and fell in love with it."
They've been trained for the show by fight coordinator and stuntman Richie Gaona, a former circus performer and 30-year Hollywood veteran with films such as Pirates Of The Caribbean and Iron Man under his belt.
"I'm a fourth-generation trapeze artist with my family, and run a trapeze school in LA," says Richie, not all of whose fingers point in the same direction.
"But I always wanted to do stunts and went to Hollywood in 1988 where a lot of former circus people I knew helped me get into the business.
"One of my first big jobs was on Back To The Future Part II, we did all the hoverboard stunts. I've been lucky. You're always going to get bruised up, I've been hit by actors – Laurence Fishburne for one.
"He's a big man and we went through the moves and he did this quick turn and boom!
"He elbowed me in the stomach, lifting me off my feet.
"He said, 'I hit you, didn't I?' but the director was happy and it looked good!
"The worst accident I had was on Hook with Steven Spielberg, when I had to do this huge swing in a naval battle scene and I missed the airbag!
"But I love teaching actors, like teaching the girls – and you! – how to throw and take a punch.
"You have to be careful because the actors get excited and lean in.
"That's why I get them to look in the other person's eyes and put one hand on their shoulder, in case they have to push them back from the swing a little."
I can vouch for the value of that tip. I had to throw several haymakers at Maria and I was petrified of belting her full on the chin. As Richie warned: "Don't hit the money-maker or you're out of here."
Mrs S would have been livid!
---
The Atomic Saloon Show is at the Palais du Variete Spiegeltent at the Edinburgh Fringe until August 25. For tickets visit www.edfringe.com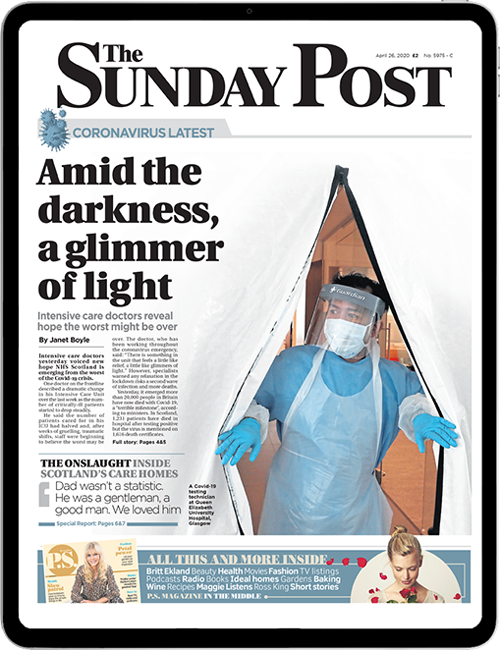 Enjoy the convenience of having The Sunday Post delivered as a digital ePaper straight to your smartphone, tablet or computer.
Subscribe for only £5.49 a month and enjoy all the benefits of the printed paper as a digital replica.
Subscribe