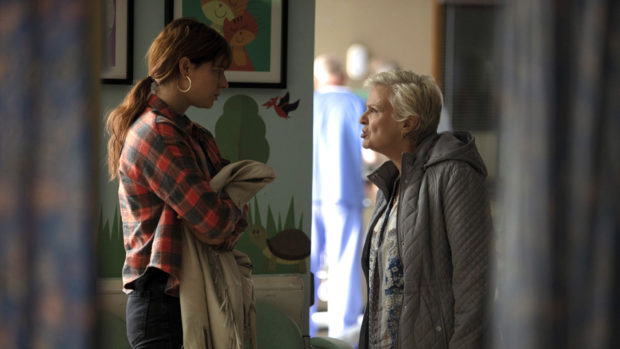 She is a multi-BAFTA award winner, has picked up a Golden Globe and been nominated for an Oscar twice, but Dame Julie Walters is facing her biggest challenge yet – the Glaswegian accent.
Walters plays Marion, a mum trying to keep her aspiring musician daughter's feet on the ground, in acclaimed new drama Wild Rose.
The film gets its Scottish premiere on Thursday as part of the Glasgow Film Festival.
And although no stranger to a Scottish accent in her movies, having done one in such roles as the witch in Brave, and housekeeper Mrs Bird in the Paddington movies, Walters admits mastering the Glaswegian accent was a challenge.
"The read-through was terrifying because everybody was Glaswegian," says Walters. "It was difficult because I've generally done softer Scottish accents in the past. But the crew were always ready with advice – that's not how you say that.
"I also had a wonderful dialect coach who helped a lot. But I have forgiven myself a bit, because even in different parts of Birmingham not everyone speaks the same, so the most important part is owning the accent – this is how my character speaks. I just needed to remember the glottal stops."
The film is the story of Glaswegian Rose-Lynn, played by rising star Jessie Buckley, a single mum who has just come out of prison and is trying to get her life back on track.
Marion feels now is not the time for her daughter to be entertaining fanciful notions of becoming a Nashville star, but instead wants her to concentrate on building a meaningful relationship with her children and staying out of trouble.
"I totally see Marion's point of view," says Walters. "This girl has just come out of prison, has two kids by two different men, and Marion mostly brings them up. She's trying to get her to be a mother and take responsibility."
Yet it's also a scenario that Walters empathises with deeply, and she can see the problems on both sides, having not been encouraged by her own mother when she had aspirations of being an actor.
"My mother's reaction was, 'An actor? Don't be ridiculous! You'll be in the gutter before you're 20!' My dad had to stand between us when I said I was going to drama school,"she says.
Clearly everything turned out well for the Birmingham-born star, who says it was her breakthrough role opposite Michael Caine in the Oscar-nominated and multi-BAFTA-winning Educating Rita that finally turned her mother round to the idea that acting might a worthwhile career.
"You have to let people express themselves and learn lessons in life, but there are millions of people with brilliant voices who will never become stars. It's a difficult balance between following your dreams and being realistic," says Walters.
Above all, Walters sees Wild Rose as a love story between a mother and a daughter, and the way that perhaps old-fashioned beliefs are passed down the generations.
As a result, Walters says she would encourage her own daughter Maisie, 30, to do whatever she wanted with her life.
"Mums are massively important and powerful, bonded in pain and love," she says.
Wild Rose goes on general cinema release on April 12