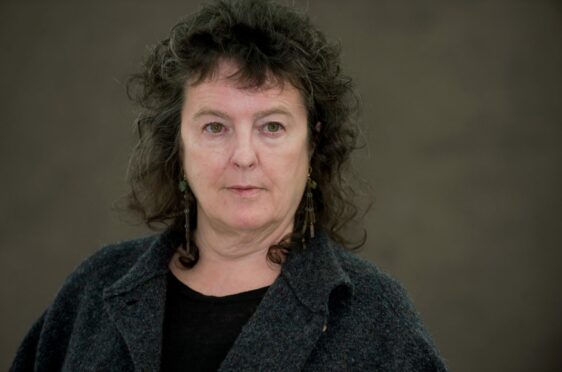 Some flowers are already blooming in her garden but, as she gazes from her window, Dame Carol Ann Duffy seems pensive.
The only Scot and sole woman to be the UK's Poet Laureate in 400 years is at home on the southern edge of Manchester. She said: "I can see an early Camellia with pink blossoms on it already. I can see leaves that will be raked-up tomorrow, and the small wildlife pond, which last year had frogs. I can see a blackbird with a worm."
Her garden sanctuary, a place of peace and of solace, and the Camellia, a symbol of love and devotion, is perhaps too easy a metaphor as Duffy speaks of her new book, Elegies – the first in a new series of four themed anthologies – published soon after the death of her brother and on the anniversary of their mother May's death.
Just released alongside another anthology, Love, Elegies is dedicated to Eugene Duffy, a veteran and respected Daily Mirror journalist, who died from cancer in December at 60. After leaving Fleet Street in 2014, he worked as chief of Tribune Media in the Bahamas.
Duffy, 67 and the oldest of four siblings, travelled from her childhood in the Gorbals, in Glasgow, to an acclaimed literary career. Her work is at once romantic, ethereal, moving, political and even comic. Above all, it is relatable. The final two anthologies in her new series, Nature and Politics, will be published next month to complete the four collections of her own poetry, crafted over four decades and arranged chronologically, along with some new creations.
What would her late brother make of the dedication? "I think his initial reaction would be to be extremely annoyed," she said, smiling. "He knew that I loved him and it is just a way to say I love him, but I am sure that he would rather not have had the dedication, that he'd rather be here."
Although he had been ill, his death, she explained, came suddenly. She said: "It was sad and a shock to the whole family. It was out-of-the-blue. There was no warning. He was still working. I stayed with him and his wife Gill and their dogs just before lockdown. Elegies was going to press at the moment he died, so I was grateful that I could put his name there. He was a lovely guy, you can tell that from what people had to say about him."
Mum to a grown-up daughter, Duffy – Poet Laureate for a decade from 2009 – knows from experience the tortuous, torturous track of grief.
"I lost my mum 17 years ago this month. On one level all these years on, it can have a terrible immediacy; you can almost be ambushed, like the other day, I was going through an old drawer and found a postcard from my mum. I hadn't seen her handwriting since the day I received it. It was like being thumped.
"On another level, one of the poems in Elegies looks at how the people we have lost get more and more dead as times goes on. And as we walk away from their death, how we are walking towards our own. It is a strange road to walk."
In many ways, the book marks what she describes in its final and newest poem, as the "age of grief". The poem Daughter encompasses the death of Queen Elizabeth II – who she knew – and the melting of the polar ice caps and is a nod not only to climate change but, perhaps, to the ticking of the Doomsday clock.
"It was an interesting poem to write," she said. "I was very sad when the Queen died. I was on the Isle of Arran for a literary festival when it happened. I had been a visitor to Balmoral a couple of months earlier. I had never seen it and went as a tourist. It was very empty, but I noticed the Royal Standard was flying, and thought, 'oh she (the Queen) must be in.'
"So I had done the journey that Princess Anne made as she accompanied her mother's coffin by road, going through all those villages. The poem also reminded me of my own mother, and like Princess Anne, of being the only daughter and doing this very solemn, loving accompaniment. It felt personal to my story as well as to the symbolic one for the nation, for those who are concerned with those rituals." Duffy, professor and creative director of the writing school at Manchester Metropolitan University, in her role as Laureate met the Queen at least once a year usually at Buckingham Palace or Windsor. Reliving her time as chair of the committee for the Queen's Gold Medal for Poetry, instigated by King George V and Poet Laureate John Masefield in 1933, she recalled: "It was very special to the Queen because her grandfather and father awarded it."
Scottish recipients during her tenure were Dundee's Don Paterson, Renfrewshire's Douglas Dunn and her dear long-term friend, Glasgow-based Liz Lochhead.
Duffy reminisced: "I could tell the Queen really liked the poets, because poets are different to army colonels, bishops, or diplomats. Poets are less intimidated by protocol. She found it a huge amount of fun.
"I could see her looking at me and thinking, 'who has she brought in this year?' She was always really curious about and kind to them." But despite her connection with the late monarch, Duffy revealed she was "circumspect" about accepting her Damehood in 2015. "I am quite a private person," she revealed. "When you have a big public role you have to step up to that, but the real you is the person who likes to stay quietly at home and be quite anonymous, reading and writing and pottering in the garden.
"I like reading in village halls and to school children but I am not keen on anything bigger where it isn't about your work. You wouldn't be getting me on something like TV's Question Time. But I managed to separate me from the role of the Poet Laureate. I regarded the DBE as part of that rather than anything to do with me personally."
On acceptance, she did however make one cheeky request. She smiled: "I asked if I could have it at Holyrood Palace rather than London and the Queen agreed. I just thought my late parents would have been pleased to have it Scotland."
She had no reservation about accepting the role of Laureate however. "It's disgraceful that I am the first female Poet Laureate in 400 years but I was delighted, not least because there had not been a woman UK Laureate before."
She recalls the years when there were five women laureates in the country: Liz Lochhead, who was made Scotland's Makar in 2011; Gillian Clarke, National Poet of Wales 2008-2016; Paula Mehan, Ireland Professor of Poetry 2013-2016, and Sinead Morrisey, Belfast Poet Laureate 2013-2014.
Duffy is happy to be recognised as a gay poet but laughingly admits: "I never 'came out'. I don't think I was ever in. By the time I was 21, I had defined who I was. It was a natural process really. As a teenager you don't know quite who you are or who or what you are."
A philosophy graduate of Liverpool University, she lived in the bohemian Liverpool 8 – the inspiration for John Lennon's titular song and considered a state of mind and culture rather than simply a geographical area. She remembered: "Everyone was a poet, a painter, or a musician. It was a unique part of Liverpool with a lot going on and there wasn't any inhibition about how someone defined themselves. I was lucky where I lived."
The Duffys left Glasgow when their only daughter was five, her electrical fitter father Frank, who died a few years after her mother, having found a job in Stafford where he felt his family would have a better quality of life. Her poem, Originally, evokes their leaving on a train, the challenge of settling in a new place and her plaintive "I want our own country". She explores the erosion of Scots accent, language and identity.
But they had a good childhood, a fine education. Duffy said: "My mother came from an Irish family, she had that love of the craic, making up stories and wordplay. My dad was in the trade union, he was shop steward. Eugene and I both loved writing, but Eugene was interested in factual, social issues and news.
"We got the Sunday Post every week when we moved to England. I loved Oor Wullie and The Broons. I used to think that if I said things like 'jings' or 'crivens' I was staying true to my roots. I had no idea that people didn't really talk like that. So when my grandparents visited from Glasgow they must have thought I was taking the mickey out of them. But that was how I thought you should talk. I probably owe my creativity to The Broons," she said.
"Ours wasn't by any stretch a bookish house, although we had a fantastic local library five minutes away and we used that a lot. I wouldn't have my life without a public library. It would not have been possible. I would get five books a month minimum from the library and I always got books for Christmas and birthdays. Stafford is a market town, so on market days there was a big second hand bookstall where you could get a book for five pence. My mum always took me there and I would go through the books while she was getting the vegetables. And we were very lucky with our schools. I had fantastic English teachers right through.
In Snow, the 18th poem in the first anthology of her new series, Duffy asks, "what will you do now with the gift of your left life?" So we asked her, any fears, regrets?
"I tend not to be that kind of person, any regrets I tend to have are people I have lost, my mum and my brother," she said. "My default setting is stubbornly optimistic and I do think we should live in the moment and enjoy the day that we have."
But what about love?
"Let's not go there," she laughs. She raves about the "absolute genius" that is Billy Connolly, adding: "I have a lot of good friends who are very funny. I was recently in Italy with Liz Lochhead (75) who I have known since I was 17. We were at a festival together and roared with laughter for three days. I must be attracted to people with a sense of humour.
"I like to count my blessings. I have wonderful friends and family. I have a job that I love and I get to travel a lot. And I am lucky enough to have a garden. As soon as the weather is better, I will be outside for six months. I just live in the garden. I take my work out there."
---
Elegies, Love, Nature and Politics by Carol Ann Duffy are published by Picador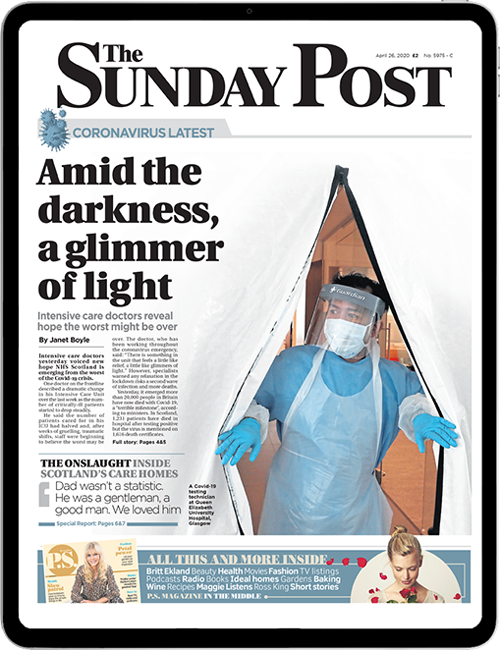 Enjoy the convenience of having The Sunday Post delivered as a digital ePaper straight to your smartphone, tablet or computer.
Subscribe for only £5.49 a month and enjoy all the benefits of the printed paper as a digital replica.
Subscribe