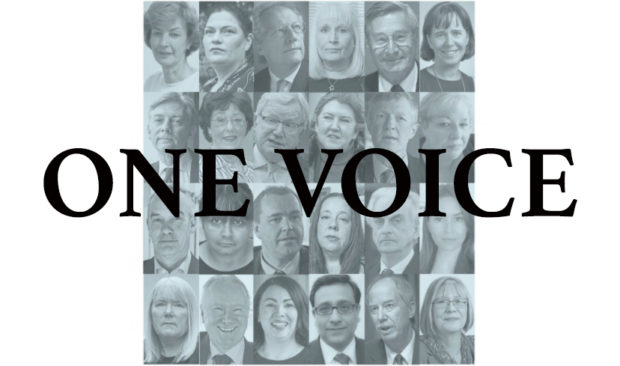 Leading politicians of all parties have backed the Hear Our Voice campaign calling for the appointment of a Scottish Patients' Commissioner.
In an unprecedented open letter to Health Secretary Jeane Freeman, politicians, including leaders of all the opposition parties, a former First Minister and former health secretaries, have backed patients calling for a champion to raise concerns, investigate complaints and hold organisations to account.
Baroness Julia Cumberlege recommended a Patients' Commissioner for England in her landmark review of treatments, including mesh implants. Her report, First Do No Harm, found patients had been badly let down and their concerns ignored. She believes Scotland could lead the rest of the UK in appointing a Patients' Commissioner and has also signed the letter along with the other two members of her review team. Baroness Cumberlege said: "Without a Patients' Commissioner we will be putting more patients at risk."
The leaders of Scottish Labour, Conservatives, Lib Dems and Greens backed the campaign. Rachel Power, chief executive of the Patients' Association also signed the letter.
They backed the campaign after patients and their families, including mesh-damaged women and parents of children lost during a contamination scandal at the flagship Queen Elizabeth University Hospital, told of their struggle to be heard in a system that, they said, appeared daunting and unresponsive.
Last week, Victoria Freeman, 32, told how she was still waiting for answers three years after son Mason Djemat, 3, died.
She said: "Give a commissioner the power to prevent other families suffering like mine."
Henry McLeish, former First Minister, said: "This seems a logical and desirable step forward."
Ms Freeman has said officials are examining the contents of the Cumberlege Report and will look at recommendations including calls for a Patients' Commissioner.
She said: "It is, however, important to recognise that our commitment to patient safety has been and remains key to delivering healthcare in Scotland. This commitment is demonstrated through the work of the Scottish Patient Safety Programme. We are also continuing to develop a person-centred approach to openness and learning in health and social care."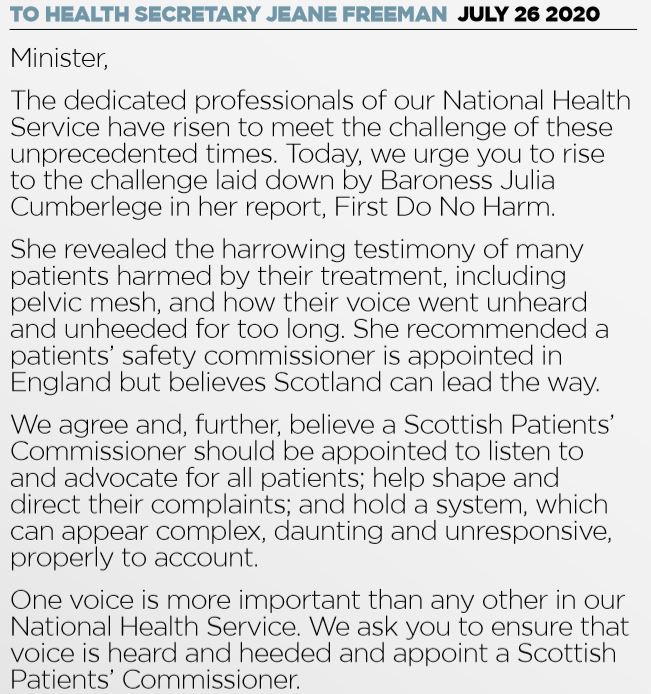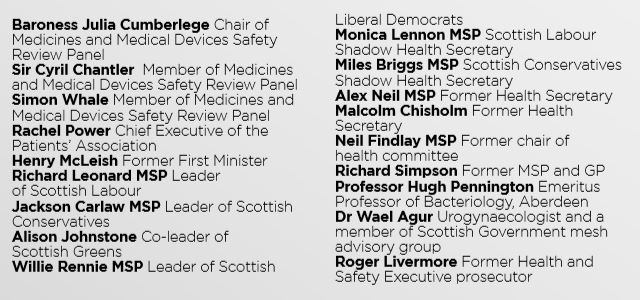 ---
Political opponents unite to back appointment of a Scottish Patients' Commissioner
Leaders of all the ­opposition parties at Holyrood have come together to back the appointment of a Scottish Patients' Commissioner.
Scottish Labour leader Richard Leonard said he was "proud" to support the campaign, adding: "If this pandemic has taught us anything it is that patients and all those receiving medical treatment and care must be able to have their voice heard. By appointing a Patients' Commissioner we can ensure the voices of patients are amplified and inform government decision-making."
Scottish Lib Dem leader Willie Rennie said: "Patients need a new strong voice to stand up for them. The Patients Rights Act from 2012 isn't delivering for them, as the legally-binding waiting-times guarantee is broken 200 times a day. People have to wait in pain for treatment and for justice. We need change."
Scottish Conservatives leader Jackson Carlaw said: "Baroness Cumberlege's impassioned plea for a Patient's Commissioner is one politicians and the Scottish Government must not ignore. This will give so many people real confidence that an independent advocate will act on their behalf."
Alison Johnstone, Scottish Greens parliamentary co-leader said: "A commissioner could provide much-needed scrutiny of the care and ­support for older people."
Many other senior ­politicians, including shadow health secretaries and health committee ­members, are also supporting the campaign.
---
If they had just told us the whole truth and apologised, we'd have accepted it
LEIGH'S STORY
The family of inspirational teenager Amy Allan who died after a series of hospital failings yesterday backed calls for a Patients' Commissioner.
Amy's mum Leigh, 41, called on families across Scotland to support the campaign for a new champion for patients as she told of her heartbreak over losing Amy two years ago.
Amy, 14, from Dalry, Ayrshire, who had spent years being treated for a genetic illness, was undergoing surgery for curvature of the spine when she was suddenly taken off a ventilator at Great Ormond Street Hospital in London.
Leigh said: "No one had been warned there was no preparation in place to move her to a machine, called ECMO, which is designed to do her breathing for her, and could have saved her life.
"We've had to live not only with the dreadful loss of a wonderful girl who had overcome so much in her life and was growing into a confident teenager, but we've spent ever since grappling with a complaints procedure that is in no way supportive of grieving families.
"We discovered there were 18 different versions of the official hospital report detailing what happened, and all the changes and additions that had been made to it before it was given to us. It made us very angry. So much effort had been put into that report instead of the hospital being open and transparent.
"If they had just told us the whole truth immediately and apologised, we would have been heartbroken, but we would have been given the respect of being told the truth and we'd have to accept that mistakes happen. We've found ourselves fighting tooth and nail to get the truth.
"We still have no explanation for why Amy's death was not reported as a 'serious incident', but believe that was because it would have been lodged against the hospital's performance rating. If we'd had a Patients' Commissioner it would have helped us. It's something Scotland could do and it would mean so much to families like us."
Amy, who had been born with a genetic condition called Noonan Syndrome which affected her heart and lungs, had spent years being treated at hospitals in Glasgow and Great Ormond Street. Holes in her heart were repaired and she was then diagnosed with thickening of the heart muscles.
Leigh said: "Despite it all, Amy had a go at everything she could. She loved life and was very active. She was very proud of her First Aid training, and was growing into a beautiful teenager when her life was cut short. Her dad Richard, brother Ryan and myself miss her every single day, we always will."
The coroner's court heard Amy was taken off the ventilator at 11.20pm on September 4 2018 but, despite deteriorating rapidly, was not placed on the ECMO system until 8am the next day when her body was already struggling.
Dr Rahit Saxena, an intensive care doctor at the hospital agreed that taking her off the ventilator in the night, when fewer doctors were at the hospital for ECMO, was not ideal. He had not been informed she was being operated on.
The coroner Edwin Buckett was critical of the hospital and said in his ruling that the overall impression was that "no-one was in overall control".
Matthew Shaw, CEO of Great Ormond Street Hospital, said: "We know Amy didn't get the level of care she needed, and we are deeply sorry for that. We have taken our responsibility to learn from what happened to her very seriously. We have reviewed the events which led to her death. We recognise that we made mistakes, and that we must learn and improve as a result, and are making a number of changes to the way we provide care."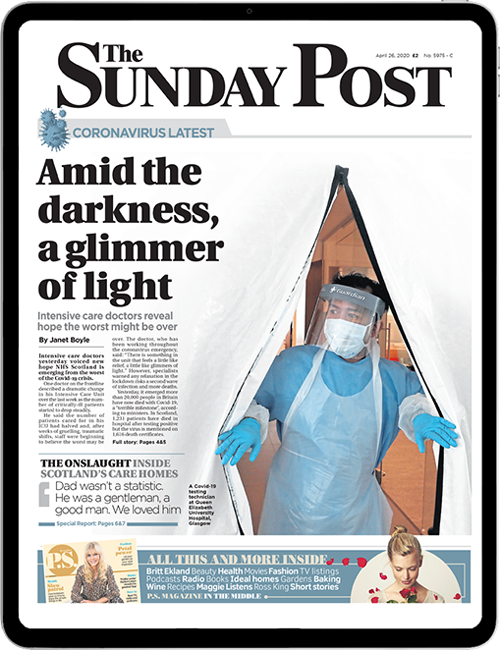 Enjoy the convenience of having The Sunday Post delivered as a digital ePaper straight to your smartphone, tablet or computer.
Subscribe for only £5.49 a month and enjoy all the benefits of the printed paper as a digital replica.
Subscribe