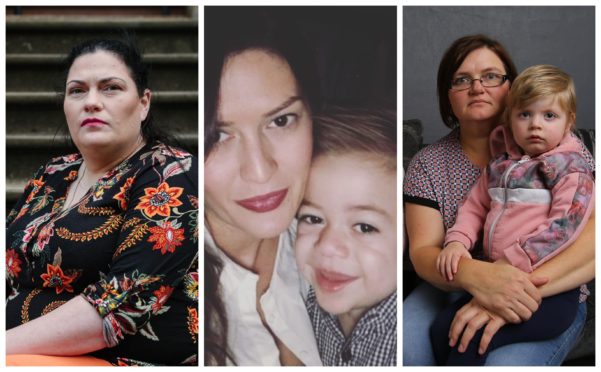 A mother whose three-year-old son died during a contamination scandal at a flagship hospital has backed calls for a Patients' Commissioner for Scotland.
Victoria Freeman says she is still waiting for answers almost three years after her son Mason died but will never give up her struggle to discover the reasons for his death.
A police and Procurator Fiscal investigation into her son's death at the Queen Elizabeth University Hospital, Glasgow, in August 2017 is ongoing but Victoria said: "Mason was running around the ward one minute and two hours later he was being whisked into ICU. The last thing my baby did was reach out for me, and then he was gone.
"It haunts me that I almost wasn't there for his last moment on earth because I'd left to get a change of clothes because he was doing so well. At least the last thing he saw was my face and he knew I was with him.
"But three years on, I'm still no nearer knowing what happened. That is wrong. There is an overwhelming need for a Patients' Commissioner, I'm utterly committed to seeing this happen."
She spoke out to back the campaign urging the Scottish Government to appoint a patients' champion to investigate complaints and hold authorities to account.
Victoria said: "Until you have had to go through it, you just can't imagine what its like being up against such huge organisations. I have found it to be a cold and unresponsive system with no time or empathy for parents who have lost a child and need answers.
"When Mason died I was told to fill out a form as if I was making a complaint about a hotel that didn't meet standards, or a supermarket purchase that wasn't right. I was talking about the life of my child being taken and they wanted me to follow a complaints procedure.
"All along the way, officials have wanted to just 'close the book' on Mason, and move on.
"Nobody seems to understand that Mason was my child, my whole world, and I will never 'close the book' on him. I want answers. He deserves answers."
Mason, from Stewarton, Ayrshire, was being treated for a rare genetic condition at a time when wards at the Royal Children's Hospital on the QEUH complex had been closed because of water contamination issues.
A few weeks before Mason's death, Milly Main, 10, died at the Glasgow hospital after contracting an infection while she was being treated for cancer. Victoria said: "All the families affected by what happened at this hospital deserve the truth, and they shouldn't have to wait years for answers. There is no support for families when things go wrong, so the current system does need to change.
"We're trusting people who don't want to be held accountable with our children, and they just don't care. We need a champion to stand up and care for every family who has lost someone, for every child like Mason who is no longer here when they should be."
Victoria was joined by other parents who say they have waited too long for answers over the ­treatment of their children. They spoke out to support the calls for the Scottish Government to appoint a patients' ­champion to investigate complaints and hold ministers and health authorities to account.
A Patients' Safety Commissioner in England was recommended in a landmark report by Baroness Julia Cumberlege exposing how women had been failed by the system in a series of health scandals, including the use of mesh implants. Baroness Cumberlege told The Post last week Scotland should appoint a Commissioner to ensure the voices of patients are heard and heeded and her call has won widespread support.
Charmaine Lacock, whose four-year-old daughter Paige has leukaemia, says a Commissioner would be a "beacon of hope" for families left struggling for years without answers.
The 42-year-old Glasgow mum of four, who represents families affected by the infections scandals at the Queen Elizabeth University Hospital and Royal Children's Hospital in the city, said: "Scotland's patients ­desperately need someone to speak for us, someone to shine a light on the truth and take action when things go wrong."
A series of infection ­outbreaks – and at least four deaths – are being investigated at the £840 million hospital campus, amid fears the infections were linked to the building. In September last year, ­ ministers announced a public inquiry after it emerged there had been widespread water ­contamination and concern around the ventilation systems.
"Families affected by this scandal are facing years of waiting for inquiries, even to get answers to simple questions that could have been answered right at the beginning of this nightmare," said Charmaine. "And because we're not getting answers, families continue to be scared to use our NHS, which is unacceptable. Lives are lost when nobody listens to concerns, and that has to stop."
In a condemnation of how thousands of women maimed by mesh and babies suffered birth deformities after their mothers took prescription drugs Primodos and Sodium Valproate, Baroness Cumberlege published a report that called for a shake-up of the UK's medicines regulatory system and the appointment of a Patients' Commissioner.
Urging Scotland to lead the rest of the UK, the Baroness said patients had been "disbelieved and ignored" with many suffering life-changing but ­avoidable injuries. She called for apologies for those affected, a register for implants, a redress schemes financed by medical manufacturers and the government, and an overhaul of the medicines regulatory system.
Politicians are backing the patients' call to be heard. Former health secretary Alex Neil called on ministers to ­implement the recommendations and said Scotland needs its own medicines' regulator and patients' commissioner with a "wide scope and powers to act".
Shadow Health Secretary Monica Lennon said: "Far too many patients and their families have been let down – not just by failings in the health service but by the ordeal in fighting for truth and justice. The voice of patients need to be strengthened and a Patient Safety Commissioner to act as a champion could do this. The Scottish Government must take urgent action for the benefit of patients in Scotland."
A spokeswoman for NHS Greater Glasgow & Clyde said: "We are truly sorry that, following the independent review, families who have lost a loved one have questions remaining about the circumstances of their death. We have offered to meet families and remain ­committed to supporting them in any way we can."
---
Somebody needs to speak for us… and speak for Sophia
A mum battling for answers three years after her baby died says her lost daughter is the reason why patients need a champion.
Theresa Smith and husband Matthew cradled baby Sophia as she died at the Queen Elizabeth University Hospital in Glasgow three years ago.
But the heartbroken couple say they still do not know why their 12-day-old daughter died. Theresa, a former shop owner and publican, said: "We know she developed an infection while she was being cared for at the hospital, but we don't know what caused it.
"One minute we were being told Sophia was almost at the stage of being able to go home, the next we were cradling our dying baby. The last three years trying to get answers have been a nightmare. We feel we've been cast out into the darkness, with nobody to speak up for us.
"How I wish we'd have had a Patients' Commissioner to turn to, someone who could have taken the terrible burden of getting answers off our shoulders so we could grieve for our daughter."
Sophia was born in March 2017 and developed breathing difficulties. But, after treatment at the new hospital's neonatal intensive care unit, her oxygen levels were improving so much, hopes were raised Sophia was almost ready to go home.
Within hours of contracting an infection similar to MRSA, Sophia's tiny body rapidly shut down and, as her organs failed, all her parents could do was cradle her in their arms as she died.
Theresa says, within an hour and still in shock, she was asked to sign a death certificate. She said: "Since then, nobody from the NHS wants to answer our questions. We still have not been told how Sophia got the infection. Since she was never out of the hospital you'd hope they'd want to know.
"We've had to fight tooth and nail to get access to documents we're legally entitled to, including Sophia's post-mortem. When I asked why we weren't given the report, I was told I wouldn't have been able to understand it. It was so insulting."
Theresa and Matthew's lawyer, Patrick McGuire, head litigator at Thompsons Solicitors, is pressing for a Fatal Accident inquiry into Sophia's death.
Theresa said: "We wholeheartedly support a Patients' Commissioner for Scotland because nobody is listening to families like us who've lost loved ones. Somebody needs to speak for us. Somebody needs to speak for Sophia."
---
People died, children died – we need answers
When Charmaine Lacock was given the devastating news two years ago that daughter Paige had leukaemia, she thought it was the end of the world.
Paige is now four, and an inspiration to children who are suffering from cancer and her 50,000 TikTok followers who enjoy her messages of hope.
Charmaine, 42, from Knightswood, Glasgow, said: "Paige really is a bright little star, and we are so grateful for the wonderful treatment from the medical teams who saved her."
But the mum of four knows it could have been so different for Paige who was one of the children infected by the water supply at the ill-fated £842 million Queen Elizabeth Hospital.
Instead of counting down until December to Paige's last chemotherapy treatment, Charmaine knows how lucky her little girl has been to survive. She said: "To be told your child has cancer is terrifying. To then discover the hospital supposed to be saving her life is contributing to making her sick, is something that should never have happened."
The parents are backing the calls for a Patients' Commissioner because they say families deserve to get answers now.
Charmaine said: "It's correct that the government have called for an inquiry into what happened at the QEH. But that will take years. We need answers now. If we had a Patients' Commissioner, we could expect to get answers to the simple questions so we could use the hospital without having to worry if it's safe.
"We don't blame the medical teams for what happened, and we know whistleblowers tried their best to raise worries about infection control with management who didn't listen. That's the kind of culture that costs lives. People died. Children died. It's infuriating management at the QEH continue smiling and telling everyone that it's all okay, business as usual. As far as we're concerned, it's not okay and it will never be okay."
---
Elaine Smith MSP: Scots patients need someone strong to fight for their rights
Being an MSP is such a rewarding job, but it is also such an all-encompassing job that I fear I can no longer give the 100% I've always given it because I'm struggling with asthma and health-related issues
As one of only 17 of the original MSPs to represent constituents in the Scottish Parliament since it was established in 1999, I've spent many of those years campaigning on health issues.
That is why I am in no doubt that the time is right for Scotland to appoint its first Patients' Commissioner, someone who will speak up and give patients a strong voice, someone they can turn to when things go wrong.
Health has always been, and always will be, one of the most important issues we face as a society, from the dreadful problems caused by child poverty to the worries facing the elderly as they try to access the right care for them.
As an MSP I've spent my time campaigning on health inequality, which is why I welcomed last week's report by Baroness Cumberlege. Sadly it also, once again, highlighted a gender health gap where women's concerns are not taken seriously. Indeed, women often experience dismissive attitudes to ongoing debilitating symptoms and excruciating pain.
Statistics show funding for medical research has traditionally gone to conditions which affect both men and women, or only men.
With my own thyroid problems I have personally experienced how a medical condition which predominantly affects women is marginalised or ignored. I spent decades struggling to have my condition diagnosed and properly treated. Yet it is estimated that 100,000 women in Scotland have an underactive thyroid.
Despite one of the longest running Public Petitions and numerous parliamentary debates, including in the House of Lords, women with thyroid disease are still not being properly treated or listened to.
Many patients do not respond to the generic drug Levothyroxine. Yet they are still compelled to buy lifesaving drugs such as Liothyronine (T3) via the internet, as some health boards are refusing to prescribe T3 – mainly due to cost. For many women T3 has proven to be the only effective treatment for their condition and it is routinely prescribed across the rest of the world. But here, in a male dominated medical establishment, it seems it is easier to prescribe antidepressants, or blame the menopause, than to actually listen and properly diagnose and treat such conditions.
I would hope a Patients' Commissioner will result in fewer women having to suffer unnecessarily and fight to get the most appropriate treatment.
The inequality and disempowerment in health provision that women suffer because of their sex can no longer be ignored. It must be challenged, here in Scotland, across the UK and globally, and we must see major change.
Central Scotland MSP Elaine Smith stands down next year after two decades at Holyrood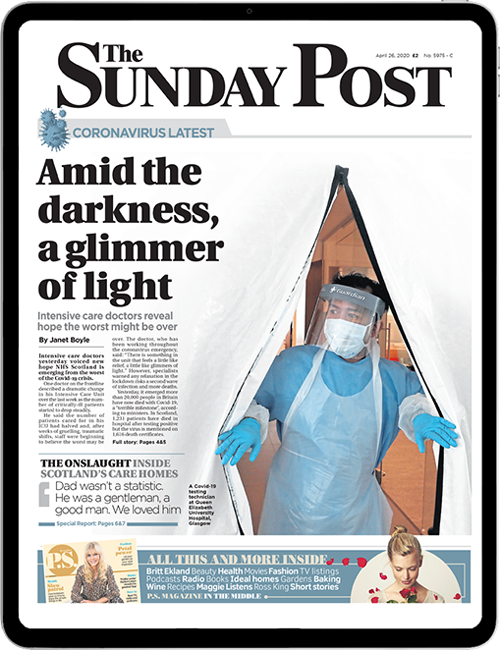 Enjoy the convenience of having The Sunday Post delivered as a digital ePaper straight to your smartphone, tablet or computer.
Subscribe for only £5.49 a month and enjoy all the benefits of the printed paper as a digital replica.
Subscribe