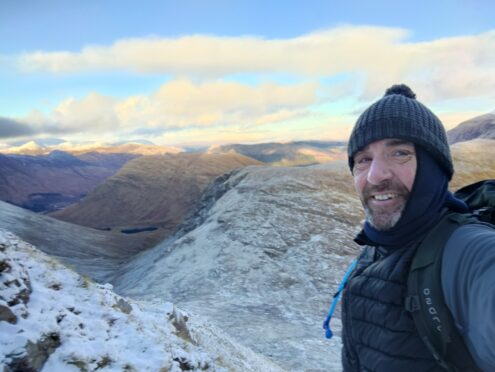 Imagine being a keen hillwalker who loves the outdoors but then being unable to enjoy it because of sight loss.
Fortunately, many veterans of the Armed Forces who have visual impairment can climb their favourite mountains again, thanks to Sight Scotland Veterans.
Some Sunday Post online content is funded by outside parties. The revenue from this helps to sustain our independent news gathering. You will always know if you are reading paid-for material as it will be clearly labelled as "Partnership" on the site and on social media channels,

This can take two different forms.

"Presented by"

This means the content has been paid for and produced by the named advertiser.

"In partnership with"

This means the content has been paid for and approved by the named advertiser but written and edited by our own commercial content team.

---
The charity, that was called Scottish War Blinded until 2020, is always researching for new and exciting ways to help those with sight loss. Investing in the latest technology is part of this and, thanks to the arrival of new Virtual Reality (VR) headsets at the charity's centres, it is changing people's lives.
Jason Turnbull (pictured above in Glencoe) is a centre officer at Sight Scotland Veterans' Hawkhead Centre in Paisley. The keen hillwalker, who is a former healthcare support worker, has been at Hawkhead since it opened five years ago. A few months ago, the centre's IT suite installed its first VR headset and already it is having a positive impact on its users.
VR for visually impaired allows them to access Scotland's great outdoors, just like they used to.
VR headset for visually impaired – how does it work?
Jason, who is responsible for organising activities for the veterans, has taken on the challenge of capturing the footage for the VR headsets.
He explained: "I had previous experience with VR headset so I was very keen to try it at Hawkhead. I watched 360-degree videos on YouTube and that to myself 'I can do better than that'. So I bought a 360-degree camera and took it up the hills with me.
"I then began showing the veterans who are keen hillwalkers, and those who weren't, the footage – there was a very positive reaction. They said it was 'like being back on the hills'."
The centre officer explained that because the VR headset lenses are close to their eyes, the veterans can experience the video footage like those without vision loss.
He added: "I thought I am on to something here, so I have been going around as many Munros as I can so they can come with me. I am starting with the centrally located ones, in and around Crianlarich, like Ben More and Stob Binnein.
"I edit the footage and show the veterans when I come back, and they are saying it is absolutely unbelievable.
"It's reawakening something in them. It is so rewarding to watch them and see their reaction. Perhaps it has been many years since they've climbed that hill but hey realise where they are.
"VR allows them to revisit somewhere that was special to them.
"It triggers all those memories and sparks positive feelings within them."
"It enable veterans to see again," Brian Wilson, head of IT
Soon, Jason will be capturing footage of the West Highland Way as he takes on part of the famous route with a veteran from Sight Scotland Veterans. He will then publish this on his YouTube channel 'ScotchMizzed' with all the other hill climbs.
Colleague Brian Wilson works in Sight Scotland Veterans' Linburn Centre and he too is seeing, first-hand, how VR is having a huge impact on the centre users. In the four years since he brought virtual reality headsets to Linburn, her has found that VR can offer lots of possibilities for therapy, entertainment, even shopping, as well as being proven to enhance wellbeing and self-confidence.
Brian, who heads up the IT suite at the Linburn Centre and recently went on a VR therapy course, explained: "In many instances, it enables veterans to see again, which is just amazing. As the screens are very close to their eyes, and includes large, bold images, it helps people with low vision see better and up close. Some of them find it quite overwhelming the first time they experience it. It opens up a whole new world up to a person with a visual impairment.
How else can technology help those with sight loss?
"It is fully immersive and allows them to completely forget about the outside world. They can forget about their eye condition or any other problems or stresses they have and just relax and enjoy the experience."
As well as accessing VR technology, the veterans can also learn how to use a computer, receive training using Synaptic tablets and smartphones, and be kept up-to-date with the latest apps in Sight Scotland Veterans' IT suites at Linburn and Hawkhead.
Brian added: "Technology is just so important for a person with a vision impairment."
If you, or someone close to you, has visual impairment or sight loss and has served in the Armed Forces (at any time in their career, for however long, including National Service), then Sight Scotland Veterans is there to help in many ways. Joining Sight Scotland Veterans is free.
To find out more visit Sight Scotland Veterans.
---
More about Sight Scotland Veterans' centres
There are two centres run by Sight Scotland Veterans for ex-servicemen and women with sight loss. The Linburn Centre in West Lothian was the first followed by the Hawkhead Centre in Renfrewshire, which opened five years ago. Both are activity hubs that bring veterans together.
With a variety of activities and outings and set in beautiful grounds, the centres offer the means and support to adapt to life with sight loss and try new things.
Many veterans who attend the centre say the things they do there and the connections they've made have transformed their lives.
How do I become a member of Sight Scotland Veterans?
The Linburn and Hawkhead centres are open to anyone who is a member of Sight Scotland Veterans. Joining Sight Scotland Veterans is free, and membership is open to anyone living with sight loss who has served in the Armed Forces – including National Service.
The centres' teams are dedicated to ensuring that veterans receive the support that they need. As well as art, IT and fitness, the centres facilitate drop-in sessions from other Sight Scotland Veterans teams.
For example, Sight Scotland Veterans' rehabilitation team can provide support on how to adapt to life with sight loss, while the charity's financial wellbeing lead can provide information on what financial support may be available to veterans.
---
To find out more visit Sight Scotland Veterans website today to see how the charity might be able to help you when you lose your sight.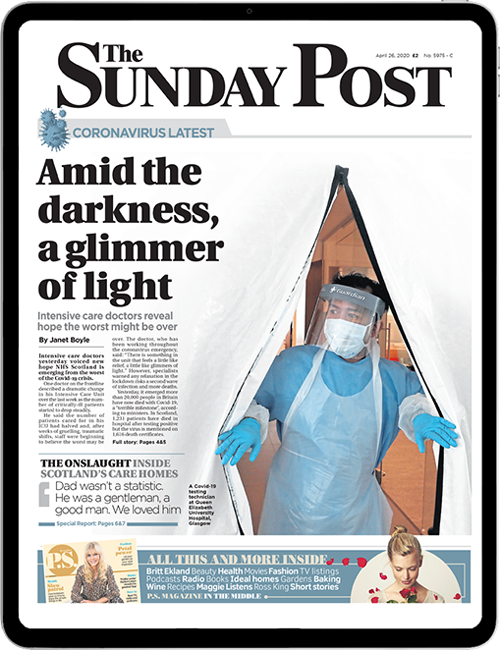 Enjoy the convenience of having The Sunday Post delivered as a digital ePaper straight to your smartphone, tablet or computer.
Subscribe for only £5.49 a month and enjoy all the benefits of the printed paper as a digital replica.
Subscribe